Investing exposes you to a whole universe of risks. One of these risks is that you give your money to people you do not know and who spend their time quite possibly far away from where you live. Such a transaction would be utterly foolish if there was no system of checks and balances in place. This system consists of a number of building blocks provided by different parties such as regulators and auditors. One of these parties can be you. Shares come with votes for a reason. The SEC provides excellent information on why it makes sense for retail investors to vote and how it is done (cf. Exercise your Shareholder Voting Rights in Corporate Elections).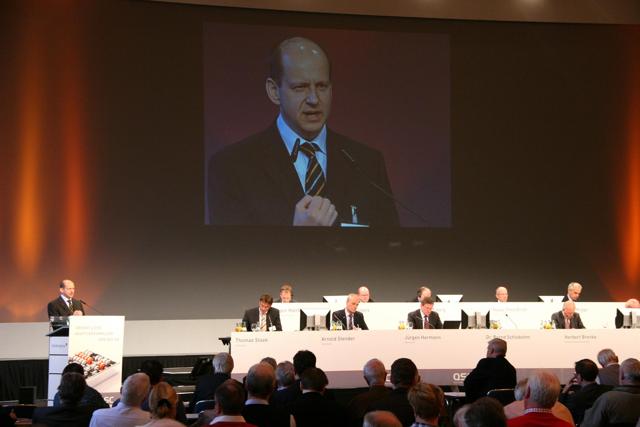 [Illustrative image; source: Dennis Knake/QSC AG, CC-BY-SA 2.0]
Although it's easy to forget sometimes, a share is not a lottery ticket... it's part-ownership of a business.

- Peter Lynch
For most retail investors participating in the market often comes down to buying or selling, though. Their absence from the annual meetings may be partly due to unawareness, but many probably chose to be passive investors in a literal sense which is fair enough. As such they are also likely to be invested in ETFs.
One principal, two agents
ETFs give hassle-free access to the stock market, but their involvement adds a further agent to the otherwise bilateral principal-/agent-relation between shareholder and corporate management. Big Index, i.e. State Street (NYSE:STT), Vanguard and BlackRock (NYSE:BLK) with their heavy-weights, the SPDR S&P 500 ETF (NYSEARCA:SPY), the Vanguard Total Stock Market ETF (NYSEARCA:VTI) and the iShares Core S&P 500 (NYSEARCA:IVV), holds combined more than 16% of the shares in the largest 25 S&P 500 companies. Unparalleled voting power is linked to this massive footprint in the stock market.
The role of ETFs in corporate elections is ambivalent. If the ETF issuer embraces John Bogle's credo --
[…] our fund shareholders are the principals. It is our responsibility to act solely on their behalf.
-- staying passive will not hurt you. In fact, there is no better ally than a large ETF issuer that shares your values. What if the voting power is not used in your best interest, though?
Let us take executive compensation as an example. Compensation packages are subject to (admittedly advisory) say-on-pay shareholder resolutions under the Dodd-Frank financial reform act. Both, retail investors and fund managers, want the companies they are invested in to attract competent leadership teams. And both will also agree that this requires the companies to offer adequate compensation packages. However, oftentimes there will be different views on
What part of a company's success can be attributed to its management,
How effective incentives need to be structured,
The maximum pay.
Every Dollar spent on executive compensation is not available for investments in the business, share buy-backs or distributions to shareholders. It should be obvious that this question matters to every saver who is putting her money in ETFs.
There is a useful ranking called The 100 Most Overpaid CEOs 2016 that is put together by the non-profit foundation As You Sow. The ranking is based on:
The deviation of the compensation in question from a regression line showing a (very weak) link between total shareholder return and CEO compensation.
30 quantitative indicators such as Non-performance based bonuses or Ratio of CEO pay to other executive officers.
Do it like they do on the Discovery Channel?
Top ranking CEO in 2015 was Discovery Communication's (NASDAQ:DISCA) David Zaslav with a total compensation worth $156,077,912 (equivalent to 14% of the company's net income). Of course, there is freedom of contract. Two parties are free to agree on any kind of deal that is legal. You should pay close attention to the deal, though, if you happen to be third party that may have to pay the bill the two are running up.
To be fair, Vanguard and BlackRock voted against Zaslav's compensation package. Still, there are two potential problem areas related to ETF issuers in this respect: Firstly, if you follow the link to the ranking mentioned above, you will find BlackRock's Laurence Fink on the list as well, making it difficult to imagine his fund managers arguing against the standard set by their own boss. Secondly, it is likely that you find in the Prospectus to your ETF a rather lengthy, bothersome to read paragraph on conflicts of interest. A typical conflict of interest arises if ETF issuers also manage large corporate pension plans in the companies that the ETF is invested in. It is unlikely that your ETF issuer wants to put those ties at risk by being unsupportive of that company's management. Here is what John Bogle had to say in that matter:
Votes against management may jeopardize the retention of clients of 401(k) and pension accounts of the managers.
The SEC requires mutual funds to disclose their proxy voting records and policies in N-PX filings. The 100 Most Overpaid CEOs provides an overview on how the funds have used their votes in 2014/15. In the light of the above, it cannot come as a surprise that ETF issuers often fail to impress when it comes to taking a stand against excessive CEO compensation. In the sample covered by The 100 Most Overpaid CEOs, BlackRock and Vanguard had approved 97% of all CEO packages that As You Sow deemed excessive.
Options
Both, BlackRock and Vanguard, seem to become increasingly aware of their responsibility in terms of corporate-governance. But investors do not have to wait until awareness turns into visible action with regard to executive compensation. There are at least three viable alternatives available:
Invest alongside mutual funds and ETF issuers that pursue a clear and transparent shareholder-friendly policy. It can be hard to navigate through N-PX filings and aggregate the data for different families of funds, but there is help available. The 100 Most Overpaid CEOs includes names of fund providers that could qualify. ProxyDemocracy is another source of information on the voting track record of different ETFs and mutual funds and can assist to make the right choices.
Invest in diversified family-owned holding companies like Swire Pacific (OTCPK:SWRAY), Caledonia Investments (OTC:CALEF) or Wendel (OTCPK:WNDLF) as a proxy for a fund. This is a path I have been following by investing in stocks like Investor (OTC:IVSXF) and Kinnevik (OTCPK:KINNF). The benefit is that I am basically in the same boat as the controlling shareholders. A potential downside is that some of these families leverage different share classes to maximize their spheres of influence which e.g. the CFA Institute has been critical of. However, the "one share, 1/10th vote" approach seems to me more acceptable, than the "one share, nil vote" reality in the ETF-world, in particular when the majority owners' interest is largely aligned with mine.
Minimize the use of ETFs and mutual funds by building your own diversified portfolio of stocks and exercise the full voting rights yourself, which is incredibly easy if you vote by proxy. Still, this is not necessarily the recommendation I would give to the average saver outside the SA community who needs to be diversified right from the start.
In any case doing nothing may well be an option, but the implicit decision that comes with it can easily work against you. Investing is not a retail investor's profession. It is extremely likely, though, that your counterparty is a professional whenever you strike a deal in the market. In this environment you cannot simply assume that others are taking care of your interests. You better double-check that.
Disclosure: I am/we are long IVSXF, KINNF.
I wrote this article myself, and it expresses my own opinions. I am not receiving compensation for it (other than from Seeking Alpha). I have no business relationship with any company whose stock is mentioned in this article.