Admiral (OTCPK:AMIGY) is a quality company in the U.K. insurance sector that is under-followed by U.S. investors. It has a very profitable operation in its domestic market that enables it to finance growth overseas and return a considerable amount of cash to shareholders, making it an attractive high-dividend yield play.
Company Overview
Admiral was set up in 1993 as a direct writer of U.K. personal motor insurance. Currently, it operates under four brands (Admiral, Diamond, Bell and Elephant) and is now the third-largest player in the market with a leading position for business introduced on the Internet. Additionally, the group has developed the market-leading Internet aggregator in the motor insurance space (confused.com) in the U.K. and has more recently expanded to the U.S. Admiral has started direct writing operations in Spain, Germany, Italy and entered the U.S. market in Virginia.
The company has grown organically throughout its history, has a very good growth history, and has currently more than 4 million customers spread around seven countries. It has been listed since 2004 when it was floated on the London Stock Exchange, but also trades in the U.S. on the over-the-counter market. Its market capitalization is about $7.8 billion.
Admiral Group operates in the insurance motor business, but has also a complementary business on price comparison websites. Its financial reporting can be split into four segments: U.K. car insurance, international car insurance, price comparison and other group items. Its U.K. car insurance is the largest operation and the "cash cow" of the group, enabling Admiral to invest in other areas that should have a larger contribution to the group in the future. International car insurance accounts for about 10% of turnover while U.K household and price comparison together represent only 7.5% of total turnover.
Admiral is a high-quality business and has been the benchmark for the U.K. motor sector for several years. It has a strong underwriting track record and a good brand recognition in the U.K. motor market with a market share over 11%. The company has 3.3 million customers in the U.K. motor market, representing 75% of group customers. Its closest competitors are other insurance companies with large exposure to the U.K. motor market, such as Direct Line (OTCPK:DIISY), Aviva (NYSE:AV), AXA (OTCQX:AXAHY) or Allianz (OTCQX:AZSEY).
Admiral has expanded its business through international operations in 2008, first into selected countries in Europe and more recently to the U.S. it has invested around 5% of its annual profit in international growth per year, and most operations are still in the investment phase, but breakeven is expected in the medium term. If international operations are successful, they clearly constitute Admiral's main growth engine over the long term given that the U.K. motor market is mature and growth is much more limited.
Additionally to car insurance, Admiral set up a complementary business through Confused.com, which was U.K.'s first price comparison website. It was originally set up in 2002 and basically provides a car insurance comparison service. Admiral was a pioneer in the U.K. price comparison market, with fantastic growth rates and margins at the beginning. As the market matured with new entrants, margins were reduced and now they do not contribute much for profit within the group. Moreover, the company has expanded this business to other markets, such as the U.S., Spain and France, and it is still investing to expand into these new markets reducing the overall profitability of this business.
Financial Overview
Admiral has achieved strong growth since its inception measured by a growing number of customers, insurance premiums and profits. As the company has matured, its growth has been lower more recently, but is still growing considerably. In 2015, the company has achieved a new record year with its number of customers increasing by 9% to 4.4 million, its turnover up 7.5% to around $3 billion and profit before tax up by 6%. Its U.K. car business continues to be the most important generator of profits, given that all other divisions are losing money as they still are in the investment phase.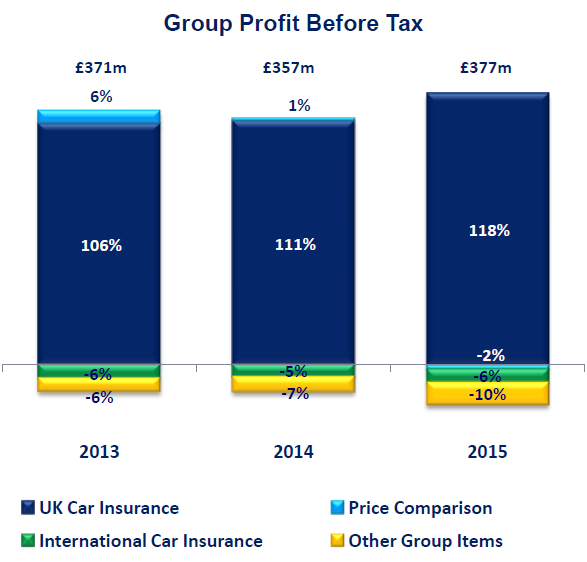 Source: Admiral
Admiral's growth has come mainly from higher premiums and reserve releases in the U.K. due to a favorable market environment. After several quarters of insurance premium decreases, the market has turned around in mid-2014, and during the past couple of quarters, has registered premium increases of close to 6% year on year. This has helped Admiral to increase its turnover in 2015 by 7% compared to the previous year, a strong result in a mature market. Total motor claims and inflation have been relatively stable, helping to increase its profit before tax by 11% in 2015. Going forward, continued premium increases are likely in 2016 given that over the past two months premium growth has picked up to about 10% year on year.
Another boost for its earnings has been reserve releases. Admiral's reserves are cyclical like most of its peers, reflecting mainly market conditions. Usually, insurance companies use reserve releases to bolster results in bad times and replenish reserves in good times. On top of this, Admiral has a reputation of conservative initial reserving, and therefore, has usually released reserves every year, which are a boost for its earnings. This was worth 13%, on average, of the combined ratio over the past 10 years. In 2015, the company's reserve releases amounted to 23% of its premiums due to positive claims development, matching the previous record level achieved in 2008.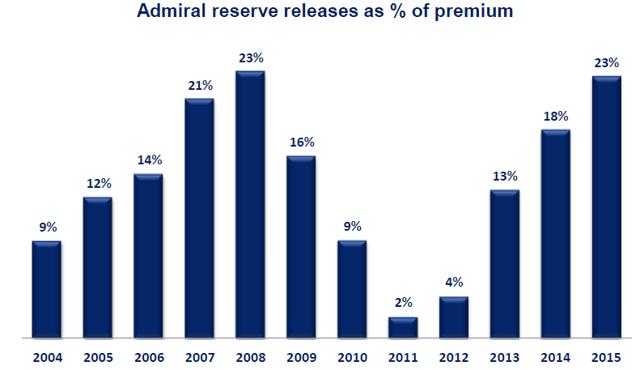 Click to enlarge
Source: Admiral
However, as seen in the previous graph, in 2009 and 2010, Admiral's underwriting was quite poor, and it picked first loss picks wrong by about 10 percentage points. In 2011, the company had to review and adjust reserves, leading to low levels of reserve releases of only 2% in 2011. The company was naturally punished by the stock market severely with a sharp drop in its share price. After that setback, Admiral went back to very conservative reserving following its 2011 disappointment and reserve releases have returned to normalized levels in the past three years that are boosting its earnings and another setback like the one experienced in 2011 is not expected. Indeed, the company expects that its results are likely to be supported by sustained material reserve releases in 2016.
Earnings are currently being affected by the positive market environment, but the good profitability is also explained by structural factors, such as its cost advantage.
The U.K. motor market insurance cycle oscillates between 100% and 130% combined ratios, and at first glance, that range suggests a highly unprofitable market. However, insurers in the U.K. motor market have a high share of other income sources reported outside of the underwriting result, which are also available in other markets, but to a lesser extent and typically hidden in the loss or the expense ratio, making the comparison less straightforward. The contribution of other income may be between 8% and 12% of the combined ratio, setting the break-even point for U.K. insurers at a combined ratio of 110-115%, instead of the usual 100% ratio required in other markets.
Admiral has historically achieved much lower combined ratios than its peers, both from a lower cost base and better underwriting policy. The combined ratio is the sum of the expense ratio (costs) and claims ratio (underwriting). Admiral has a consistent cost and price advantage compared to its closest peers that has persisted for over 10 years. This advantage has been visible on its below-average combined ratio of 20 percentage points. This comes greatly from its cost leadership that leads to about 15 percentage points advantage in expense ratio, making it one of the most important advantages of its business model.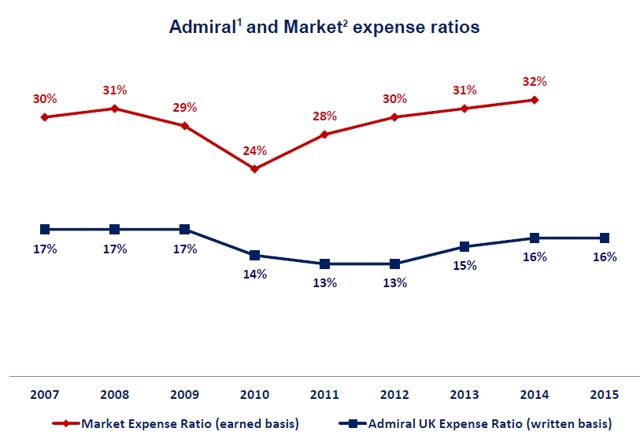 Click to enlarge
Source: Admiral
Admiral's cost leadership is explained by several factors, namely a low cost structure because it only sells direct retail motor, its headquartered in Cardiff that is a low-cost area, has a fairly efficient IT infrastructure and efficient claims handling. All these factors are relatively hard to replicate, leading to structural cost advantage. In an increasingly competitive insurance market environment, being a cost leader is extremely valuable as it should enable the company to gain market share and come out as a long-term structural winner within the U.K. motor insurance market.
Regarding its underwriting policy, Admiral's portfolio is relatively geared to low premiums risk, avoiding high risk segments. This leads to lower claims costs in the long term which are visible on its below-average ultimate loss ratio for the past few years.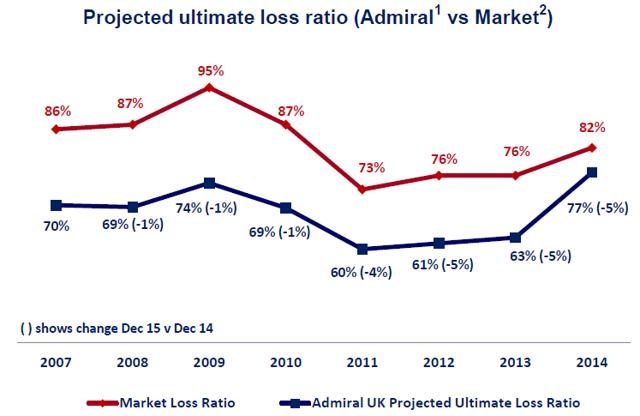 Click to enlarge
Source: Admiral
Capital & Dividends
Another distinctive factor of Admiral's business model is its low level of capital requirements, making it a capital-light insurance company. This boosts its profitability incredibly, and the company has reached very high levels of return on equity (ROE) over the years that have proven to be sustainable.
Admiral's business model is capital light, thanks to the co-insurance and reinsurance agreements and ancillary income. The company thinks that sharing risk with reinsurance partners is key. Its model is based on reinsurance relationships underpinned by strong underwriting results, with Admiral itself only providing the capital backing for a minority of its business.
The company usually co-insurance and reinsurance as much as 75% of its business, but retains the vast majority of the profit. This business model leads to very high levels of profitability with an average ROE of about 50% over the past few years. This is sustainable over the long term because its business model needs low capital, making its superior profitability a competitive advantage compared to its peers. In 2015, its ROE declined a little bit to 49% still at an outstanding value.
Its major partner is Munich Re (OTCPK:MURGY) which co-insures around 40% of Admiral's business and is its longest-standing agreement. Munich Re is the largest reinsurance company in the world and has a very strong credit quality reflected in its AA rating by Standard & Poor's. Additionally, Munich Re is one of Admiral's largest shareholders with a stake of 10%, ensuring a fairly strong alignment of interests between the two companies.
At the beginning of the month, Admiral has reported its Solvency II capital ratio for the first time, which further supports its business model. Reflecting its capital-light business model, the company reported a strong capitalization with a Solvency II ratio of 248%, which is among the best capitalized insurance companies in Europe. After its dividend payment, this ratio declines to 206%, still a very strong level. Moreover, the company's target is for a Solvency II ratio of between 125% and 150%, meaning that it has currently a high buffer above its own target. Its internal model approval is expected in 2017 and could increase its buffer even more, but that outcome is uncertain at this stage.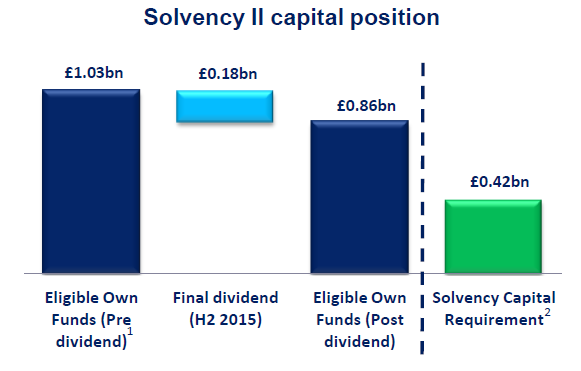 Source: Admiral
Regarding its shareholder remuneration, Admiral has had a consistent policy of returning capital to shareholders via normal and special dividends. This is supported by its strong capitalization, given that it does not need to retain profits like other peers and in fact intends to return up to $250-300 million of excess capital to shareholders over the next 2-3 years.
Over the past few years, Admiral has delivered a growing dividend with the only exception being 2014. Related to 2015 earnings, the company has increased its annual dividend by 16%, considering the normal and special dividend plus additional return dividend due to its excess capital position. Its annual dividend amounts to $1.62 per share, and at its current share price, offers a dividend yield of close to 6%. Admiral pays its dividend twice per years, and the next payment will be made next June.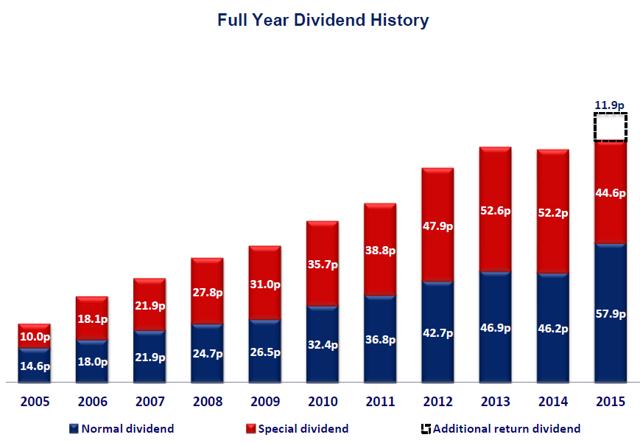 Click to enlarge
Source: Admiral
This attractive dividend comes mainly from high distributions to shareholders due to its capital-light business model, with an average dividend payout ratio above 90% of annual profits since its flotation. Over the past five years, its average dividend payout ratio was near 95%, and this ratio increased relative to 2015 to 106% considering its additional dividend return.
At first glance, this may seem too high and unsustainable in the long term, but the company has shown over the years that it does not need to retain profits and therefore this dividend payout should not be in jeopardy in the future. Furthermore, Admiral's management believes each business unit should be hungry for cash and it doesn't allow the company the luxury of excess capital, making its high dividend payout an important factor of its different business model.
Its dividend is also supported by its low-risk investment strategy with most of its funds invested in money market funds, short-dated debt securities, term deposits or cash. It does not have exposure to equities or alternative investments, thus sharp losses or high volatility is not expected within its investment portfolio. This is another positive factor for its dividend given that in this way its dividend should not be in jeopardy due to potential financial crisis.
Admiral's fixed-income portfolio is invested in good quality names mainly in AAA, AA and A ratings. Its key focus is capital preservation, with additional priorities being low volatility of investment return and high levels of liquidity. The company's investment income is therefore negatively affected currently by current low interest rate environment, leading to an overall return on investment of only 0.6% per year. On the other hand, its return on investments has upside potential from rising rates given the low duration of its portfolio, something that is expected in the U.K. towards the end of the year.
Conclusion
Admiral's long-term prospects are quite attractive as a result of its business model with a very profitable core operation in the U.K. motor insurance due to several competitive advantages like its cost efficiency and capital-light model, enabling it to invest for future growth in international and complementary operations.
It trades at a premium valuation compared to its closest peers at 18x forward earnings; that is fully warranted given its superior quality. Its strong capitalization leads to a high and sustainable dividend that is currently very attractive for long-term income investors in the context of low interest rates globally.
Disclosure: I am/we are long AMIGY, AXAHY.
I wrote this article myself, and it expresses my own opinions. I am not receiving compensation for it (other than from Seeking Alpha). I have no business relationship with any company whose stock is mentioned in this article.
Editor's Note: This article discusses one or more securities that do not trade on a major U.S. exchange. Please be aware of the risks associated with these stocks.