A flurry of articles has appeared on SA and elsewhere recently discussing the risk of dividend cuts.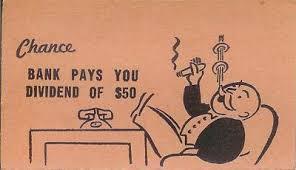 To the typical investor holding a basket of dividend stocks such as Johnson & Johnson (NYSE:JNJ), Procter & Gamble (NYSE:PG), and McDonald's (NYSE:MCD) that usually provide a steadily growing income stream year after year this news might seem a bit disconcerting.
However, instead of worrying about outright cuts or freezes, which don't happen very often on a big scale, the dividend growth investor should be concerned about slowing dividend growth instead. And even that risk shouldn't be a big deal.
Cuts and freezes
Using the Dividend Aristocrats as a proxy for a typical large-cap dividend growth portfolio there have been only three periods since 1989 in which the number of companies that have increased payouts annually over a very long time (defined as 25 years or more by the organization which maintains the Aristocrats list) actually declined significantly.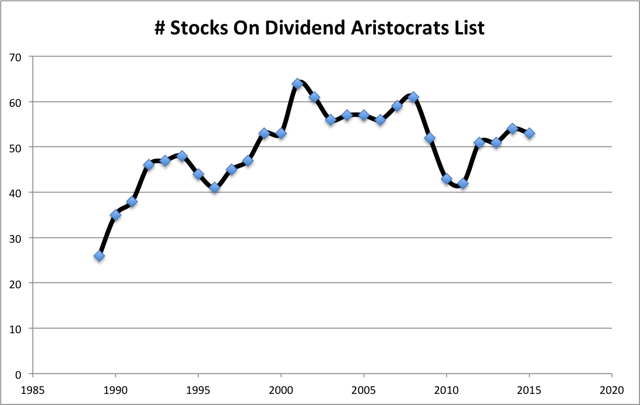 Click to enlarge
Looking at the overall market as represented by the S&P500 index there were only four periods during 1960 to 2014 where the largest U.S. companies reduced payments on a composite basis. For over 90% of the years since Kennedy was elected president big firms mostly raised dividend payments, and the growth has been exponential.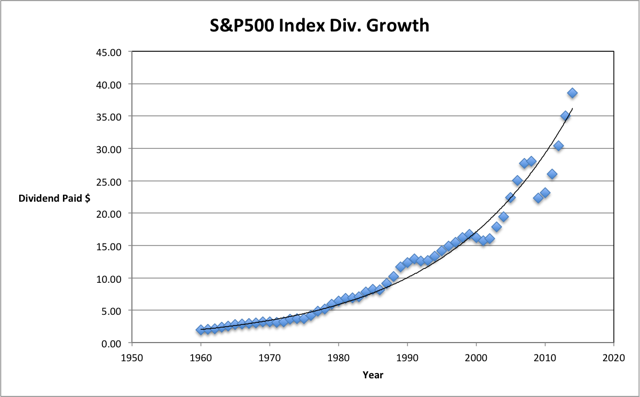 Click to enlarge
A slowdown?
To me the biggest worry (which is really a small concern) might be a slowdown in dividend growth. Investors accustomed to double-digit raises from dividend stalwarts like Wal-Mart Stores, Inc. (NYSE:WMT) and The Coca-Cola Company (NYSE:KO) might have to scale back their expectations.
The chart below depicts this slow-down trend over the last few years for some of the stocks in my own portfolio. Based upon the data I am personally planning for high single-digit growth going forward.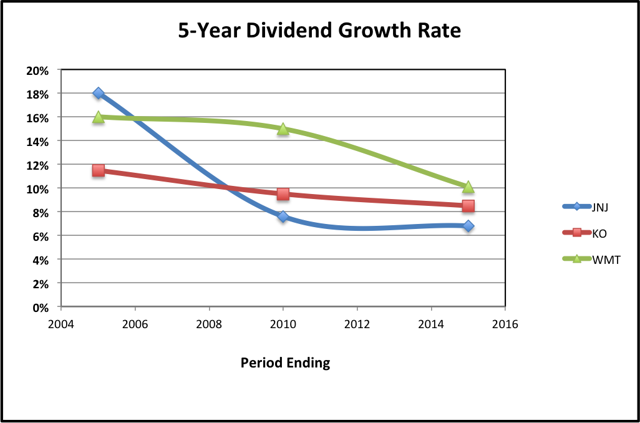 Click to enlarge
What to do?
How can the investor deal with the risk of slowing growth rates?
Probably the best thing to do is NOTHING, especially if your current income meets your budget and you don't need to boost spending. Long-term dividend growth for S&P500 stocks has mostly exceeded inflation. Over the last 55 years the CADGR has been 5.5%. Inflation has averaged 3.6%.
If you feel the need to do something to sleep better ensure that the overall income derived from dividends is higher than what is actually needed. For example, if you require $10,000 in annual income set up the portfolio to initially generate $12,500. Even if the growth rate suddenly lags inflation your income needs will be achieved for many years.
Or you can pick those stocks with the best chance to consistently increase dividends every year. I've written extensively on that subject. The latest installment is here.
Conclusion
Dividend growth investors have been bombarded with negatively-themed articles and blog posts recently. The typical headline might read "prepare for the worst" but should really indicate that "mostly all is well" in the DGI world.
Disclosure: I am/we are long JNJ, WMT, MCD, PG, KO.
I wrote this article myself, and it expresses my own opinions. I am not receiving compensation for it (other than from Seeking Alpha). I have no business relationship with any company whose stock is mentioned in this article.