Occasionally a company emerges out of thoughtful and persistent clinical research that solves complex and important medical problems for patients that cannot respond to standard therapy. One of these companies happens to be Cyberonics.
Cyberonics (NASDAQ:CYBX) is a $1.02 billion small-cap Houston based medical device developer that specializes in vagus nerve stimulation (VNS) for refractory epilepsy and treatment-resistant depression. Its therapy system consists of a generator that provides stimulation to the vagus nerve, a lead that connects the generator to the nerve, equipment that assists in implantation surgery and equipment that sets the stimulation parameters.
click to enlarge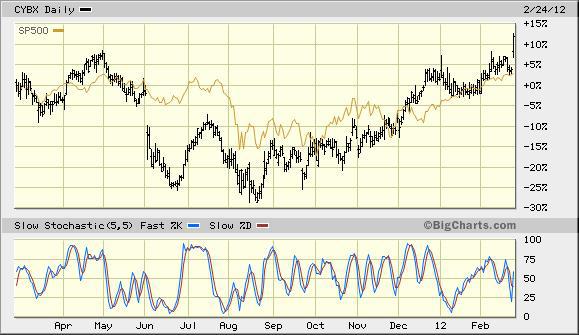 Epilepsy and seizures affect nearly 3 million people in the United States. Each year, 200,000 new cases of epilepsy are diagnosed. Depression affects over 15 million people in the United States.
VNS therapy was approved by the FDA in 2005. Its therapy system is approved for distribution in over 70 countries worldwide.
Cyberonics just reported record results for its fiscal third quarter. Net sales for the quarter increased 16% to $54.5 million. U.S. epilepsy sales increased 15% to $45.2 million, while international sales increased by 24% to $83.7 million. Income from operations increased 40% to $16.4 million and operating cash flow increased 59% to $21.1 million.
The company had its redesigned AspireHC (high capacity) device approved by the FDA in the third quarter. AspireHC is an improved generator for use in vagus nerve stimulation therapy. The AspireHC device addresses a need among some patients for a higher capacity battery.
Cyberonics also plans to submit an application for E-36 European clinical trial for its redesigned AspireSR by the end of April 2012. The AspireSR device automates stimulation by sensing heart rate changes that are correlated with the patient's seizure activity. Currently the company's approved products only allow for additional stimulation through the manual use of a magnet.
Cyberonics has two upward earnings revisions for 2012 and two for 2013. The company is expected to grow earnings annually at 24.5% for the next five years. This should allow the current stock price of $37, to grow to around $110 by 2017 (a total gain of 197%).
It has exceeded earnings estimates in the first three quarters of its fiscal year ending in April 2012. It is expected to have a 30.8% increase in earnings for the fourth quarter to finish the fiscal year with an overall increase of 21.8%. All of this should keep significant wind under the sails of its stock price.
Disclosure: I have no positions in any stocks mentioned, and no plans to initiate any positions within the next 72 hours.