On yesterday's earnings call, FedEx (NYSE:FDX) executive Mike Glenn dismissed rumors that Amazon (NASDAQ:AMZN) might be preparing to create a serious competitor to the "big three" shippers, saying that doing so would simply take too long and cost too much.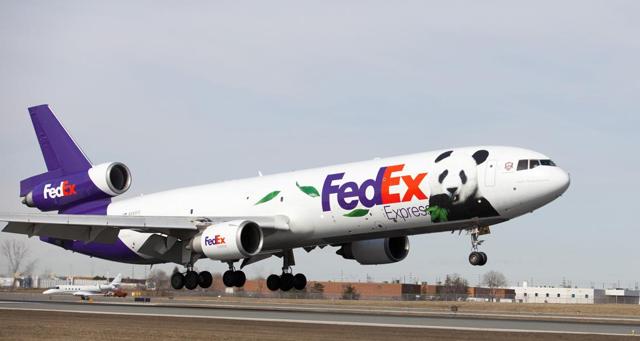 Money quote below:
"It is very clear that e-commerce is now enabling the full scale of retail revolution. There are several important trends worth noting. First, referring to a specific peak day is quickly becoming a thing of the past. As evidenced this year, there were multiple days where volumes exceeded 25 million packages as consumer buying habits are changing. We view this as a positive, as Mother Nature can sometimes play havoc with last minute e-commerce shoppers. Smoothing sales throughout peak season is a trend that will benefit retailers and transportation companies alike. We believe online shoppers will have increasing incentives to order earlier in the holiday season.

"Second, more and more retailers are fulfilling e-commerce orders from individual stores or what we call store-to-home delivery. FedEx is well positioned to service this growing market in the years ahead with our broad portfolio of services including metro delivery and same day services.

"Third, we are seeing a significant increase in non-traditional items now being purchased online, mattresses to new swing sets and big-screen TVs just to name a few. We welcome this opportunity, but it is important that we price these items accordingly to account for the operational complexities such as manual sortation to person delivery etc. As a result, we will be adjusting the initial handling surcharge for FedEx Ground. Today, if a package length is greater than 60 inches an additional handling surcharge will be applied. Beginning June 1, the maximum length will be reduced from 60 inches to 48 inches. We believe 48 inches is appropriate as it is the standard length of an LTL pallet. It is important to remember that the primary value proposition of e-commerce is the ability to order a product online and have it reliably delivered to the consumer.

"In that regard, FedEx (FDX) is and will continue to be a key enabler for e-commerce in the years ahead. By our estimates, more than 95% of all e-commerce orders today are delivered by one of three entities in the United States. FedEx, the USPS with whom we have a strategic relationship to transport the priority mail, and UPS (NYSE:UPS). In fact, if we were to isolate our e-commerce business one could argue that FedEx is one of the most profitable e-commerce companies in business today.

"I'd also like to clarify some of the public discussion and speculation concerning Amazon (AMZN) adding some direct transportation capabilities. First, Amazon is a valuable customer that we worked with for many years and we expect to work with them for many years to come. We've been in constant dialogue with them to understand their transportation needs as they've experienced significant growth. We've been aware of Amazon's need for supplemental capacity related to inventory management, which is driving some of the investments they are making in transportation.

"Large retailers have long had their own transportation capabilities, primarily to enable movement and positioning of inventory across their store and fulfillment locations. While recent stories and reports of a new entity competing with the three major carriers in the United States grabs headlines, the reality is it will be a daunting task requiring tens of billions of dollars in capital and years to build sufficient scale and density to replicate existing networks like FedEx.

"It is also important to note that no one FedEx customer represents more than approximately 3% of total revenue. Additionally, other than the Postal Service, no single customer represents more than approximately 3% of revenue for FedEx Express, FedEx Ground, or FedEx Freight. We manage these relationships carefully to ensure we don't become overly dependent on any one customer. We expect these industry trends and dynamics to accelerate this coming holiday season and we will continue to affect the industry year around. FedEx is well-positioned to provide innovative solutions and to meet this growing demand."
In a note Tuesday, RBC discussed Amazon's attempts to build its own distribution network:
"Amazon is seeing its outbound shipping costs rise at rate well in excess of sales growth. Amazon is trying to build a global supply chain to reduce costs and create deeper customer relationships."
The key challenge here is the disparity between Amazon's net sales growth and shipping expense growth, as witnessed in the chart below: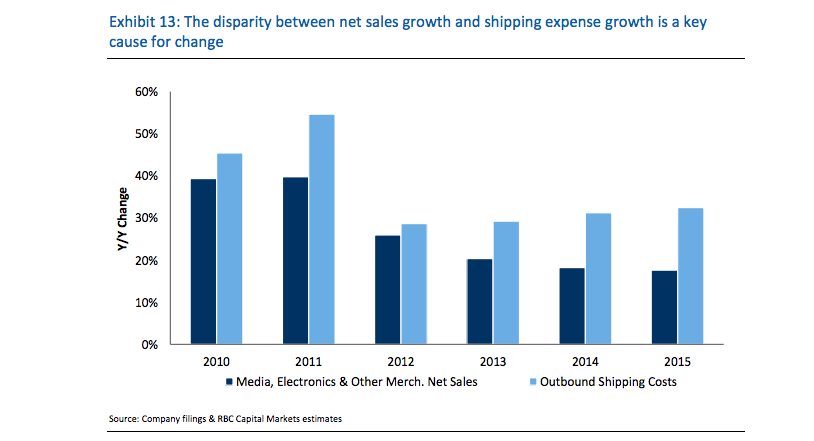 Amazon has also experienced delivery delays during peak season, which appears to be the focus of FedEx's comments above that "peak days are becoming a thing of the past."
Still, RBC agrees that given the costly and lengthy nature of building its own delivery chain, it's more likely Amazon will take a slower approach:
"All in, we believe it is likely Amazon will make a concerted effort to take over ever larger portions of its supply chain," the report said. "However, a full-blown Amazon parcel delivery operation would likely take years to complete, so we believe FDX [FedEx] and UPS would have time to react."