As WTI crude futures prices breached $40/b today on talk about an "Extraordinary Meeting" to be held by OPEC in April, it is worth taking a look at what OPEC thinks about the future supply/demand balance, as presented in OPEC's March Oil Market Report. The follow-up question is, can OPEC balance the market in 2016?
The proposed freeze referenced January 2016 levels, so that is a good place to start. OPEC reports production in two ways: from direct communication and from secondary sources. When there were production quotas, secondary sources were used to identify cheaters but there have not been individual quotas for many years.
The figures for January are 1.5 million barrels per day different with OPEC countries reporting higher production in most cases, compared to secondary sources. Given an estimated world oversupply on that order, the difference is meaningful. The differences below subtract secondary source estimates from OPEC reported levels.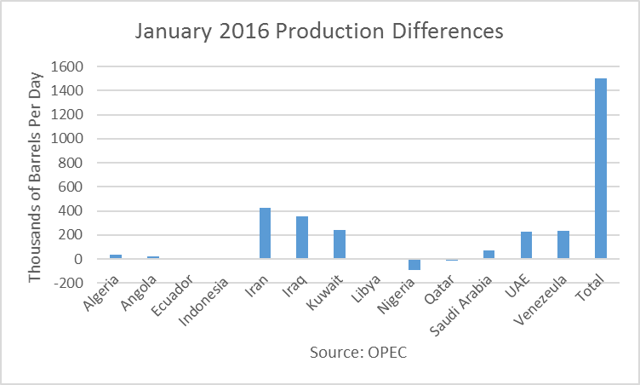 Click to enlarge
Note: Neither Indonesia nor Libya reported January production.
The largest disparity was Iranian production. They reported output at 426,000 b/d higher than did secondary sources. Another interesting point about Iranian production is that it had increased its output in the 4Q15, but not materially in 2016 after the sanctions were lifted. There had been reports that Iran had been selling oil on the "black market" prior to the lifting of sanctions, whereas others reported the oil going into storage. These figures may in fact represent what Iran could increase near term, given its representation of 500,000 b/d, although Iran has said it wants to boost its production to 4 million barrels per day, which is another 700,000 b/d above what it reported for January.
Based on OPEC's own projections for the "call" on OPEC production for the third and fourth quarters of 2016, and assuming a "freeze" at January 2016 levels, there would be a slight draw in stocks in the third quarter and a slight build in the fourth quarter, using secondary sources for January production levels. As a result, this would imply a balance would be achieved.
However, using OPEC's own data, there would be an oversupply or 1.2 and 1.7 million barrels per day for 3Q16 and 4Q16, respectively. This is why the accuracy of the data is so important.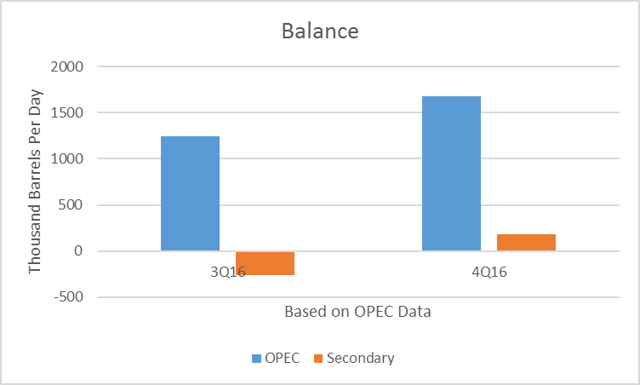 Click to enlarge
If the oil producers want to bring the market into balance in the second half of the year, they would have to cut production about 1.4 million barrels per day, assuming OPEC's numbers are correct and Iran cannot increase its production further this year due to operational issues.
Looking at Saudi Arabia's reported production over the past year, they show it has declined since 2Q15. Given Saudi's objective to maximize its market share, it is logical to believe that its production capacity declined almost 200,000 b/d from mid-2015. If this in fact is its decline rate, the Saudis could agree to a cut of 200,000 b/d over the next year without giving up anything.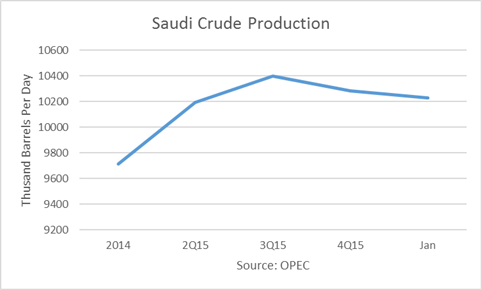 If that is all Saudi Arabia is willing to do, the rest of the OPEC and non-OPEC producers would need to cut by about 1.2 million barrels per day collectively beyond what OPEC projects for the second half of this year. A cut this size might be doable since it would bring all producers more revenues than if prices languish in the $30s. However, cartel dynamics reward "cheaters," so the odds of it actually being implemented are not good.
Conclusions
It is worth noting that an Extraordinary Meeting has not yet been listed on OPEC's website. The next official meeting is slated for June 2, 2016, and is referred to as an "ordinary" meeting using OPEC's terminology. Perhaps OPEC will wait until then to discuss the freeze, getting mileage out of market expectations in the short term.
A supply-demand balance is possible in the second half of 2016 IF the estimates of January output from secondary sources is correct and Iran cannot increase its production further. If not, then a cut of over one million barrels per day is needed. It would need only be temporary though, if world demand rises in 2017 as expected.
In the alternative, OPEC/non-OPEC producers may achieve substantial price relief by going through the "cut" exercise for months, leading the market to believe there could be a cut. Futures prices are based on what the market expects, and so beliefs are powerful forces.
Disclosure: I/we have no positions in any stocks mentioned, and no plans to initiate any positions within the next 72 hours.
I wrote this article myself, and it expresses my own opinions. I am not receiving compensation for it (other than from Seeking Alpha). I have no business relationship with any company whose stock is mentioned in this article.