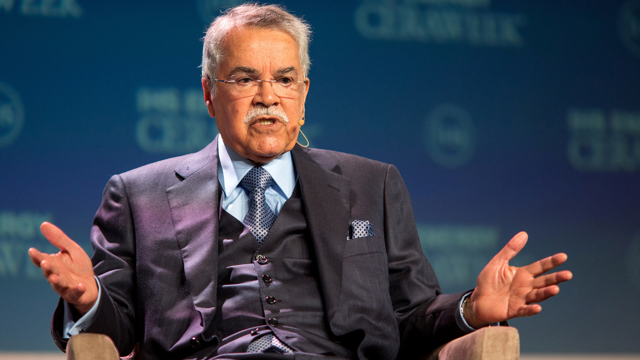 Click to enlarge
Ali al-Naimi. Photographer: F. Carter Smith/Bloomberg
Saudi Arabia is preparing for a world when their crude oil will not be the primary source of their income - and may not produce much income at all. The shale oil revolution and subsequent price collapse has woken the Kingdom up to the reality that it must diversify its sources of income.
The Paris climate conference has put fossil fuel producers on notice that the world needs to wean itself off of emission-producing energy sources. Saudi Oil Minister Ali al-Naimi said the Kingdom plans to be exporting gigawatts of electricity from solar panels in coming decades.
Again yesterday, al-Naimi said at a conference in Berlin that the world's largest crude exporter is focusing on renewable-energy sources such as solar power in preparation for a post-oil global economy. "I don't think there is a more ideal country for renewables than Saudi Arabia," given its abundant sunshine, available land and plentiful sand, which is needed for making solar panels.
But a transition to renewables is decades away. To address the more immediate prospects, Shell (NYSE:RDS.A) (NYSE:RDS.B) and Saudi Aramco [SDABO.UL] announced on Wednesday a "Letter of Intent" to break up Motiva Enterprises LLC [MOTIV.UL] after almost two decades, dividing its assets and leaving Aramco with one plant, the nation's largest crude oil refinery, in Port Arthur, Texas.
Buyer or Seller?
Is this a move to prepare for a sale of Aramco's assets as previously reported, or is this the start of a new acquisition phase? In my article, Is Saudi Arabia Using A Rope-A-Dope Strategy?, I questioned whether Saudi Aramco intends to use its U.S. entity to purchase a share of U.S. crude oil assets in liquidation sales, thereby regaining its lost market share as a result of low oil prices this year.
Officials from Saudi Refining, the downstream arm of Aramco, told employees following the announcement that the state-owned firm was intent on buying more assets once the Motiva break-up is completed. Officials did not identify possible acquisition targets, but one source was quoted as saying, "They want to acquire refineries. They want to get into chemicals. They want to expand and Shell doesn't."
Buying more refineries can diversify the Saudis' income, heavily impacted by crude oil prices. More income from refinery earnings would help diversify the Saudis' income because refinery margins are not highly correlated to crude prices. In fact, at times as in 2015, they were negatively correlated to crude prices, providing an offset.
Saudi Arabia's intentions are curious because in January, Deputy Crown Prince Mohammed bin Salman announced a proposal to sell a stake in some assets Saudi Arabian Oil Co. Aramco confirmed it was studying whether to list "an appropriate percentage" of shares of the parent or a bundle of "downstream" units.
Aramco is reportedly valued at more than $5 trillion. The sale of shares could enable their sovereign wealth fund to diversify across other businesses to produce investment income. The fund has been hemorrhaging more than $20 billion per month in the recent past.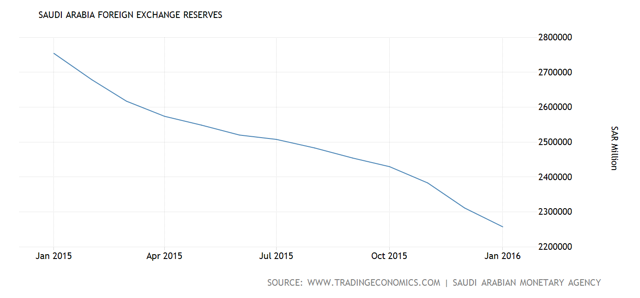 Click to enlarge
Conclusions
The Saudis' intentions are unknown. Any of their moves could possibly make sense.
Buying more refineries helps diversify the risk of revenues from crude oil sales. Selling part of Aramco could bring trillions to diversify investments. Buying crude oil "on the cheap" could enable them to expand market share as they had intended.
Disclosure: I/we have no positions in any stocks mentioned, and no plans to initiate any positions within the next 72 hours.
I wrote this article myself, and it expresses my own opinions. I am not receiving compensation for it (other than from Seeking Alpha). I have no business relationship with any company whose stock is mentioned in this article.