"In investing, what is comfortable is rarely profitable." - Robert Arnott
Investors are worried and nervous about everything these days. Stock market volatility, earnings, Fed policy, energy prices, China's economy, terrorism, politics, Britain leaving the EU, and inflation round out the current "wall of worry". Many are just not "comfortable" and haven't been since last August.
That is reflected in the statistics on where money is flowing. Today's investors generally believe that investing for income is safe whereas investing for capital appreciation is risky. There have been positive flows into income oriented funds like utility funds, REIT funds, and preferred stock funds. However, there have been significant outflows from capital appreciation oriented funds like small, mid, and large growth funds. Investors believe that income oriented funds are safer.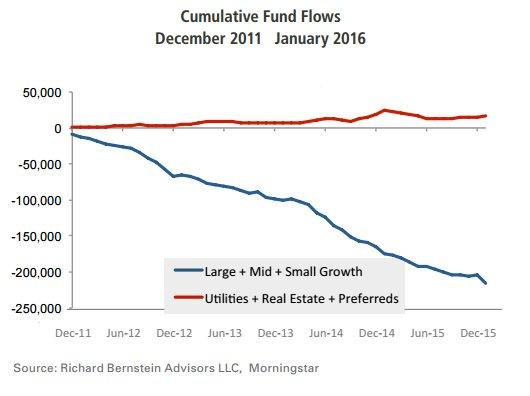 Unfortunately, the idea that income oriented investment strategies are safer than capital appreciation strategies isn't quite true.
Over longer periods of time, returns compensate investors for taking risk. Although everyone is schooled on the concepts of risk and return, investors rarely take advantage of opportunities that might enhance long term returns because they are too scared to do so.
This short term market mentality seems like an opportune time for longer term investors to take more risk. Instead, they cling to past performance believing historical outperformance will continue indefinitely. Investors tend to be most bullish at the peak of a cycle when they are most confident
Richard Bernstein of Bernstein Advisors notes:
"With dividends expensive and price appreciation well below the norm, we think it might favor investors to change tactics and lean toward capital appreciation."

"No one ever grew wealth being scared."
Capitalism is based on taking risk and being compensated for taking that risk. Within that context, investors who are always afraid and structure portfolios conservatively because of that fear should expect sub-par returns. Investors are herding because of fear, and not because of greed.
Accordingly, income strategies are much more popular than are strategies based on capital appreciation. I strongly doubt that investing with any herd will prove fruitful. The Dalbar study of individual investor returns uses results of individual investor returns based on the timing and magnitude of mutual fund flows. Their data suggest that individual investors perform poorly over longer periods of time because they tend to buy when they are most convinced in an investment's merit and asset prices are elevated, and sell when they are least confident and asset prices are depressed. In other words, individual investors tend to buy high and sell low.
It is why I have always thought that to some degree, investors should be looking to step away from the crowd, and better balance portfolios between income and capital appreciation. I spoke to this a while back when I suggested that every portfolio should include growth stocks.
"The compounding of dividends over time has shown to be a great way to build wealth over time. I submit that the true growth names can do so as well."
There is nothing wrong with income investing. It is THE core of my portfolio, but the opportunity cost of investing in fear and giving up potential capital appreciation might be substantial. I'll use the words of Mr. Arnott to make the point that sometimes you have to feel a little "uncomfortable" to reap some nice rewards.
Well, all of that sounds great. So, before many stop reading right here believing that I have drifted away from the reality of the present market, let me clarify my thoughts on the topic. It's one thing to stick to a long term investment strategy in a good market, or in a down market, if you have time to recover.
But what if an investor's time horizon is short or there are life situation goals with a series of time frames, like a multi year retirement?
We all can agree that if you're investing for a long term goal, a combination of time in the market, consistent contributions and a long term strategy works very well. However, if you're investing for a short time frame, short term volatility is your enemy, and that is what investors are faced with lately. This fact alone is the major concern for many. As economist John Maynard Keynes famously said:
"Markets can remain irrational longer than you can remain solvent."
Don't fall into this trap when creating your investment strategy.
What is a "short" time horizon? For the average investor, a short time horizon doesn't mean a day or a week. A short time horizon, more realistically, is four years or less. If you expect to need the money within that time frame, you shouldn't be invested aggressively, unless you can afford to lose money and still meet your goals. That's the nature of investing.
Charles Schwab conducted a study and rationalizes the four-year rule by looking at market history. Since the 1960s, the average time from the peak in an up market to the trough in a down market and back up again has been around three and a half years. Future downturns could be longer or shorter, but a four-year time horizon is a cushion that can help manage risk in most markets.
Average time to recovery for the S&P 500:

Click to enlarge
So it is time to reassess the 'plan', the "'strategy", to include a very important point, time. I plan to continue this discussion and offer some ideas on model portfolios based on an investor's risk tolerance and time frame.
Economy
Wage Growth has been growing in the last 12 months by 3.6%.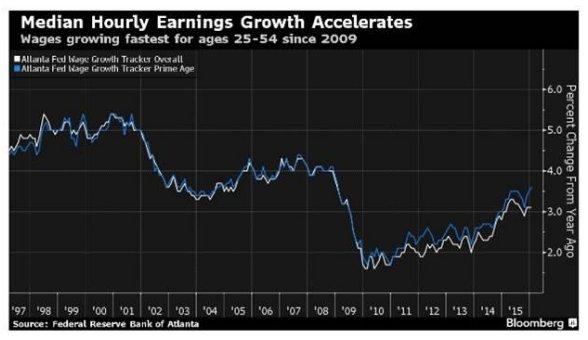 Empire Manufacturing surges into positive territory.
Since its introduction in 2001, this latest month over month increase (17.26) in the Empire Manufacturing report was the 3rd largest on record.
Manufacturing activity in the New York region surged in March, moving into positive territory for the first time since last July. While economists were expecting the headline reading to come in at a level of -10.50, the actual reading was considerably stronger at +0.62. It was also the third largest monthly increase on record and the biggest since December 2010. Finally, this month's positive reading for March breaks a string of seven straight monthly declines, which was the longest streak of negative readings since August 2008.
Following on a string of recent stronger than expected data in the manufacturing sector, this past week's release of the Philadelphia Fed Manufacturing survey showed a surge for March. While economists were forecasting the headline index to come in a level of -1.5, the actual reading came in at +12.4.
That was the first positive reading since August, the highest reading since last February, the largest monthly increase since November 2014, and the strongest report relative to expectations since November 2014. Concerns about weakness in the manufacturing sector that were so persistent in the beginning of the year are becoming more and more scarce by the day.
Retail Sales were mixed, with big revisions to January and December.
Retail sales for the month of February were released earlier this morning and declined less than expected on the headline reading. When you back out the impact of Autos and Gas, the results were mixed. In addition, January's headline reading was revised down from a gain of 0.2% to a loss of -0.4%. That was the biggest downward revision in the headline reading in two years.
It may be worthwhile to look at these sales figures after we break out gasoline sales. Keep in mind the sales figures are reported in gross dollar amounts and the fact that gas prices have dropped so dramatically it is impacting the overall retail sales numbers.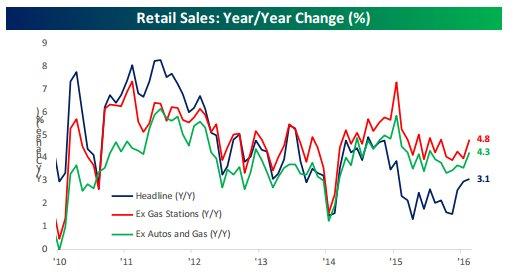 Source: Bespoke Investment Group
The headline number showed a 0.1% decline, but when we back out the huge drag from gasoline sales, the year over year reading actually increased to 3.1%, which is the highest level since January 2015. Backing out sales at gas stations, retail sales rose at a faster year over year rate of 4.8%, but were stronger as recently as last July.
We received some mixed news relative to expectations on the housing front this morning as Housing Starts came in better than expected while Building Permits missed. Based on the absolute data, though, the data remains positive. In the case of starts, economists were forecasting a SAAR (seasonally adjusted annual rate) of 1.15 million, but the actual level came in at 1.17 million. That represents a 5.2% month over month increase over January, when starts fell 3.4%. Building Permits came in weaker than expected, falling to a SAAR rate of 1.167 million.
The Fed released its estimates for Industrial Production in the month of February, and the results were respectable. While headline IP fell 50 basis points, most of that decline was due to Utilities output falling. That unwind in Utilities production reflects more favorable weather. Mining also weighed (oil production fell), but Manufacturing continued to rebound.
Ex-Energy, IP is now up 1.16% YoY and rebounding, suggesting that manufacturing continued to see improved prospects in the month of February. This has been basically confirmed by survey data for February (ISM) and March (Empire State Manufacturing and Philly Fed shown earlier).
As always, hard data is what matters, and in that respect the data is clear; the pressure on factories over the last year appears to be easing. Overall IP output continues to rise, and the only major headwind on a consistent basis at this point is Energy as oil output continues to crash.
Headline PPI Final Demand was down about 18 basis points month over month, with Energy by far the biggest driver. Goods disinflation appears to be ending; Ex-Energy, Goods was up 27 basis points month over month. Services also rose, despite major headwinds from Transport/ Warehousing Services which have been tracking oil closely. Overall, services inflation faced by firms is the biggest headwind. For now, it's entirely being offset by much lower prices on goods thanks to cheap commodities (energy, food, and other raw materials) and the USD. I note the pace of appreciation in the USD has at best slowed to a crawl, or may even be over.
PCE which is the Fed's preferred gauge of inflation, has been running below CPI for quite some time. The lift in health care costs implied by the PPI for Health Care Services bump over the last few months, suggests that inflation watched most closely by the FOMC, is very likely to accelerate higher.
February CPI release from the BLS (Bureau of Labor Statistics) shows core CPI is up to 2.3% over the last year but is up to 3% annualized in the last three months. That's despite ongoing Energy declines. Apparel prices have shot higher to start the year, up almost 8% annualized, while services have been by far the largest impulse. Shelter is accelerating in cost again while anything involving labor inputs is trending steadily higher and generally accelerating.
Where is all the deflationary spiral talk that suggested the entire global economy would find itself in?
Scott Grannis weighs in on of all things "inflation". Sometimes "situations" can and do change. I'm not so sure the skeptics have figured that out just yet.
Global Economy
One reason I continue to bring economic data from the rest of the world to the forefront is because an investor has to realize we do exist in a global economy. So often the attention is focused here and we lose sight of the positives along with the negatives that are taking place elsewhere.
The European Central Bank released their March 201 ECB staff macroeconomic projections for the euro area and stated:
"The economic recovery in the euro area is expected to continue, albeit with less momentum than previously projected. The slower pace reflects weakening global growth and a strengthening of the effective exchange rate of the euro."

"The outlook for real GDP growth in the short term has softened as headwinds have strengthened recently. These headwinds relate to adverse developments in global activity, especially in emerging market economies."

"Nevertheless, a number of tailwinds are expected to support the continuation of the economic recovery. The ECB's accommodative monetary policy stance, further strengthened in December 2015 by the announcement of additional monetary policy measures, continues to be transmitted to the economy."
In my view it's entirely possible to see a significant easing of financial conditions and huge support for asset prices with a flat or sideways euro. It's also possible to stimulate domestic credit growth and final demand without massive FX devaluation. It appears to me that the ECB has introduced an admirable pivot from rates/FX focus to credit focus and that it will have major impacts on equities and credit. In summary, they're going to focus on credit provision and expansion of liquidity.
French, German, and Italian IP numbers have all handily beaten expectations with very strong month over month prints for January, so it's entirely possible we see a real pickup in activity to complement ECB action.
Euro Area Industrial production surged to its highest level in 6 years.
Howard Archer, an economist at IHS in London:
"The monthly increase in production in January was the biggest since September 2009 and exceeded the 1.7 percent median forecast of economists. While the numbers give a "serious boost" for the first quarter growth outlook, surveys suggest a weaker February. Markit's Manufacturing Purchasing Managers Index fell to the lowest in a year last month."
Eurozone real construction output exploded higher in January, following a similar trend to Industrial Production. Output rose 3.6% MoM, the best since March 2012 and just one place shy of a top ten all-time rise.
Also released last week; Eurozone auto sales for the month of February came in very strong. The year over year change in cars registered is closing in on ten-year highs.
A good report on wages and unemployment in the U.K., as unemployment is at a decade low.
Japanese Machinery Orders (which excludes volatile orders) rose by 15% in January, the best print since January of 2003 and the third-strongest print in the history of the series, which goes back nearly 30 years
It's a global economy folks and some of this good news should be factored into the equation given the bad news that is constantly highlighted.
The Fed is on a more gradual glide path.
I'm not sure why any of this comes as a surprise at it has been the message of the FOMC since Janet Yellen took over as Chair. It has been my opinion that this Fed will not take any drastic measures, and rates will gradually rise over time.
In my view, the FOMC action this past week was extremely dovish. It should support equity, credit, and gold, while steepening the yield curve and smashing the USD lower and raising inflation risk premiums.
It was reported that 2017 sees a terminal median rate of 1.9% versus 2.4% in December. For PCE inflation, despite Core PCE of 1.67% YoY in January, the median projection this year is for a 1.6% advance in that price measure, rising to only 1.8% by the end of 2017 versus 1.9% in December.
Chair Yellen emphasized to reporters in her post statement press conference the projections in the SEP (Summary of Economic Projections) are not promises, but instead projections with a considerable collective forecast range. The median of each measure is itself the median of a range of outcomes possible under each FOMC voter model for the future. Those looking to obsess over trying to hold the Fed to any kind of highly precise reporting standard, will be severely disappointed. It is why I suggest to leave "Fed obsession" to others.
The market reacted positively, there was a major "risk on" move, as we would expect with a dovish Fed. Yields fell, but the curve steepened dramatically thanks to higher inflation risk premium. The USD was down over 1%, and I think that is significant.
In effect, the Fed is saying they will risk inflation (risk which they view as low) in favor of growth. In my view, that is the right profile.
Sentiment
In the past two months, global allocations to equities have fallen from 40% overweight to just 5%. Since 2009, allocations have only been lower in mid-2011 and mid-2012, periods which were notable lows for equity prices during this bull market.
Fund managers' cash levels jumped to 5.6%, the highest since the post 9/11 panic in November 2001, and lower than at any time during the 2008-09 bear market. This is extraordinary. Current levels are an extreme that is normally very bullish for equities. Even November 2001, which wasn't a bear market low, saw equities rise nearly 10% in the following 2 months.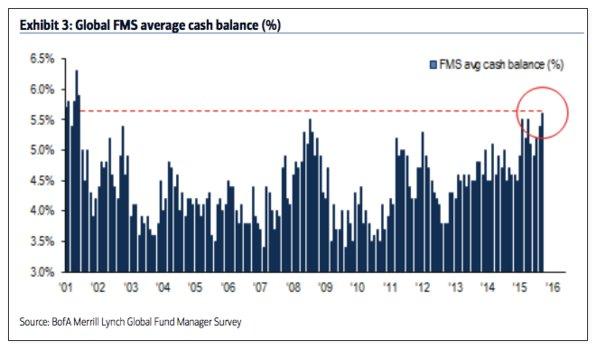 Crude Oil
We have seen a massive gain on a percentage basis for crude oil. When placed in the context of the last two years, though, it barely registers. While there have been a number of false alarms in crude oil prices during this bust, the current rally has managed to break the downtrend that has been in place for so long, and coming after a double bottom, it looks positive from a technical perspective.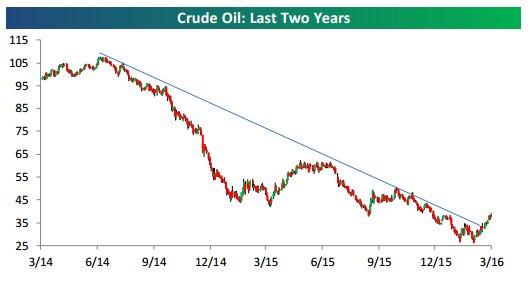 Source: Bespoke
In addition to the improved technical picture for crude oil, the 50+% gain over the last month is the biggest gain over this short a stretch of time since the end of the financial crisis in March 2009. Going all the way back to 1983, it is only the fourth time that crude has rallied 40%+ over a 20 trading day period. Over that same period of time, there has only been one other period where crude oil saw a larger move.
The Baker Hughes Oil Rig count has declined in 61 of the last 74 weeks and is down 76% to its lowest level since December 2009. At this level, practically all of the increase in rig count from the U.S. boom has been erased.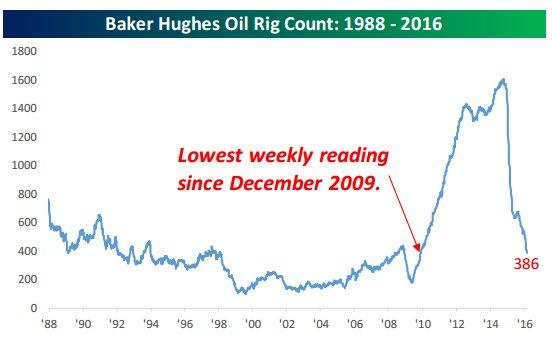 Source: Bespoke
In addition to being overbought in the short term and in need of consolidation, the price of Crude Oil was also impacted by headline news last week.
"A meeting between oil producers to discuss a global pact on freezing production is unlikely to take place in Russia on March 20, sources familiar with the matter say, as OPEC member Iran is yet to say whether it would participate in such a deal."
Iranian oil minister Bijan Zanganeh said in a recent interview:
"I have already announced my view regarding the oil freeze and I'm saying now that as long as we have not reached four million in production, they should leave us alone. When we reach this level of production, we can then cooperate with them."
OPEC said Iran produced 3.1 million barrels per day in February, a rise of 187,000 barrels on the previous month.
The chart below indicates that WTI pulled back earlier in the week from overhead resistance at a 50% retracement level drawn from its October 9th high to the mid February low. Then regrouped and surged above the $40 level, to close the week at $39.35.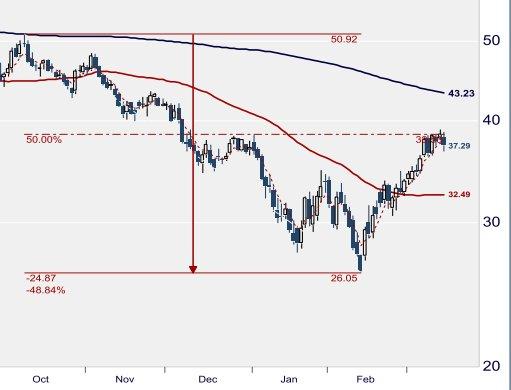 Source : Raymond James Advisors
The Technical Picture
Market breadth is looking a little stronger lately. Last week we saw that 89% of S&P 500 stocks closed above their 50 day moving averages. That is the highest reading since 5/21/13.
NYSI (New York Stock Exchange Summation Index) closed at 856. Neither the 2000-03 nor 2007-09 bear market rallies saw breadth momentum this strong.
The daily chart shows that the S&P has now cleared the resistance level that sits at the 200 day moving average of 2017.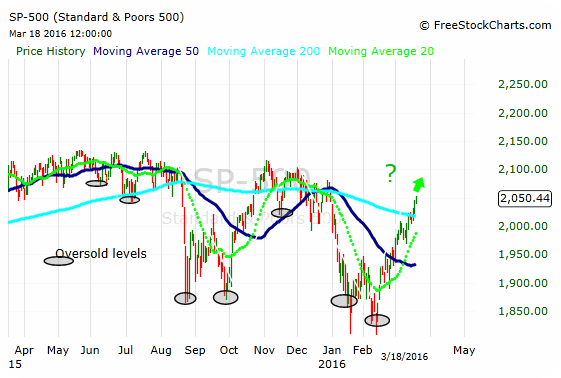 Many still view this recent upward move as a "bear" market rally that will suffer the same fate of the October-December rally back in 2015. Maybe so, only time will tell.
However, let's not toss aside the fact that investors that were astute and didn't buy into the fear rhetoric at the lows are in a very nice position. Depending on the individual situation that one faces, the options now are many, and they can be carried out with a clear emotionless mindset.
Continuing with the technical picture, the 20 month moving average (2033) on the long term chart of the S&P has been retaken with this upward move. The next two weeks will be important for both sides. A close above that LT trendline at the end of March would signal that for the moment, there would be no failure at this critical level like we saw back in 2001 and 2008. Both of those "failed" rallies ended in large downturns for the index.
Individual Stocks
FedEx (NYSE:FDX) reported a solid quarter this past week, beating estimates on both the top and bottom line.
Frederick W. Smith, FedEx Corp. chairman, president and chief executive officer:
"Our strong financial performance was driven by increasing demand for our broad portfolio of FedEx business solutions which helped increase revenue and adjusted profit for the corporation."

"We sincerely appreciate the peak season efforts of our FedEx team members who delivered great service despite the challenges of stronger-than-expected shipping demand, driven by the growth in e-commerce."
Someone must be sending packages somewhere. This doesn't mesh with the "consumer is dead" story from the naysayers.
Given the solid operating performance, combined with lower fuel costs, it makes the company a name to do some research on.
I like the price action in Apple (NASDAQ:AAPL). It has been strong, and some of the negative rhetoric on falling demand may have been lifted.
Katy Huberty of Morgan Stanley reported:
"Her firm's iPhone Tracker, which is based on sell through data, implies demand for 56.5M iPhones in the March quarter, which she notes is "far ahead" of the firm's estimate of 49M iPhones. The firm's Asia tech team believes the inventory digestion in Apple's supply chain has come to an end."
I see continued weakness in the healthcare sector. Solid growth companies in the sector are being tossed away. It is THE growth area in the market and this negative sentiment and malaise won't be here forever.
Not every biotech is a Valeant (NYSE:VRX), but that is what the "market" is telling us. It may not feel comfortable to invest in these names now, but companies like Celgene (NASDAQ:CELG), Gilead (NASDAQ:GILD), Alexion (NASDAQ:ALXN) and a recent purchase of mine, Amsurg (NASDAQ:AMSG), are growing revenues at over 20% annually.
I am looking past the headline news on a stock like Valeant, which is in a universe by itself and should not be associated with the companies that are earning money and selling at modest PE ratios given their solid earnings and balance sheets. Valeant on the other hand is losing money and is burdened with a boatload of debt. Yet their dire situation is being used to "broad brush" the entire sector.
Summary and Conclusion
Nobody knows what comes next. We can't help but listen, and they can't help but say it. Predictions are in our very nature. We are pattern seeking creatures in search of an answer of why the recent past unfolded and how the future will reveal itself - traders, advisors, economists, pundits, journalists, portfolio managers.
Everybody has something to say about what comes next, and nobody has a clue. In hindsight there is always someone who was right. Most likely that person is a broken record, the stopped clock. If you predict a bear market every year for a decade, you will be right at least once. Maybe twice! A 20% batting average, congratulations.
The more your investment strategy is based on narrow, specific forecasts, the less likely you will be to find success. Don't assume you can know what comes next, or the guy with the column in today's Journal knows.
I bring this up now because the S&P is at a critical juncture, a pivot point that I have discussed since last August, moving just above the important 20-month Moving average. I believe that holds the key for the next "big" move.
The issues to watch are WTI, the USD, and of course how the technical situation plays out. The first two will dictate the third.
The reversal of those two trends signals a huge blow to the earnings argument of the skeptics. Why? The USD headwind on Corporate earnings abates and the energy earnings drag also lessens.
They can talk about GAAP vs. Non GAAP issues, profit margins, buybacks, margin debt, the Fed, and the like. It won't matter.
For the moment, it's best to discard any noise on the fundamental scene, especially from the naysayers. After all they told everyone to lighten up and sell at the lows. The LAST thing to do now is listen to ANY of that rhetoric.
That crowd is in a real tough spot and they will ramp up any negative to try and keep their case alive. They will even go back to "it's all about the fed" nonsense, to try and rationalize their mistakes back at the lows.
The Bulls were in a similar situation back in August 2015 and again in January-February, and they held their position. It's simple, the bears step up here and defend their theories or they will be overrun. Perhaps they will do that, but time is running out.
The consensus still says this is just a counter trend rally in a bear market. I like that sentiment still favors the bulls. Just look at the data reported in this and past missives. Short interest and cash levels at 2009 highs, and I don't see many buying into the upside.
The next two weeks may tell the story for the remainder of 2016. Stay tuned, it is about to get very interesting.
Best of Luck to All!
Disclosure: I am/we are long AAPL,ALXN,GILD,CELG,AMSG.
I wrote this article myself, and it expresses my own opinions. I am not receiving compensation for it (other than from Seeking Alpha). I have no business relationship with any company whose stock is mentioned in this article.