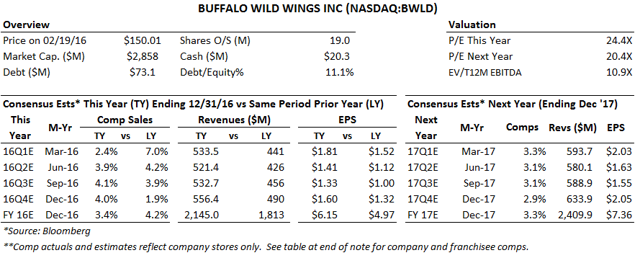 Click to enlarge
Company Overview
Buffalo Wild Wings Inc. (NASDAQ:BWLD) is the owner, operator and franchisor of its Buffalo Wild Wing (BWW) restaurants (its principal concept) in the bar and grill sector whose signature specialties are boldly flavored made-to-order chicken wings and a wide selection of domestic, imported and craft beers. The restaurants are designed to have a neighborhood feel with extensive multi-media systems to appeal to both sports fans and families. System-wide, the number of stores grew by nearly 9% in 2015 with sales of $3.6B, ending the year with 1,163 BWW locations (590 co. owned, 573 franchised), mostly in the US and Canada, but also in Mexico, Saudi Arabia and the Philippines. The typical company owned BWLD store is 6,300 square feet and generated $3.252M in 2015, or $516/sqft. Franchised stores averaged $3.353M or $532 per square foot.
Over the past 5 years the company has grown rapidly and profitably. Unit growth CAGR of 10.0% combined with 20 consecutive quarters of positive comps averaging 5.5% have driven revenues, EPS and Free Cash Flow at annual rates of 24.9%, 19.2% and 31.9%, respectively. Long term the company targets a system of over 1,700 BWW units in the US and Canada and expects to sustain revenue and profit growth with continued menu innovation and investment in service improvements (e.g. "service captains" and payroll increases), upgraded store formats (the rollout of "stadia" entertainment design), technology (a system-wide POS with a platform for table-top ordering and gaming devices and for online & mobile ordering apps), and loyalty programs (e.g. "Blazin Rewards" program launched in 2015). The company is also exploring investments in emerging restaurant brands and has a minority interest in Pie Squared Holdings, operator and franchisor of PizzaRev, a California-based fast-casual pizza restaurant concept, as well as rights to operate PizzaRev restaurants in certain states. It also has a majority interest in Rusty Taco, Inc., a Texas-based fast-casual street-style taco restaurant with both company-owned and franchised locations operated under the R Taco banner. At year's end there were 10 R Taco units (4 company, 6 franchised) and 2 company owned PizzaRev units (operated as a franchisee).
BWLD's balance sheet is strong with the ratios of debt to EBITDA and lease-adjusted debt to EBITDAR a very manageable 0.3X and 2.0X, respectively. Cash from operations for the year was $237.7M, which, net of $172.5M capex, leaves free cash flow of $65.1M (or -$138.4M including outlays of $203.6M for franchisee acquisitions).
Current Developments
Per the company's Q4 earnings release, revenue increased 19.9%, with company op. unit sales increasing 21.3% from same store sales of 1.9% (4.2% for the year) and the addition of 103 units in the year, including the acquisition of 54 franchised units. On the other hand, franchise revenues were down 2.9%, dragged down by the loss of revenues from the units closed and acquired by the company despite the revenues from 50 new stores and comps of 0.1%. In the quarter, restaurant EBITDA margins at 18.6% (up 87bps) remained above 18%, as they have all year (though below the 20% average steadily achieved by 2014) despite lower food (115bps) and labor (18bps) costs, offset by higher occupancy costs (46 bps). All in, net income and EPS were up 24.4% and 23.7%, respectively.
For 2016 the company plans 87-100 new BWW units (45-50 company, 30-35 US franchised and 12-15 international franchised). In addition, it plans 6 new company-owned and 4 R Taco locations and an unspecified number of PizzaRev units. Management's planned system-wide 7.5%-8.5% unit growth combined with its single digit comps (2.4% known menu price increases + modestly higher traffic), implies top line growth of 17%-18%. Below the top line, management's guidance implies a slight improvement in the operating margin due to G&A growth at only 8% while other expenses grow in line with revenues - i.e. restaurant EBITDA margins remaining in the 18% range (moderating food expense and labor efficiencies offsetting higher pay and benefit). That, combined with incremental interest expense and planned share purchases of $100M, nets out to the company's EPS guidance of $5.95-$6.20, representing growth of 20%-25%. This guidance, below the 30% EPS growth that had been expected by the Street, combined with a report of a norovirus case in a Kansas City restaurant in the proximity to a BWW unit, sparked a brief drop in the stock from which it has largely recovered.
Conclusion
A concern to monitor is customer pushback from aggressive pricing, which may be manifesting in declines in traffic. Last year management raised prices by 4% and through H1 the increases seemed accepted by customers, with comps exceeding the TTM cumulative price increases comfortably, though comps did slow sequentially. In H2, however, it appears traffic turned negative, as comps continued their slide and by Q4, comps, at 1.9%, were well below the TTM cumulative price increases of 4.1%. In Q1'16 the cumulative price increases drop to 3.1% and moderate with each quarter, averaging 2.4% for the year, assuming no new price increases. It will be important to watch the relationship between comps and price each quarter to anticipate a need to throttle back on price and determine the extent the company has pricing flexibility to respond to unexpected developments in the course of the year. Admittedly, BWLD has an excellent long term record, strong cash flow and balance sheet characteristics, and dominates the "sports oriented" casual dining niche on a national basis. However, there are an increasing number of competitors entering the fray with great high-def TV sets and sports related promotions. The food has never received critical acclaim (to our knowledge) but the venue has been sufficiently unique. Since traffic increases have begun to be a challenge, it seems a valid concern that the concept is getting "tired" and perhaps a serious "refresh" is in order. The just begun March Madness season may provide a tip-off (no pun intended) as to what degree our concerns are warranted.

Click to enlarge
Disclosure: I am/we are short BWLD.
I wrote this article myself, and it expresses my own opinions. I am not receiving compensation for it (other than from Seeking Alpha). I have no business relationship with any company whose stock is mentioned in this article.