After some success with a few recent pieces on how to do the quick and dirty analysis on mREITs, I wanted to keep building on the strategy. It is important to emphasize that these values should not be used in isolation and this analysis is clearly covering several mREITs. The point of doing this kind of analysis is to demonstrate how investors can quickly pick which mREITs have a better chance at outperforming the sector. If an investor can rapidly find those investments, they should be able to be more efficient with their time. The goal is not to simply buy mREITs that appear to have a larger discount. The goal is to identify which mREITs are most likely to warrant further due diligence as potential investments, or in some cases as potential sales.
The mREITs
I put most of the mREITs, two corporations, and one ETF into the table because I wanted to get a more complete estimation.
| | | |
| --- | --- | --- |
| (NASDAQ:AGNC) | American Capital Agency Corp. | |
| (NYSE:AI) | Arlington Asset Investment Corporation | Not a REIT |
| (NYSE:AMTG) | Apollo Residential Mortgage | To Be Bought by ARI |
| (NYSE:ANH) | Anworth Mortgage Asset Corporation | |
| (NYSE:ARR) | ARMOUR Residential REIT | |
| (NYSE:BXMT) | Blackstone Mortgage Trust | |
| (NYSE:CHMI) | Cherry Hill Mortgage Investment | |
| (NYSE:CIM) | Chimera Investment Corporation | |
| (NYSE:CMO) | Capstead Mortgage Corporation | |
| (NYSE:CYS) | CYS Investments | |
| (NYSE:DX) | Dynex Capital | |
| (NYSE:EARN) | Ellington Residential Mortgage REIT | |
| (NYSE:JMI) | Javelin Mortgage Investment | To Be Bought by ARR |
| (NYSE:MFA) | MFA Financial | |
| (NASDAQ:MTGE) | American Capital Mortgage Investment | |
| (NYSE:NLY) | Annaly Capital Management | |
| (NYSE:NSM) | Nationstar Mortgage Holdings | Not a REIT |
| (NYSE:NRZ) | New Residential Investment Corp | |
| (NASDAQ:NYMT) | New York Mortgage Trust | |
| (NYSE:ORC) | Orchid Island Capital | |
| (NYSE:RSO) | Resource Capital Corporation | |
| (NYSE:STWD) | Starwood Property Trust | |
| (NYSE:TWO) | Two Harbors Investment Corp | |
| (NYSE:WMC) | Western Asset Mortgage Capital Corp. | |
| (NYSE:ZFC) | ZAIS Financial | |
| (NYSE:ARI) | Apollo Commercial Real Estate Finance, Inc. | |
| (NYSEARCA:REM) | iShares Mortgage Real Estate Capped ETF | |
Using these investments I was able to build a chart which I demonstrated in the last article and will reproduce here: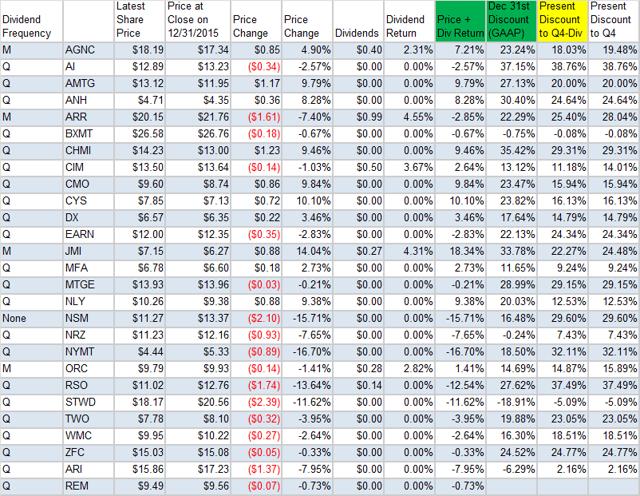 Click to enlarge
Identifying the Top Performing mREITs
I put together a quick chart that demonstrates the best performance so far this year. It is worth noting that the returns only run through the close of trading on March 15th, 2016, since that is the day I put the model together.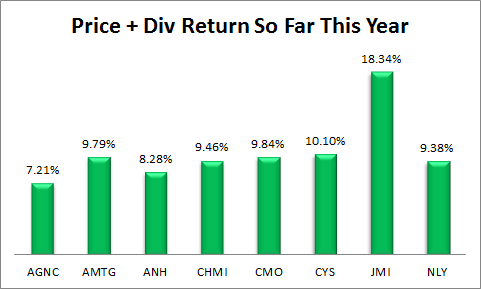 AGNC and NLY
Two of the top performers are AGNC and NLY. The most obvious factor here is that these are large mREITs with relatively simple portfolios (everything is relative) and there is an abundance of coverage available that will make it easier for investors to research them. They also have fairly low costs of management (around 1.6% of equity) despite having external management agreements. In absolute dollar terms the costs would look fairly high, but as a percentage of equity it is fairly low. CMO and CYS also have exceptionally costs of management.
AMTG and JMI
Both of these mREITs had exceptional returns and both found those returns in a single day when a buyout was announced. The buyouts are at material discounts to book value, but they were at a huge premium to the price shares traded at the day prior to the announcement. These are also the two mREITs that are exposed to a substantial amount of non-agency MBS. The rest of this portfolio, with a kind of weird exception for CHMI, is primarily agency MBS.
It is worth mentioning that NLY broadened their investment strategies to incorporate non-agency securities, but the agency MBS is still the lion's share of the portfolio.
CHMI
CHMI is an exceptionally small mREIT with a market capitalization a little over $100 million. They entered the year with a discount to book value of 35%. In a period of buyouts, is it any wonder the mREITs with the largest discounts have tended to do well? The top performing was JMI which had an even smaller market capitalization and traded at a discount of almost 34% on December 31st, 2015.
CMO
CMO works with a portfolio of ARMs (adjustable rate mortgages) that allows them to use dramatically smaller levels of hedging because there is less duration risk built into ARMs. I'm a bit concerned about the pressure on earnings that could come from higher amortization expenses if prepayments are strong during 2016, but the way they limit exposure to the yield curve is fairly interesting and their management costs are incredibly low.
CYS
CYS has regularly been one of my top picks in the sector. I liked the mREIT for the quality of their Core EPS. The way they structured hedges was designed to push more of the costs through Core EPS instead of trying to move costs around the figures.
I also agreed with the CEO of CYS regarding interest rates. I felt lower for longer was the right idea and he positioned their portfolio to handle that scenario.
Looking Forward
An investor looking forward to establish which mREITs might have fairly strong performance would want to start by looking at mREITs that appear to be trading at substantial discounts to their Q4 book value minus dividend.
I'm not a fan of dealing with the risk factors for NSM and RSO, though the discounts look very appealing. I'd rather stick with mREITs that hold portfolios that better match my experience. Therefore I'm looking at some of the other mREITs showing values in excess of 24% in this column. For simplicity sake, the column has a yellow cell at the top of it.
I might put some time into looking at AI. Their discount includes some tax assets that I view as being less valuable than normal book value since they might or might not be able to actually reap the benefits.
ARR and ANH both just barely clear the hurdle here. It is worth noting that ANH carries a substantial amount of adjustable rate MBS which gives their portfolio some similarities to CMO. ARR should be suffering some book value losses in the quarter, but their acquisition of JMI was excellent for everyone involved.
The discount on CHMI is certainly catching my attention. I'm not thrilled with their movement towards more MSR (Mortgage Servicing Rights) assets, but the discount suggests that further due diligence may still be warranted.
MTGE wasn't on my radar much before because they also went into MSRs, but the rough and dirty discount running near 30% is enough to catch my eye. I gave them a quick look recently and didn't see a buyout as exceptionally likely, but it could be worth keeping an eye on the situation.
TWO can be a very interesting mREIT and they are showing a larger discount to their Q4 BV minus dividend, but the fair value losses demonstrated by other mREITs on non-agency MBS assets is enough to give me pause and send me to focus more on other opportunities.
I've expressed a significant level of concern regarding pricing across the sector lately. The flattening of the yield curve combined with increasing share prices is a dangerous combination. It feels like some hawkish talk from the Federal Reserve following the respectable labor reports could send the market back to higher expectations for a sudden hike and a fierce sell off would become a strong possibility. Even if the Federal Reserve avoided inverting the yield curve by selling off longer duration assets it would have the potential to slam book values and create some panic selling.
While I'm heavily concerned about the yield curve and the discounts demonstrated by some of the mREITs, I'm still hunting for opportunities in the sector. In this piece I highlighted the mREITs that did the best so far and then drew attention to several other mREITs that appear to be viable candidates for deeper research.
While I'm tagging this piece to indicate I might buy anything, it is unlikely that I would be buying any of the mREITs that have been soaring this quarter. That isn't because of anything fundamentally wrong with them, it is simply a function of price.
Disclosure: I/we have no positions in any stocks mentioned, but may initiate a long position in ANY OF THEM over the next 72 hours.
I wrote this article myself, and it expresses my own opinions. I am not receiving compensation for it (other than from Seeking Alpha). I have no business relationship with any company whose stock is mentioned in this article.
Additional disclosure: Information in this article represents the opinion of the analyst. All statements are represented as opinions, rather than facts, and should not be construed as advice to buy or sell a security. Ratings of "outperform" and "underperform" reflect the analyst's estimation of a divergence between the market value for a security and the price that would be appropriate given the potential for risks and returns relative to other securities. The analyst does not know your particular objectives for returns or constraints upon investing. All investors are encouraged to do their own research before making any investment decision. Information is regularly obtained from Yahoo Finance, Google Finance, and SEC Database. If Yahoo, Google, or the SEC database contained faulty or old information it could be incorporated into my analysis.