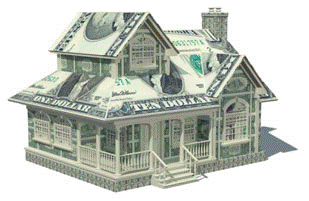 Nearing retirement, many of us downsize our homes to reflect our changing lifestyles. With kids out of the house and anticipating future mobility issues, we may buy a retirement home that is smaller or all on one floor. Some of us purchase a condominium where exterior maintenance and yard care are included in homeowner's association fees. Others join retirement communities.
Just as our housing needs evolve over the course of our lives, it makes sense that our DGI portfolios may need to mature along the way as well. Of course, not everyone's needs will ripen in the same way. For example, the loss of a steady paycheck may mean that some of us will become more risk averse with our DGI retirement portfolios. Some of us, seeing that we have more than enough to live on, may become more interested in pursuing a higher growth strategy in order to maximize what we pass along to our heirs.
As a result, a mature DGI retirement portfolio for one person may look very different from a mature DGI retirement portfolio for another. Even so, the important point is that regardless of where you end up, most folks' risk profiles and, therefore their approach to DGI investing, will change along their life's journey.
This article describes our current thinking for our personal upcoming retirement situation and how we see it impacting the shape of our DGI retirement portfolio going forward.
Our Retirement Context
My husband is 63 and, this month, I turned 55. Currently, we are both working at our established careers and receiving steady paychecks from our respective employers. (This is particularly useful since our 22-year-old daughter has recently gone back to college to earn a second undergraduate degree and is back on our dole!)
My husband plans to retire in four years when he turns 67. In order to maximize his payout (and my survivor benefits), he does not plan to take Social Security until he is 70. I plan to retire in 7 years, when I turn 62. (Conveniently, this is the same year that my husband is 70 for most of the year.) This means that I will be working approximately three to four years after my husband retires. Unlike my husband, I plan to take Social Security when I turn 62. It may seem counter-intuitive, but I ran several scenarios that say that this approach is the most likely one to maximize our combined Social Security payouts. For details, please see my Seeking Alpha article entitled, "Maximizing our Social Security Benefits: A Cautionary Tale for DGI Portfolios."
We plan to have three income streams in retirement. In order of size, they are 1) dividends and distributions generated by our DGI portfolio, 2) Social Security, and 3) income from our rental properties. Our goal for our DGI retirement portfolio is to generate enough income to live the lifestyle we would like without ever touching our portfolio's principal or selling a rental property.
"Dividend House" DGI Retirement Portfolio Evolution
We originally built our "Dividend House" DGI retirement portfolio by investing in all eleven S&P sectors. Below is a chart that was published in our March, 2015 article, "The Dividend House DGI Portfolio: The Good, The Bad, and The Ugly." The chart shows a snapshot of our investments across all eleven sectors one year ago. Since we didn't need the income from our retirement portfolio right away, we were initially comfortable with taking on the risk associated with investing in stocks in all sectors.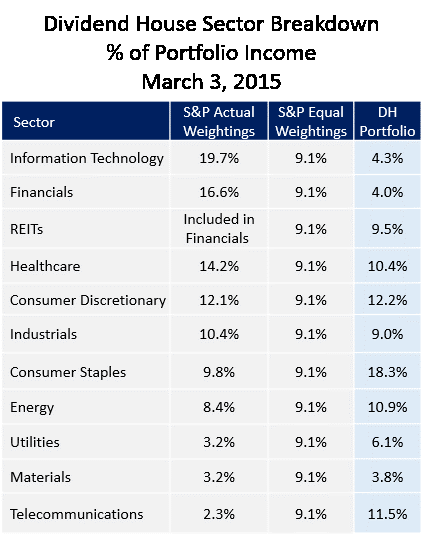 Investing in all eleven sectors turned out to be beneficial in at least two ways. First, making at least one investment in every sector taught us a lot about how each sector reacts to changing market conditions. More importantly, because some sectors are highly cyclical (e.g., energy, mining) while others are more stable (e.g., utilities), we learned a lot about our own investing risk tolerances as well.
If you are already in retirement or contemplating it in the next decade or so, you might want to check out our DGI investing "lessons learned" (below). Our experience may provide some food for thought for your own investing choices!
Here's what we've learned about our personal risk tolerances so far.
Due to the hits-driven nature of its business, toys are not an industry in which we want to be invested in retirement - although, we still own Mattel (NASDAQ:MAT) as I write this.
Similarly, banks, retail and technology give us heartburn. This doesn't mean we won't be invested in these sectors in retirement. But, you will find us only in the market leaders, if at all.
We consider any BDC or biotech investment - including AbbVie (NYSE:ABBV) - to be speculative. Once both of us have stopped working, we will stay invested in speculative investments only if we have enough income being generated by our core, supporting, and auxiliary stocks. We don't want to have to count on our speculative stocks generating income in retirement.
We are on the fence about materials. Arguably, we are invested in the best of breed - BHP Billiton (NYSE:BBL). Even so, BBL has taken us for quite a roller coaster ride. We are going to wait this cycle out (which may take many years) and then make a decision whether or not to stay invested. But, if there is a less cyclical stock with a decent dividend on sale at a time when we are above water, we'll likely make a switch.
What about REITs? That's a tough question. I personally love REITs. However, the REIT model requires access to external capital to grow. This can be a problem when money is tight. I know I am uncomfortable adding more at this time (other than through dividend reinvestment). The question is whether or not we should pull back some on our REITs in retirement.
Remodeling for Retirement
Given that our goal is to be retired in seven years, I feel like we have until then to remodel our DGI portfolio. Once our steady paychecks have ceased, our DGI portfolio should mirror the amount of risk that we are comfortable with in retirement. Between now and then, I see some areas where remodeling is in order.
Below is a chart that shows our sector allocations one year ago, our sector allocations today, and our maximum target cap amounts for each sector when we are in retirement. As you can see, we are a bit rich in REITs and very underweight in healthcare. Something to keep in mind when bargains come along!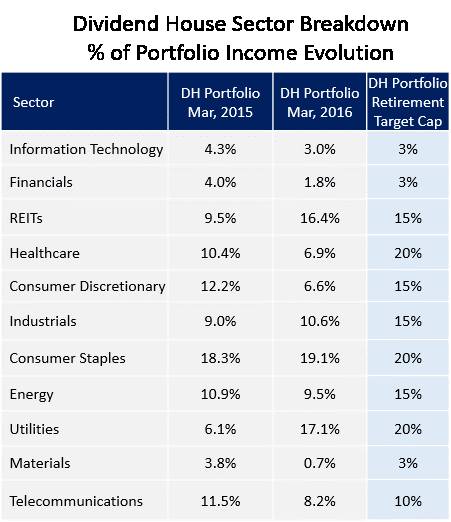 Reading this article, it might seem that we have arrived at these allocations taking a top down approach. Actually, we have arrived at them given our experiences with specific stocks. As the saying goes, "It's a market of stocks, not a stock market!"
Banking - We have decided that we are too risk averse to hold banking stocks in retirement. After watching what happened to even the best of the banking stocks during the Great Recession combined with our ongoing low interest rate environment, we have decided that this is not a sector in which we want to be invested. To that end, we recently sold our only bank holding - Wells Fargo (NYSE:WFC) - when the stock price allowed us to break even (not counting the dividends we had accrued).
BDCs - We initially invested in three BDCs: Hercules Technology (NASDAQ:HTGC), Triangle Capital Corporation (NYSE:TCAP), and Main Street Capital (NYSE:MAIN). However, once I fully understood that BDCs loan money to folks that banks won't, I realized that these stocks were too highly speculative for my blood! So, I sold TCAP and HTGC. We still hold MAIN which, in our opinion, is a best of breed BDC stock. Even so, we consider MAIN a speculative holding. Whether or not we continue to hold MAIN (or any speculative holding) in retirement will depend on what our DGI portfolio cash flow looks like at that time. In the interim, we are not reinvesting MAIN's dividends. Instead, we are redeploying them to purchase more stable holdings.
Retail - With apologies to fellow Seeking Alpha contributor, RoseNose, I recently sold our position in Target (NYSE:TGT) for a substantial profit, amounting to about 10 years worth of dividends. Rose talked me off the ledge once. But, try as I might, I just can't get comfortable with retail. We still hold Wal-Mart (NYSE:WMT) only because I have seven years for its price to rise above my purchase price. (I am looking for $5 more per share.) In the meantime, I am using WMT's paltry dividends to purchase holdings I plan to keep in retirement.
Technology - Due to a historical employee purchase plan, we are long-time holders of a substantial amount of IBM (NYSE:IBM). If that wasn't the case, our portfolio would likely hold Microsoft (NASDAQ:MSFT). Currently, these are the only two technology companies that I am comfortable investing in for retirement. If MSFT's price becomes reasonable, I may consider adding it. (Please note that I consider Apple (NASDAQ:AAPL) to be a consumer discretionary company. We don't own it in the Dividend House portfolio. But, my daughter owns AAPL in her DGI portfolio.)
Toys - I plan to get out of Mattel as soon as I can break even on my purchase price (less than $2 per share to go!). I am not interested in investing in toys going forward. In the meantime, I am using Mattel's remarkable dividends to purchase core holdings.
With the sale of Target and Wells Fargo, I still have four or five stocks on my watch list for potential sale. They are Mattel, Wal-Mart, Nokia (NYSE:NOK), and Tupperware (NYSE:TUP). Let's not kid ourselves. If BBL ever becomes overvalued and there is a more stable alternative priced attractively, I'll sell that too.
Conclusion
Whether retirement makes you more risk averse or less so, your DGI portfolio should reflect your risk profile as it evolves over time. Below is a current picture of the Dividend House DGI retirement portfolio. As discussed in this article, I have begun to think about the remodeling our Dividend House portfolio should undergo before we retire.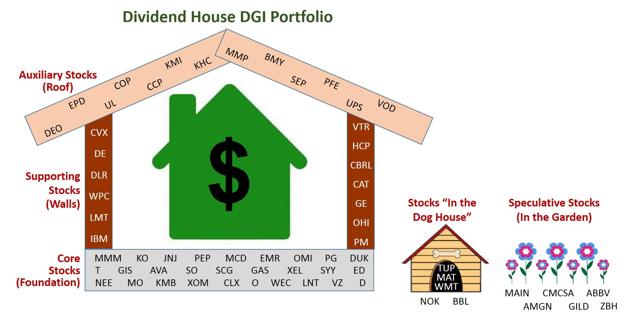 Click to enlarge
As shown in the table a few paragraphs above, I am capping income from the three sectors that I have the least confidence in - financials, materials, and technology - to only 3% of our portfolio's total income (each). Due to the dearth of leading DGI telecom stocks, I am capping this sector at 10% of our portfolio's income. (By the way, I won't allow any one stock to produce more than 5% of our portfolio's income, which can limit my ability to over-invest in some sectors.)
Since I don't believe that any one sector should generate more than 20% of our portfolio's total income, I will allow the sectors that I have the most confidence in to reach this target. They are utilities, consumer staples and healthcare (excluding biotech). Finally, cyclical sectors like REITs, consumer discretionary, energy and industrials are each capped at 15% of our portfolio's income. Of course, as I continue to evolve as a dividend growth investor, these allocations are subject to change. So, watch this space!
Whether or not you agree with my sector allocations, have you thought about the shape of your DGI portfolio when you retire? In which stocks or sectors are you planning to reduce your investment? Which stocks or sectors would you like to accumulate?
I look forward to your thoughts!
Disclosure: I am/we are long ABBV, AMGN, AVA, BBL, BMY, CAT, CBRL, CCP, CLX, CMCSA, COP, CVX, D, DE, DEO, DLR, DUK, ED, EMR, EPD, GAS, GE, GILD, GIS, HCP, IBM, JNJ, KHC, KMB, KMI, KO, LMT, LNT, MAIN, MAT, MCD, MMM, MMP, MO, NEE, NOK, O, OHI, OMI, PEP, PFE, PG, PM, SCG, SEP, SO, SYY, T, TUP, UL, UPS, VOD, VTR, VZ, WEC, WMT, WPC, XEL, XOM, ZMH.
I wrote this article myself, and it expresses my own opinions. I am not receiving compensation for it (other than from Seeking Alpha). I have no business relationship with any company whose stock is mentioned in this article.