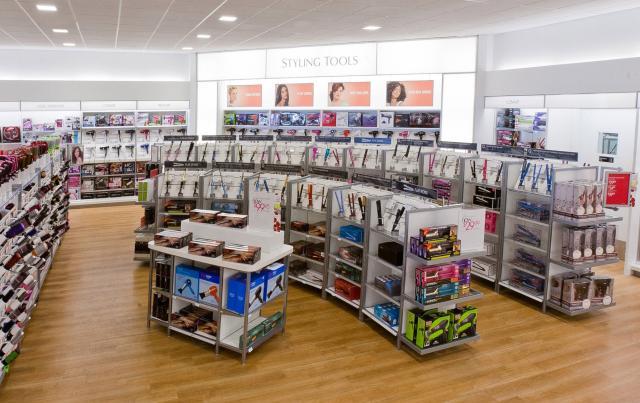 Image source: palmbeachpost.com
You're so vain; you probably think this stock will keep up its momentum, don't you. If you do, then I agree with you. Ulta (NASDAQ:ULTA) has been a strong momentum stock that outperformed the S&P 500 since the beginning of 2010. The company has consistently beat estimates for revenue and earnings for the past nine quarters. Ulta has achieved double-digit gains in same-store sales (see table 1 below). Any retailer would envy double-digit gains in same-store sales. Most successful retailers only grow comps at single-digit rates. I think that Ulta has what it takes to be a strong outperforming investment over the long term.
The thing that's great about retail companies is the high visibility. You can walk into a store and witness what is being rung up at the register. I don't shop at Ulta often, but when I do, it is to buy a gift for my wife. Every time I go, whether it is a weekend or weekday, there is always a beehive of activity in the stores. I typically see a healthy line at the register, with plenty of shoppers throughout the store. In addition to that, you can see customers heading to the back for salon services. Ulta's achievements for revenue, earnings, and same-store sales growth quarter after quarter confirm my observations that the company is highly successful.
Women want to look, feel, and smell their best, and Ulta has just about everything that they need to do so with a vast array of products and services with head to toe coverage. The company also has some men's products. Ulta does a good job of offering a good store layout that is conducive for browsing and allowing some products such as body lotions to get the sniff test.
Drivers of Growth
Ulta added over 100 brands to its product line-up over the last five years. The company added 26 new brands last year. This has created excitement with customers. Ulta's focus on adding prestige brands at reasonable prices is one of the reasons for strong comp store sales increases. Ulta is likely to continue to achieve strong comp store sales increases as it maintains a selection of hot brands on the shelves. When one product falls out of favor, it can be replaced with a more popular one to boost sales.
Ulta's ULTAmate Rewards program is a driver of same-store sales growth. This customer loyalty plan allows customers to earn points on their purchases, which can be redeemed for products. Customers are also given Platinum membership status when they spend $450 in one calendar year. The Platinum membership awards customers with a higher point score for every dollar spent. Given the success of the ULTAmate Rewards program (growth of 3.2 million members in Q4 to a total of 18.2 million members), I think it will help the company achieve future gains in comp store sales increases. The program gives customers a reason to shop at Ulta on a regular basis.
Another driver of growth for the company is store expansion. Ulta added 100 new stores in 2015, bringing its total store count to 874 by the end of Q4. The company is planning on opening another 100 stores this year. Ulta earns about $3.7 million per store per year based on last year's sales of $3.24 billion divided by 874 stores. Therefore, the addition of 100 new stores represents about 11% total revenue growth. If you factor in online sales and comp store sales growth, Ulta can grow revenue over 15% per year. Consensus estimates are forecasting 17% revenue growth this year and 15% growth for next year. Strong revenue growth and Ulta's ROE will help sustain the company's expected annual EPS growth of 20% over the next few years.
The company's marketing campaign is also contributing to Ulta's successful comp store sales growth. The campaign includes radio, TV, digital advertising and in-store promotions. Results of Ulta's survey showed that aided brand awareness increased 84% vs. 77% a year ago. The advertising is bringing in new customers and reigniting older customers who haven't shopped at Ulta recently. So, the company is effectively marketing itself, which is likely to help drive future growth.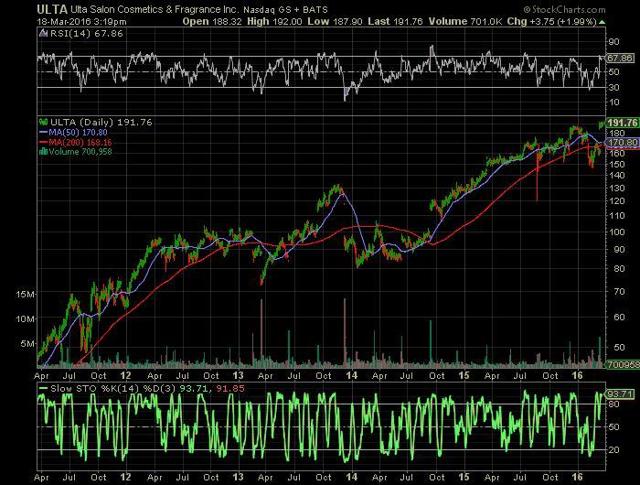 Click to enlarge
How Beautiful is the Valuation?
Ulta does trade with an above average forward P/E of 26.5 as compared to the Specialty Retail Industry's P/E of 24.3. I would expect the stock of a company with above average top line and bottom line growth to trade at an above average valuation. Ulta's PEG, which takes the 5-year expected EPS growth into consideration, is reasonable at 1.63 as compared to the S&P 500's PEG of about 2.8 (based on a forward P/E of 16.7 divided by expected annual EPS growth of 6%) and the Specialty Retail industry's average PEG of 3.69. Ulta looks fairly valued with a PEG between one and two.
One of Ulta's competitors, salon operator Regis (NYSE:RGS), is trading with a much higher forward P/E of 112 based on consensus expected EPS of $0.14 for FY17. Macy's (NYSE:M), which competes with Ulta for cosmetics, has a low forward P/E of 11. However, Macy's is only expected to grow EPS at a low rate of 0.30% for FY17 and 7% for FY18. Ulta has the advantage of being a one-stop shop for salon services and cosmetics. Overall, I think that Ulta is trading at a reasonable fair valuation considering its strong growth rate.
Table 1: Y-o-Y Double-digit Gains for FY16
Comp Store

Sales Growth

EPS Growth
Q1
11.4%
35%
Q2
10.1%
22%
Q3
12.8%
22%
Q4
12.5%
25.2%
data source: Ulta's earnings call transcripts
Regis is only growing same-store sales at low single-digit rates (2.2% for FQ2 and less than 1% for FQ1). Macy's experienced a decline in comp sales of 2.7% for the full year last year. I would take Ulta's strong growth over its competitors' weak growth at these valuation levels.
My thoughts are that the stock is reasonably priced because Ulta is achieving double-digit gains in comp store sales and earnings. The stock is at risk of a deep pullback if comps come in at worse than expected levels. However, Ulta has a winning formula for revenue and earnings growth right now, which I think will continue. Women will always be attracted to products and services that make them look their best. Ulta has a knack for providing the right mix of brands and services to achieve strong growth going forward.
The Risks
The stock is currently overbought and could experience a correction at any time. Therefore, investors may consider getting in on the next pullback. Also, keep in mind that since the company has been doing so well, if Ulta experiences a bad quarter, the stock would likely take a big hit. The stock fell about 37% back in late 2013 and early 2014 when the company missed its revenue and earnings expectations. More recently, the stock fell 19% during the stock market's drop at the beginning of the year. The stock has since recovered, but investors should be aware of the volatility.
Conclusion
Despite any short-term risks, I tend to look at the long term and see Ulta as a winning retail investment. I expect the stock to gain about 20% per year, which is in line with expected earnings growth (consensus). Effective marketing, store layout, brand selection, and the customer loyalty program are a synergy that will continue to drive strong comp store sales growth going forward. The strong comps and store expansion are a winning combination to support earnings growth over the long term. The quest for looking good is likely to remain around for the foreseeable future and Ulta is likely to benefit from it.
Disclosure: I/we have no positions in any stocks mentioned, and no plans to initiate any positions within the next 72 hours.
I wrote this article myself, and it expresses my own opinions. I am not receiving compensation for it (other than from Seeking Alpha). I have no business relationship with any company whose stock is mentioned in this article.