Whenever exceptional amounts of short selling occur in dark pools, our application platform generates an alert.
["Wait, what's a dark pool again?"]
Two weeks ago in Chesapeake Energy (NYSE:CHK), we got two alerts in a row. In a stock as liquid as CHK, that's pretty unusual.

In those two days (March 3rd and 4th), 327.3M shares traded in Chesapeake. That's 50% of the company's float.
Of those traded shares, 172M (53%) were traded off the exchanges, in dark pools.
Of those dark pool trades, 92.7M (54%) were short sales.
As far as we can tell, that's the most shares that have ever been shorted in CHK at once. Here's what that looks like on a chart: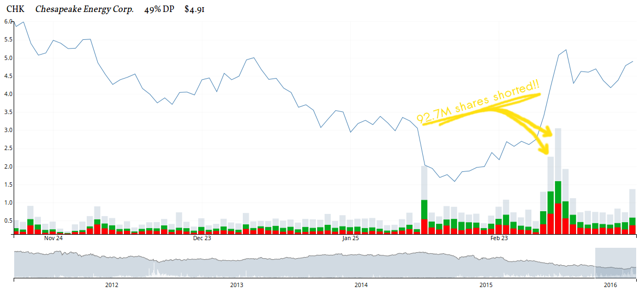 [sqzme.co - red bars are dark pool short volume]
Okay, but wait a minute...
How did the price of a security go up 50.7% in two days while we know that nearly a third (or more) of the total volume was short selling?
Well, that's one of the crazy things about our super-fragmented stock market. While the price soars on the exchange, short-sellers can use their brokers' dark pools to silently accumulate short positions. None of these dark pool short sales affect the price on the exchange, of course, so the price keeps climbing as if nothing happened.
Think about how wacky this makes the incentives.
As a short seller, where's the incentive to place a large order on the exchange if you can do it in the dark instead? You'll probably get a better fill in the dark (away from the high-frequency bandits) and you'll avoid moving the price, too.
And then what's the incentive for momentum traders to stop pushing the price up if they know that the smart short sellers won't come to the exchange to stop them? Exactly. So the price goes up, and up, and up.
So here's your wakeup call: That's where 50.7% gain in two days comes from. Not from energy prices, not from car crashes, not from debt restructuring, and most certainly not from "short squeezes."
To give you some more perspective...
Take a look at these two charts, where a more sustainable turnaround seems to be underway. Note how dark pool short selling (red volume) gradually diminishes as the price of each stock bottoms.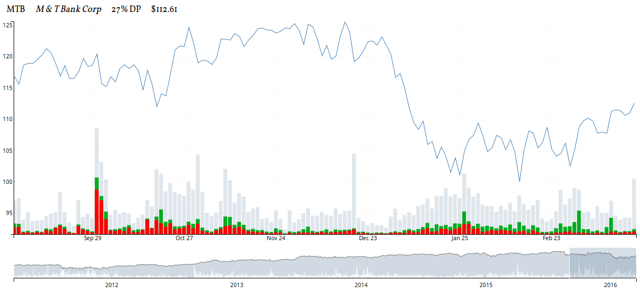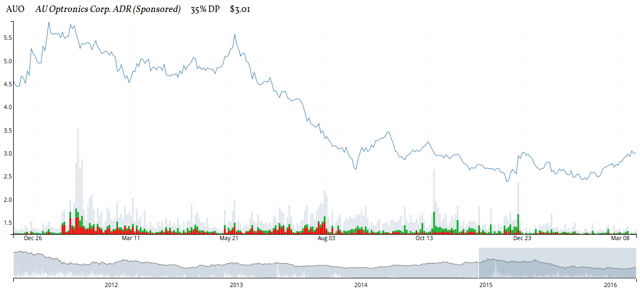 [Green bars are dark pool trades that aren't short. Simple as that.]
A sentiment shift in a stock doesn't always happen as clearly as these two, or as gradually, but it also tends not to happen in a mere two days' time (despite what momentum traders would like you to believe).
So regardless of how you feel about valuation, default risk, debt swaps, Henry Hub, WTI spot prices, or whatever, please don't be the sucker who "buys the rally" in CHK because it "confirms your thesis." It really has nothing to do with your thesis.
Think of it this way: It's much worse to board the wrong bus entirely than to miss the early one, isn't it? I.e., even if you're keen on CHK, it would be better to wait for the next bus.
---
SqueezeMetrics is all about giving you actionable information in a market that would rather leave your head in the sand. Comments and messages encouraged!
Unless you'd rather leave your head in the sand, of course. That's cool, too.
Follow us for plenty more things like this.
Disclosure: I/we have no positions in any stocks mentioned, and no plans to initiate any positions within the next 72 hours.
I wrote this article myself, and it expresses my own opinions. I am not receiving compensation for it (other than from Seeking Alpha). I have no business relationship with any company whose stock is mentioned in this article.