Trading at 48 times trailing earnings certainly makes Colgate-Palmolive Co (NYSE:CL) look expensive on paper. But we don't think it is when you dig a little deeper. What we see here is a strong recession-proof company that is priced fairly, but primed to provide shareholders with good steady gains in the years ahead.

We have spoken in recent weeks about finding stocks for our portfolio which we believe to be recession-proof. While the current positive economic conditions appear to have quietened talk of a recession, it is always nice to have a stock in your portfolio which should perform better than the market during a downturn. Colgate-Palmolive is definitely one of these stocks. Its products are amongst the best known in the world and we are sure nearly every reader will have used them at some point in their life.
As shown on the chart below, during recessions the company's revenue does not tend to suffer. Broad market sell-offs may drag the share price down, but the overall performance of the company is held steady. In fact, one of the biggest challenges the company has had to face in the last two decades has not been a recession, but the stronger U.S. dollar.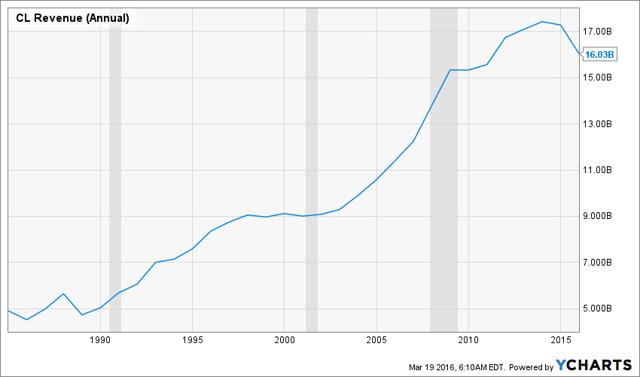 Click to enlarge
(Source: Ycharts)
But there is more to Colgate-Palmolive than just being recession-proof. Despite the incredible FX headwinds that the company faced it still managed a beat on its earnings in the fourth quarter. Revenue on the other hand was a different story, though. For fiscal 2015 its worldwide sales came to $16.034 billion, a drop of 7.0% from fiscal 2014. The 7% decline was made up of unit volume growth - 1.5%, price increases - 3.0% and FX - negative 11.5%.
Although the overall number was negative we find it pleasing to see that unit volume growth increased 1.5% despite price increases. It goes to show that the consumer is ready and willing to pay more for the products which have become part and parcel of everyday life.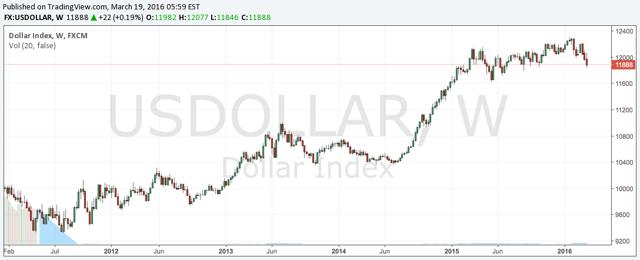 Click to enlarge
(Source: DailyFX)
Now these FX headwinds are not going away any time soon. Despite the fact that Janet Yellen kept rates on hold again and signaled just two rate rises this year, the U.S. dollar weakened but is still relatively strong. As you can see above, the U.S. dollar index that measures the U.S. dollar against a basket of the world's major currencies is still incredibly high. We wouldn't expect this to change for some time either, which means Colgate-Palmolive will have to adjust to a life with a strong dollar.
The good news is that soon we will have had a full fiscal year with the strong dollar, making year-over-year comparisons much fairer. We expect to still see year-over-year flatness or even declines in fiscal 2016, but in fiscal 2017 we believe the top line will start to increase at a decent rate. Despite this, the strength of its brands, its pricing power, and its cost reduction plans, should allow the company to grow its earnings year-over-year at a strong rate for the next few years.
We have forecast the company to produce earnings per share of $2.88 on revenue of $16 billion in fiscal 2016. It is this earnings growth which gives us the belief that the shares are not in fact expensive at the moment. If the company can achieve our forecast, then it would mean the shares would be trading at a price-to-earnings ratio of just 24.
We feel 26 times earnings is a reasonable multiple for the shares to trade at currently. This is around the level in which the shares of Church & Dwight (NYSE:CHD) trade at. Should this be correct then this implies a price target of $74.88, representing upside of 6.25%.
We realize this return is not necessarily outstanding, but it is in our opinion a good return for a stalwart like Colgate-Palmolive. The dividend yield of 2.2% makes it a little sweeter for investors also.
But perhaps sweetest of all is the knowledge that if the economy were to fall into a recession, you would be in pretty safe hands here. Considering the fact that the Fed has held off increasing rates, as well as reducing the expected amount of increases in 2016, the U.S. dollar may not hurt the company as much as many market observers have previously estimated. This could cause a jump in earnings which could be the catalyst to taking the share price even higher.
We feel this is a great investment as part of a diverse portfolio. At the current price, although it appears expensive, we feel it is good value and worthy of consideration.
Disclosure: I am/we are long CL.
I wrote this article myself, and it expresses my own opinions. I am not receiving compensation for it (other than from Seeking Alpha). I have no business relationship with any company whose stock is mentioned in this article.