The Coca-Cola Company (NYSE:KO) has been a fantastic conservative stock for many decade that has treated shareholders to consistent dividend payments. The latest commentary around the stock, however, would lead one to believe that the blue-chip beverage firm is on its last legs.
The Business Insider, for instance, opines that: "Right now, Coke is on the way out. Not with a bang, but with a long, slow whimper." Matthew Greenberg here on Seeking Alpha asserts that Coca-Cola has "the Midas touch in reverse," and that the company has been slow to react to the decline in soda consumption.
Frankly, I think that these gloomy commentaries are unwarranted, and vastly unappreciated what a great company Coca-Cola is, and will continue to be.
Company Overview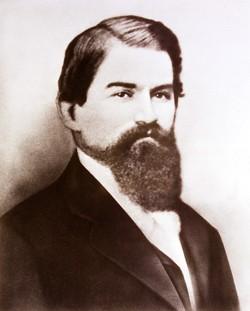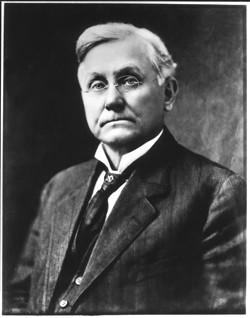 Left: John Pemberton, who created Coca-Cola.
Right: Asa Candler, who made the company a powerhouse.
Coca-Cola was created on May 9, 1886 by the chemist John S. Pemberton, and the carbonated soft drink was bought by a druggist called Asa Griggs Candler in 1887. Candler refined the processing of Coca-Cola, and through aggressive marketing and distribution turned it into one of the most iconic symbols of American capitalism. The product never contained cocaine, contrary to popular myth, but has a 'secret ingredient' which remains a trade secret to this day.
Today, Coca-Cola Co. is the largest beverage company on Earth. Headquartered in Atlanta, Georgia, and with a market capitalization of $195.6 billion, the company boasts a portfolio of more than 500 sparkling and still drinks. Twenty of these drinks generate in excess of $1 billion annually. These brands are, in alphabetical order:
1. Aquarius
2. BonAqua
3. Coca-Cola
4. Coca-Cola Zero
5. Dasani
6. Del Valle
7. Diet Coke
8. Fanta
9. Fuze Tea
10. Georgia Coffee
11. Glacéau
12. Gold Peak
13. Ice Dew
14. Minute Maid
15. Minute Maid Pulpy
16. Powerade
17. Schweppes
18. Simply
19. smartwater
20. Sprite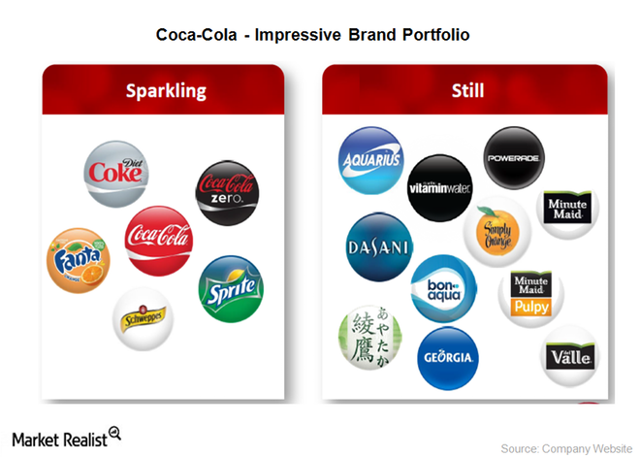 Competitive Advantage
Coca-Cola has been rewarding shareholders with increasing dividends for fifty-three years. Such consistency in dividend payouts can only come about due to a strong competitive advantage. Coca-Cola's advantage is four-fold:
1. Its beverage portfolio. Take a look at the twenty beverages above, each worth $1 billion. Add to that another 500 or more sparkling and still beverage brands and more than 3,500 beverages overall. And consider the fact that the portfolio is not confined to just soda: there is tea (Fuze), juice (Minute Maid) and water (Dasani) as well. This huge diversity will ensure that Coca-Cola remains a profitable company so long as people drink.
The beverage sector is a slow-changing environment (compared to technology) and a steady economic sector (compared to energy), and this lack of huge innovation suggests that Coca-Cola's beverage portfolio should survive for many, many years to come.
2. Its advertising expertise. Coca-Cola ensure their market presence through its advertising campaigns. The company allocates 6.9% of its total revenue annually to advertising. Between 2012 and 2014, Coca-Cola spent over $3 billion annually on its advertising.
This advertising budget allows Coca-Cola to promote its existing brands, introduce new brands effectively, increase sales and increase customer awareness. This advertising acumen is what has allowed Coca-Cola to maintain its pole position within the non-alcoholic beverage sector, with rival PepsiCo (NYSE:PEP) a close second (though in terms of the overall beverage sector, brewer Anheuser-Busch Inbev (NYSE:BUD) outranks both Coca-Cola and PepsiCo).
3. Its distribution network. Coca-Cola is able to sell its products to over 200 countries worldwide. This geographic distribution provides it with safety from any one market having low revenue that can impact the overall bottom-line.

4. Its future growth prospects. Incredibly for a firm that was established in 1886 and is as iconic a global brand as you can get, the company still has room for growth. The company's products are still not as highly consumed in high population countries such as China and India, and although the company has been present in Africa since 1929, the emerging African middle class will provide a fresh market that the company is working to take advantage of.
Current Issues
Despite Coca-Cola's advantages, the company has unquestionably had some issues to contend with other the last few years. The flip-side of the African expansion is the uncertainty of that market: poverty, war, poor infrastructure and political instability are still issues that can bedevil any attempt to tap into the continent. Coca-Cola's CEO Muhtar Kent, however, does believe that Africa is improving overall:
It's a big economy, and so rich underground. And whether the next decade becomes the decade of Africa or not, in my opinion, will depend on one single thing - and everything is right there to have it happen - and that is better governance. And it is improving, there's no question.
Long-term, the biggest issue facing Coca-Cola is the trend in developed markets for consumers to opt for still drinks over sparkling drinks. That said, the issue is more apparent than real - Coca-Cola has a solid still drinks portfolio, so it still makes money from those customers. And the trend itself is a very slow one, carbonated drinks are still making money for the company at this time. Nonetheless, the trend is real, but it is one that the company can position itself to overcome in the long-run.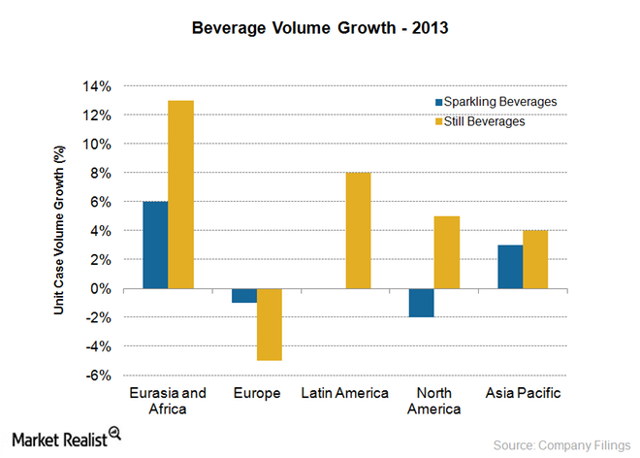 I believe Coca-Cola will be able to profit from its healthier offerings in the long-run, but such a transition will take time. Time, however, is something Coca-Cola has on its side: the company is not going anywhere soon.
Warren Buffett's Relationship With Coke
Warren Buffett, chairman of Berkshire Hathaway (NYSE:BRK.A) (NYSE:BRK.B), has been invested in Coca-Cola since 1988. The company is now the second-largest holding in Berkshire Hathaway's portfolio, and Buffett has no plans to divest the stock at all.
Buffett's approach to investment is succinctly put:
I look for simple businesses, with consistent performance, and favorable long-term prospects.
When Buffett bought into Coca-Cola in 1988, he purchased 6.2% of the stock for $1 billion. The 1987 stock market crash had made the company attractively valued, though Buffett still paid a 30% premium on the stock.
Coca-Cola's iconic name and global reach convinced Buffett that the company was a sound investment. Since then, Buffett's investment has grown sixteen times, providing an annualized gain of roughly 11%.
The same factors that made Coca-Cola an attractive investment to Buffett in 1988 are still in place today. It is still an iconic brand with a global reach.
Valuation
Coca-Cola has been paying out dividends since 1920, and increasing dividends for 53 years. It is currently offering a dividend yield of 3.07%, with a payout ratio of 72.5%. The ratio is quite high, but bear in mind that the company takes in a lot of revenue from overseas, and currency fluctuations affect earnings as a result.
It is currently trading in the low-to-mid $40 range at a forward price-to-earnings ratio of 22.21, which is the (very) high end of fair value considering the quality of stock that you are getting here. It may be overvalued for some investors, but for those planning to hold for the very long-term, the overvaluation will only take a few years to burn off.
In 2015, 394 companies cut their dividends due to market pressure, mainly in the energy and commodities sectors. However, Coca-Cola did not join this trend, raising its dividend by 6% on February 18th and thus maintaining its status as both a Dividend Aristocrat (a stock that consistently raises dividends for 25 years or more) and as a Dividend King (a stock that consistently raises dividends for 50 years or more).
Going forward, Coca-Cola should be able to maintain its consecutively rising dividend payments. The company is dominant in its sector and faces next-to-no risk of going out of business. Income oriented investors and dividend growth investors should have Coca-Cola as a key part of their portfolio.
Final Thoughts
The following infographic is as good as summary of the investment case for Coca-Cola as anything I've seen:

With Coca-Cola stock in the $40s, sporting a 3% dividend yield, I can only call it a buy-and-hold stock for the long haul. The company has some issues, but these are short-term problems that Coca-Cola will be able to overcome in the long-run.
Coca-Cola is a fantastic business with well-established brands, terrific advertising acumen, a peerless distribution network and promising growth prospects. The commentaries predicting its demise are little more than hyperbole. The company will be around for a long time to come, and investors with a long-term mindset would be well advised to seriously consider adding it to their portfolio.
DISCLAIMER: I am not a financial professional and accept no responsibility for any investment a reader makes. This article is provided for information purposes only.
Disclosure: I am/we are long KO.
I wrote this article myself, and it expresses my own opinions. I am not receiving compensation for it (other than from Seeking Alpha). I have no business relationship with any company whose stock is mentioned in this article.