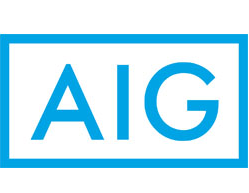 Insurance company American International Group, Inc. (NYSE:AIG) has been nothing but a disappointment so far in 2016. Ever since Carl Icahn bought a position in American International Group in the fourth quarter of 2015, and started his activist campaign against the insurance company, I figured that AIG would be on track to generate excess returns for my portfolio. So far, this has not turned out to be correct. In fact, American International Group has dramatically underperformed the S&P 500 this year.
While the S&P 500 has recovered from its nerve-wrecking meltdown at the beginning of the year, and is now up 0.28 percent YTD, American International Group has slumped 13.33 percent, partly thanks to AIG's underwhelming Q4-15 results that stood out with a big underwriting loss, and a drop in accounting book value.
That being said, though, there is a case to be made for buying the insurance company since shares look to have bottomed out. During the last meltdown in January/February, American International Group's shares fell to a 52-week low of $50.20, while becoming oversold in the process.
The Relative Strength Index now flashes a value of 57.82, which makes AIG neither oversold nor overbought. The rebound demonstrates that the market is no longer upset about the insurance company's disastrous Q4 results, but has rather started to look at American International Group's low valuation again.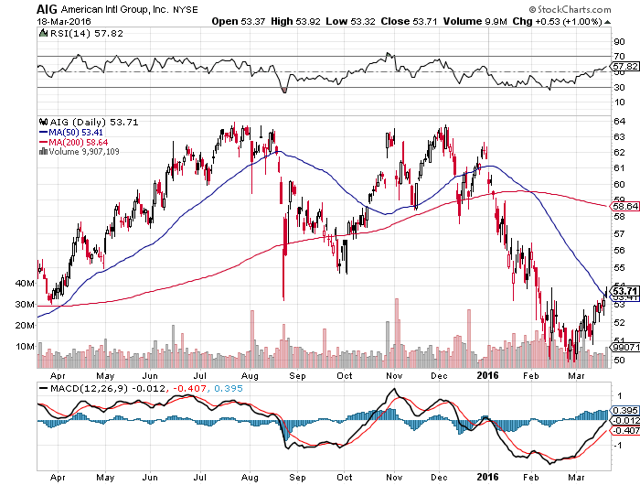 Click to enlarge
Buybacks Make More Sense Than Ever
As part of its efforts to fend off Carl Icahn and John Paulson, American International Group announced in January that it will return $25 billion in capital to shareholders, with the majority of that capital likely to be returned as stock buybacks.
Buying back stock below accounting book value, which is the case for American International Group, makes a lot of sense for AIG. If a company can buy back a boatload of stock at $55, as opposed to $65, that is obviously good capital management, and an easy way to grow book value, too. AIG really is that cheap: It sells for ~72 cents on the dollar...so neither AIG nor regular stock investors are overpaying for the insurance company at this point.
There is a reason, though, for AIG's high discount to accounting book value: American International Group's weak property casualty business is why shares are selling for quite a big discount. Unless AIG, with the help of the activists that secured board seats in February, succeeds to turn the ship around, AIG will continue to sell at a lower multiple than its peers.
Your Takeaway
AIG widely underperformed the S&P 500 year-to-date, and that's largely due to the insurance company's underwhelming financial results in the last quarter that included a 3 percent Y/Y decline in accounting book value.
But AIG is cheap, too cheap, and chances are that investors have already seen the bottom in February. AIG proposed $25 billion in capital returns over the next two years. Buy for capital appreciation.
Disclosure: I am/we are long AIG.
I wrote this article myself, and it expresses my own opinions. I am not receiving compensation for it (other than from Seeking Alpha). I have no business relationship with any company whose stock is mentioned in this article.