Investing is an incredibly time-intensive undertaking. As a youngish (28) investor, I've been enjoying finding companies and creating a balance inside my portfolio of rock-steady dividend payers, younger, growth-oriented companies and my spare change speculations. Inside my portfolio resides an elite group of companies that I consider to be my long leash companies. In another article, I covered my favorite long leash company, which is Altria (NYSE:MO). In this article, I'm going to tackle AT&T (NYSE:T).
While my initial research into these long leash companies is thorough, my "check-ups" consists of just four easy categories that require little time to execute. I look at the dividend, price history, current financials, and growth prospects. Those four categories allow me to do enough follow-up on the company to remain informed in a very small amount of time. Almost all of that can be done using the SEC website and pulling quarterly or annual reports, and then reading transcripts of or listening to quarterly conference calls. So let's see how AT&T fits into my long leash portfolio.
The Dividend
AT&T is famous for its annually increasing dividend. The company has increased this every year for 32 years, making it a favorite with retirees, who count on the income to live their lives. Right now, T treats shareholders to $.48/quarter for $1.92 annually. The March 18 closing price of $38.56 presents a 4.9% yield. The growth of the dividend has been steady, yet low, with a 5-year growth of just 2.3%. The company paid $1.89 in dividends in 2015 and earned $2.37 per share for a nearly 80% payout ratio. I prefer to use FCF to get a feel for the health of the dividend, and with $2.58 per share in FCF, the dividend is just 73% of that. The dividend growth keeps up with inflation, is well covered by earnings and cash, and the company has a long history of giving raises each year.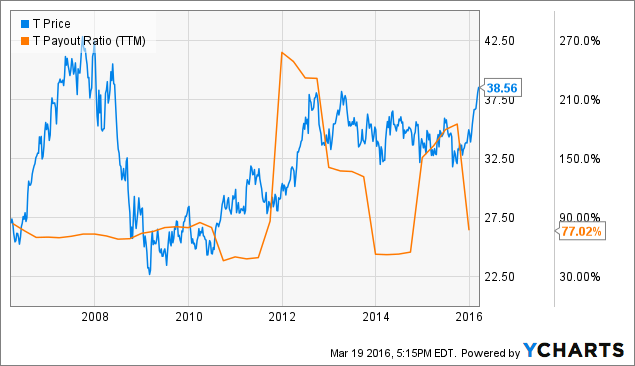 T data by YCharts
Price History
Being part of the long leash segment of my portfolio, I like to see how the company performs in down markets and during times of volatility. One easy metric to use here is beta, and T's is at just .28, which is utility low. During the recession period from 2007 to 2009, the share price dropped ~37%, while the S&P 500 dropped ~50%. Now that I see the company beat the S&P 500 during the recession, I can move to current price action. The company is infamous for its bond-like trading trends. From 2012 to just recently, the general rule of thumb when approaching T was to buy at $32 and sell at $36 if you were so inclined, and all the while, that 5%+ dividend would roll in. Fortunately for current shareholders, and unfortunately for those who always thought T was too pricey, the price has been hitting multi-year highs. The movement to these highs has been slow and steady, trading like a utility company. This characteristic gives me comfort, and is why the company is long leash for me.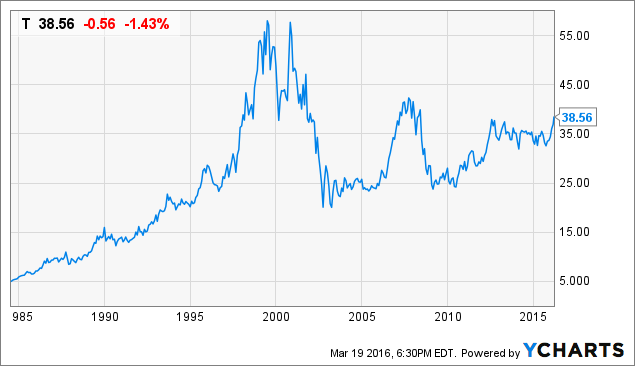 T data by YCharts
Current Financials
It is hard to leave something alone if it already isn't in good shape. The current financials of AT&T are pretty good. In 2015, the company had over $131 billion in revenue from services and $15 billion from equipment for over $146 billion in revenue, which is an almost 10% increase YoY. The company has just over $5 billion in cash stowed away, with an astonishing $118 billion in long-term debt with bonds going out to 2047. The debt keeps many investors away, and is worth taking a deeper look. T has $7.6B coming to maturity in one year as of its most recent 10-K. The company will be busy paying off a large portion of its through 2025 before it slows down. The coupons for the bonds are relatively low, mostly in the 3-4% range, and are trading at a premium, which is a good sign. Its debt/capital is also just 16%, which eases my mind. With $15 billion in FCF for 2015, the debt isn't too concerning for me, and the company should have no issues servicing the debt as it comes due.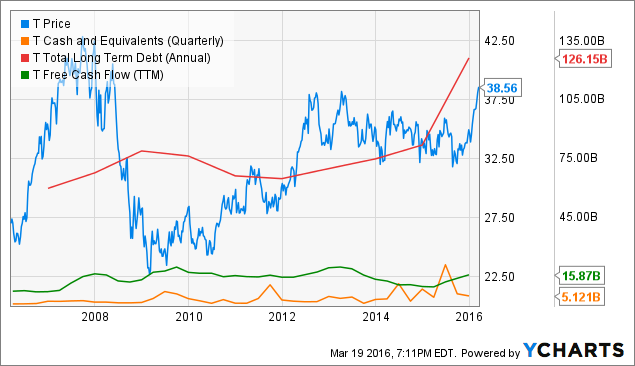 T data by YCharts
Growth Prospects
AT&T had long been referred to as a "grandma company", trudging along in a rather boring industry. In 2015, T completed its acquisition of DIRECTV in a $45 billion cash and stock deal. The company seems to have broken out of its mold with this deal, but there are still concerns. The much-feared "cord-cutting" facing television service providers now affects T, but the company is taking steps to mitigate these risks. It is launching streaming DIRECTV services, has AT&T Mobile TV, and has reintroduced unlimited cellular data for customers who also have DIRECTV.
With a mostly saturated market in the United States when it comes to wireless services, AT&T has turned south for growth. In January, it was reported that Telefonica (NYSE:TEF) was interested in purchasing AT&T's pay-TV assets in Latin America for upwards of $10 billion. AT&T also has its sights set on Mexico as an area of growth, investing over $7 billion. The move into Mexico will be an uphill battle for the company against America Movil (NYSE:AMX) and Telefonica. Where AT&T has an advantage is the cross-border communication needs of many of its customers and the company's experience building out robust broadband networks. AT&T's expedition into Mexico is mostly in its infancy, and isn't yet profitable. Management expects the operations to turn a profit sometime in 2017, and if it can capitalize on the smartphone market with its broadband experience, Mexico could become a huge region for the company.
Conclusion
AT&T has its fair share of concerns associated with it. The telecommunications industry is one giant price war, and now with DIRECTV, the company has exposed itself to the dreaded trend of "cord-cutting" as customers opt for streaming services and à la carte television packages. Even with those concerns, T fits nicely in the long leash segment of my portfolio. Its dividend is safe and increases annually, the share price doesn't do anything rapidly and performs well even in bad recessions, the balance sheet and revenues are strong, management has voiced concern about the debt and its plans to rein that in, and the company has many opportunities for growth with DIRECTV and its international wireless services. In no way do I think this company can be bought and forgotten about, but I also don't feel I must constantly check on it. AT&T will very likely be here in 30 years, which is a difficult thing to say about many publicly traded companies. So long as interest rates remain low and retirees are forced to seek income in the stock market, T will perform well. The company has done well for me so far, and sometimes, I forget it is even in my portfolio.
Disclosure: I am/we are long T.
I wrote this article myself, and it expresses my own opinions. I am not receiving compensation for it (other than from Seeking Alpha). I have no business relationship with any company whose stock is mentioned in this article.