Seadrill(NYSE:SDRL) has plummeted massively over the past year or so, and it's not exactly hard to see why. Oil has fallen all the way from $110 a barrel to a low of approximately $28. Many E&Ps have gone completely bankrupt, and many more are selling assets and trying to keep production steady at best.
The worst part is, Seadrill operates in a completely different part of the market. Shale breakevens have fallen drastically from the projected $40-50-60 at the beginning fall to a svelte $20 at the cheapest plays. A chart below shows shale breakevens.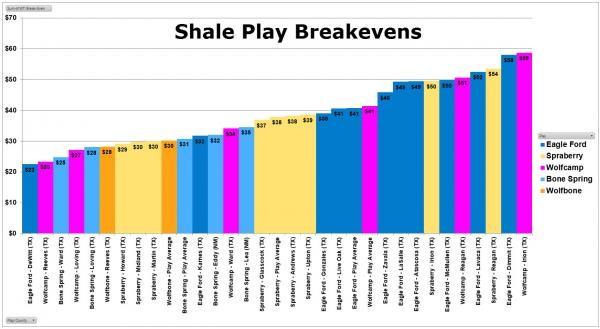 Source: Oilprice.com
Shale has effectively transitioned into the swing producer of the oil world, and Seadrill focuses on the higher cost deepwater drilling, which is completely uneconomical at these prices. According to Rystad Energy, the breakeven for deepwater drilling ranges from approximately $64-77 a barrel. These prices are not even close to being plausible, especially in the new normal of $20-40 breakevens in shale plays.
The worst part of this is that Seadrill can't even hunker down and outlast the slump in price. Seadrill has debt that requires it to literally pay out $400M every single year, not to mention the principal at the end of the maturity, approximately $11B worth. The bond market has always been much, much smarter than the stock market, and currently, these investors, which are senior to equity holders, only expect an approximately 40% recovery. If these investors, which are typically institutions, who have much better resources in terms of research and skill, and are senior when talking about bankruptcy, only expect a 40% recovery on their debt, why is the equity worth anything?
Bulls will point to the backlog of $11B, but that's only enough to pay off the principal of the debt, not to mention all of the interest of it. And remember, oil prices are likely to stay low since low breakevens for shale, which are falling even more as drillers rush to economize, keep searching for growth. And when the backlogs run out, Seadrill will likely not be able to use those rigs again, as it would be uneconomical to drill.
I recommend all investors to stay at best, uninvolved with Seadrill. There's too much to analyze, most of it to do with the price of oil, that each individual's informational edge is likely nonexistent. I lean towards the opinion that Seadrill will fall, but I am not confident enough to short, given the its leveraged nature and propensity to huge jumps, as seen in early March. If one really wants to go long, the bonds would be a better proposition. Buy with the smart money, and equity like returns are still possible, especially since they offer yields to maturity of 45%+.
Disclosure: I/we have no positions in any stocks mentioned, and no plans to initiate any positions within the next 72 hours.
I wrote this article myself, and it expresses my own opinions. I am not receiving compensation for it (other than from Seeking Alpha). I have no business relationship with any company whose stock is mentioned in this article.