With the S&P 500 up some 12% since the February 11th close, it is getting harder to find value among high-quality stocks, particularly dividend payers. Many of the stocks I've recommended have vaulted higher over the last five weeks. Aflac is one of those stocks that have gone up some, but haven't gone up too much. Also, this provider of supplementary insurance has grown dividends each year for over the last three decades. This article takes a look at Aflac's (NYSE:AFL) valuation and other fundamentals.
Nippon-centric
Aflac is undervalued, and it has been since the 2008 crash, from which shares have never fully recovered. Is this because of a weak business? I don't believe so. Most of Afflac's business comes from supplementary healthcare insurance, or healthcare insurance in addition to government-sponsored or employer-sponsored care. Aflac operates in the world's two biggest insurance markets: The US and Japan. Over half of Aflac's net income is from the latter.
That makes Aflac a play on Japan, and more specifically the Japanese yen. If the yen declines versus the dollar, then earnings will fall. This, I believe, goes a long way to explain why Aflac has remained undervalued since the crash of 2008, despite steady earnings results. Investors are cold on Aflac because of Japanese currency.

Japanese yen vs. US dollar, courtesy of Google Finance.
Without turning this into a crash-course on the Japanese yen, I will say that the Japanese government has been deliberately devaluing its currency through the open-market bond-buying from the central bank. This is done in an effort to encourage price inflation and improve exports. Without central bank intervention, the yen would probably rise because investors tend to see the yen as a 'safe haven.'
As you can see, the yen hasn't dropped much over the last couple years. If the yen does ever go up, which likely won't happen unless the government wants it to, shares of Afflac will rise sharply, and earnings will go along with. That, however, is a best-case scenario.
Steady growth
Even with the latest currency action, Aflac has grown its earnings. Aflac's engine for growth lies in increasing demand for its supplemental health insurance products. Aflac expects 4%-6% sales growth in Japan, thanks largely to cancer treatment insurance; some of which is not covered by the Japanese government's healthcare system. Aflac's partnership with Japan Post, also the country's largest bank, gives Aflac the scale to reach virtually all of the Japanese population.
In the US, sales growth is expected to be 2%-3% in 2016 and beyond, as the Affordable Care Act has so far brought coverage to 10 million uninsured, and that is spurring demand for Aflac's supplementary health insurance products. After reducing its share count by 4.8% in 2015, Aflac grew earnings per share by 9.6% last year. Next year, Aflac expects 3%-7% EPS growth, depending upon currency action.
Valuation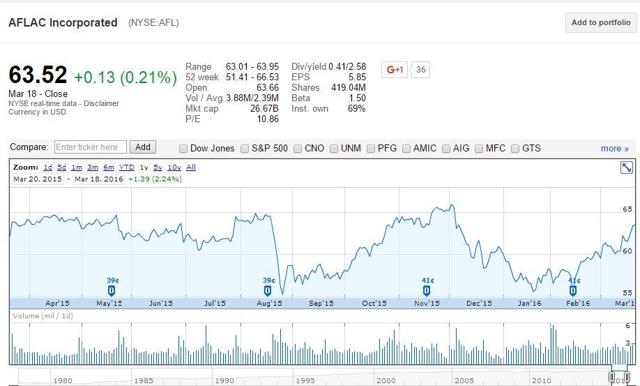 Click to enlarge
Courtesy of Google Finance.
Aflac is not as cheap as it used to be, but it's still undervalued. Shares have gone up 9.5% over the last two months. When we look at average valuations, a nicer picture emerges. Aflac trades at just 10.2 times earnings, and over the last ten years the company has averaged 11.6 times earnings, which means the stock trades at a 13.5% discount or so at this time.
I'm a bit hesitant to declare a further 13.5% upside here, especially considering that Aflac has been undervalued by this measure for nearly 8 years. But I do believe there is a good bit more upside than downside, especially when we consider Aflac's dividend: Shares yield 2.6% right now, and management has raised that dividend each year for the past 33 years. By how much? Well, since 2010 the dividend grew by 5.9%, compounded. Not bad. 'Dividend aristocrats' are always great to own at a discount.
Conclusion
Although Aflac is up quite a bit, I still see a good value in this stock. Yes, Aflac will be effected by Japanese currency, but those willing to risk that, I believe, will be rewarded in coming years.
Disclosure: I am/we are long AFL.
I wrote this article myself, and it expresses my own opinions. I am not receiving compensation for it (other than from Seeking Alpha). I have no business relationship with any company whose stock is mentioned in this article.