Context
In November 2015, Pfizer (NYSE:PFE) announced that it would acquire Allergan (NYSE:AGN). As part of the deal, each Allergan shareholder will receive 11.3 shares of Pfizer stock for each Allergan share they own. That means when the deal closes, Allergan shareholders are likely to get around $333 as at Friday's prices. The deal was structured so that Allergan technically bought Pfizer, and is a form of "tax inversion" deal used by companies to reduce their tax bill. In this process, one company located in a higher tax regime (i.e. US-based Pfizer) buys another company located in a lower tax regime (i.e. Irish-based Allergan). It then re-incorporates by shifting the address of its headquarters to the country with the lower tax. Ireland's corporate tax is 12.5%, compared with the U.S. of 35%, one of the highest in the world.
An Unusually Wide Spread
Despite the two company's optimism that the deal will close, the market appears to be thinking differently. As of Friday's close, shares in Allergan were trading at $269.43, about $63 below the target closing price of $332.79. That is a whopping 23% discount to the value implied by the terms of deal, an unusually wide spread. The spread is now at the widest level since the combination was first announced last November: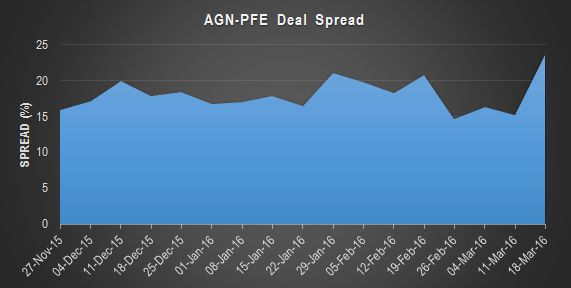 For believers of the deal, current spreads provide an interesting opportunity. Assuming a closing date of 12-31-2016, an investment in Allergan now would generate an annualized return of +31%, or higher if the deal closes sooner than year-end.
Possible Factors At Play
What's causing this unusually wide spread? We believe there are a couple of reasons.
1. Heavy Political Rhetoric
First, it's no secret that politicians hate inversion deals. The US Treasury has already tightened regulations twice in the past two years in an effort to stem these transactions. The latest includes restrictions on inversions where the US company ends up with a combined stake of between 60-80% in the foreign company. That rule doesn't seem to apply to Pfizer. According to the terms of the deal, Pfizer shareholders will currently own about 58% of the combined company, which places it just below the threshold. That percentage will also decrease further as Pfizer continues to buy back its stock, which will reduce its shares in the open market.
Recent tightening aside, the deal was also criticized by Hilary Clinton, Bernie Sanders and Donald Trump in their campaigns. Analysts have noted that these are more talk than action as only congressional legislation can stop inversions entirely. Several bills are pending, but passage is unlikely to take place until at least 2017, after the election year. That means the deal should be relatively safe, provided it goes through this year.
2. Delays In The Allergan Generics Divestiture
Teva, an Israeli company had previously agreed to acquire Allergan's generics unit. The European Commission recently gave its nod but clearance from the US FTC appears to be taking longer than expected. The FTC is currently waiting for input from the FDA, which will likely be a time-consuming process. In a recent statement, Teva said that it expects the deal would now take as long as June to close, extending from the first quarter of this year. A divestiture of Allergan's generics unit is widely seen as a prerequisite to the AGN-PFE deal and any significant delays will no doubt push back the timeline of the merger.
We believe this longer-than-expected timeframe is causing a widening of spreads because some short-term investors, such as merger arbitrageurs, are leaving the situation temporarily. Arbitrageurs typically look to profit from a nearer-term catalyst and do not sit idle. According to our estimates, a good chunk of Allergan's 395m shares outstanding are owned by hedge funds, many of which pursue shorter-term, event-driven strategies: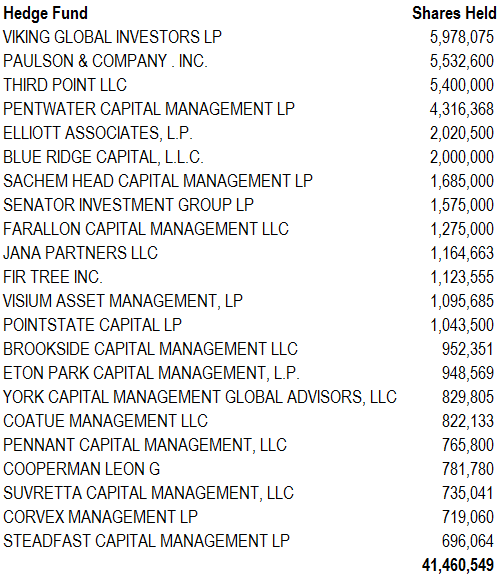 3. Pfizer's Share Buyback
Finally, another important factor is Pfizer's share buyback programme. On March 9, 2015, it was reported that the company entered into a share repurchase program with Goldman Sachs to repurchase $5bn worth of its stock, as part of its existing buyback authorization of $11bn.
Approximately 136 million of the shares were repurchased with settlement in 2Q. That's equivalent to 3% of Pfizer's outstanding shares, which should increase its share price as well as the implied value of Pfizer's bid if Allergan's share price doesn't follow suit. Recall implied deal value = PFE price x 11.3. As we can see below, Pfizer's shares have been steady since the announcement while Allergan's have dropped further. Since Allgeran's share value failed to increased by the same amount, the deal's spread further increased as a result: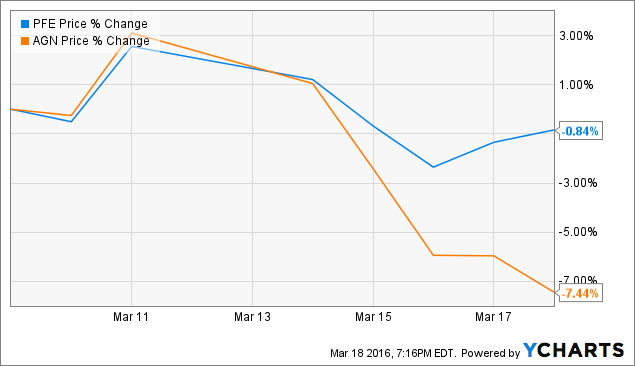 StreetInsider also provided an explaination on the situation, and why it is good for the deal:
PFE's accelerated share repurchase will immediately reduce the amount of PFE shares outstanding in the market, thereby increasing the value of PFE's price per share, and as a result raise the implied deal price for AGN shares.

More importantly, the move by Pfizer's management serves as a signal that they view their stock as extremely undervalued (relative to their business' intrinsic value), while validating their conviction in the soon-to-be combined PFE/AGN entity.
We believe investors who do not understand this are viewing the recent widening negatively.
4. Negative Sector Sentiment
Sector sell-offs always create good buying opportunities. Pharmas have been rockly since last summer over flaps over drug pricing, and once again recently following Valeant's (NYSE:VRX) disastrous earnings report that sent ripples across the whole sector. This is evident from the downward spiral of the iShares US Pharmaceutical ETF (NYSEARCA:IHE), despite VRX not being a constituent of the index fund: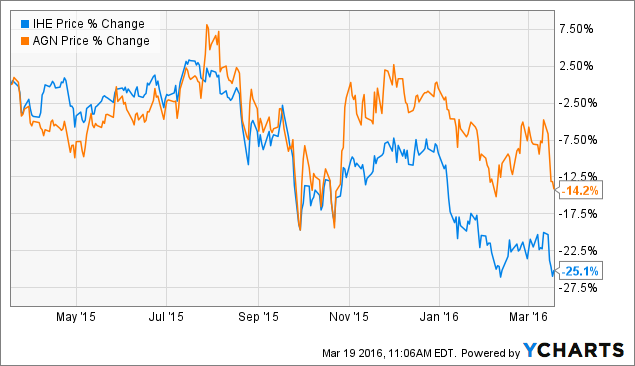 This is the top holdings of the ETF: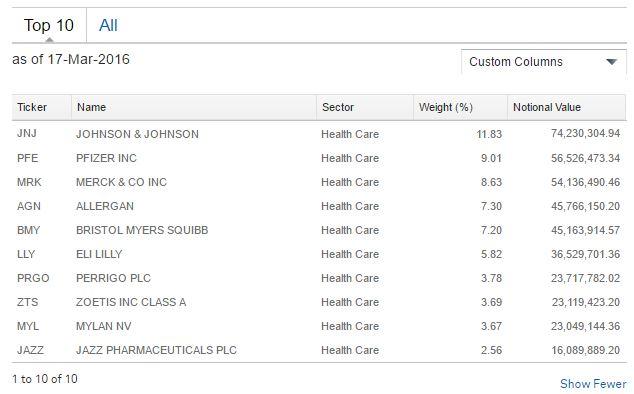 5. Tiny Breakup Fee
Finally, investors may be concerned about the tiny break-up fee, a signal that the deal could fail. As part of the terms, Pfizer and Allergan would have to pay just $400m if either party pulled out due to a change in legislations, a small break-up fee for such a large transaction. That said, the termination fee for any other reasons is much larger at $3.5bn, which is close to other deals of this size.
However, the merger agreement does allow the companies to walk away for much less. For example, if one side votes down the transaction and the other side approves it, the former would have to pay just $1.5 billion, a lower amount. We do not see this scenario as likely, and voting is only expected to take place after all the approvals are received. We doubt either party will want to say no after all the hard work have been done.
Pfizer Deal Just Icing On The Cake
Based on the above, we believe there are no material impedents for the deal to be derailed. As such, we think the merger will likely go ahead albeit with a delayed timeframe.
Even it a deal does not go through, Allergan looks like a good buy right now. Its share price have dropped 11% since the deal was initially announced last November, while the S&P 500 have remained roughly flat.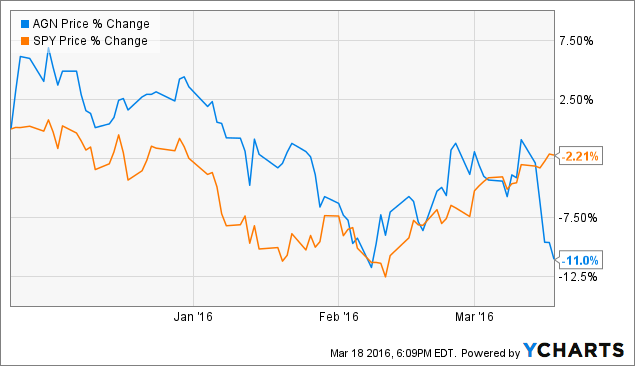 On a standalone basis, Allergan is an industry juggernaut firing on all cylinders. Its combination with Actavis gave it a leading position in various markets, including two of the most defensible specialty drug markets out there - aesthetics and eye care. In its latest earnings report, it easily blew past estimates and reported exceptional results, with revenues increasing +74% year-over-year. Yet, its share price have barely moved.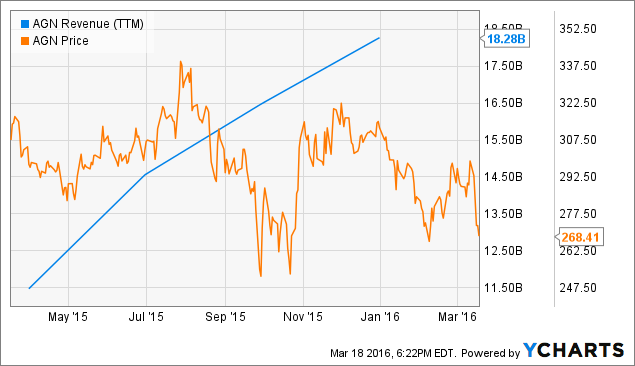 With double digit top line growth, Allergan is currently trading at levels prior to its combination with Actavis. It current forward P/E is 16.8x, and trades on a free cash flow yield of 4%: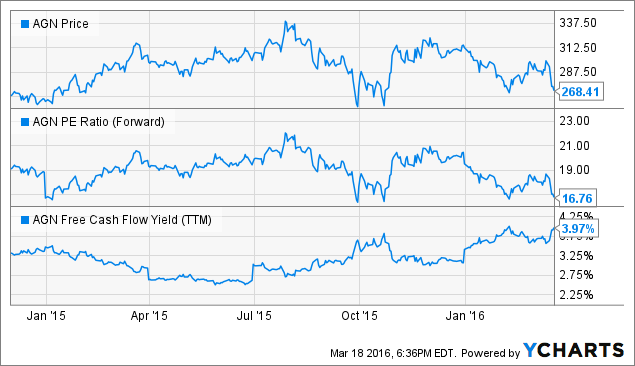 Our take? The Pfizer deal is just another icing on the cake. An investment in Allergan right now will be well-rewarded even if the deal falls through, which we think is unlikely.
Disclosure: I am/we are long AGN.
I wrote this article myself, and it expresses my own opinions. I am not receiving compensation for it (other than from Seeking Alpha). I have no business relationship with any company whose stock is mentioned in this article.