Russia has been one of the biggest victims of cheap oil as its economy is heavily dependent on oil prices. Oil and gas revenues make up for more than half of Russia's budget revenues. Since 2014, Russia lost close to $100 billion in oil revenues, and its energy sector lost close to $40 billion due to the geopolitical sanction imposed by the U.S and European Union. So, in order to sustain itself in hostile market conditions, Russia produced its oil in record numbers in 2015 (around 10.73 million barrels per day).
This year, Russia joined hands with Saudi Arabia, Venezuela and Qatar to freeze its average monthly oil output at January 2016 levels. It is interesting to note that under this deal, Russia would be producing around 10.7 million barrels a day, which is still a pretty high production level. Although Russia's oil production is not declining, it is predicted by some analysts that the country might eventually run out of crude oil by the year 2044. "Our recoverable oil reserves are about 29 billion tons. These are the ones that could theoretically be extracted from the subsoil. Crude oil production (without condensate) preliminarily amounted to about 505 million tons in 2015. Such reserves will last for 57 years," said Sergey Donskoy, Head of Ministry of Natural Resources and Environment. Whether Russia would run out of crude oil or not, it is pretty evident that it is now hedging its risk by investing in emerging economies like India.
Russia announces big energy deals with India
Rosneft (OTC:RNFTF), the world's biggest listed oil company, has signed deals worth billions of dollars with several Indian companies in the last few days. Rosneft sold its 23.9% stake in Vankor oil field to a consortium that was formed by three Indian companies - Indian Oil, Oil India and Bharat Petro Resources. The deal was worth close to $2 billion. In another deal worth $1.28 billion, the same Indian consortium would buy a 29% stake in Taas-Yuriakh, which is one of the biggest oilfields of east Siberia. Moreover, India's Oil and Natural Gas Corporation Limited (ONGC) has also increased its stake in Rosneft's Vankor oilfield from 15% to 26% for around $925 million.
Rosneft is all set to buy a 49% stake in one of India's biggest refineries
Rosneft has been trying to acquire a 49% stake in India's Essar Oil Limited refinery since last year. Now, Rosneft has announced that it has cleared most of the legal hurdles, along with due diligence, and the agreement with Essar Oil can be concluded by this June. It is interesting to note that Essar Oil Limited's Vadinar refinery (at 20 million metric tonnes per annum) is the second largest refinery in India, and Rosneft already has an agreement with Essar Oil Limited for supplying 10 million tons of crude oil per year for the next 10 years.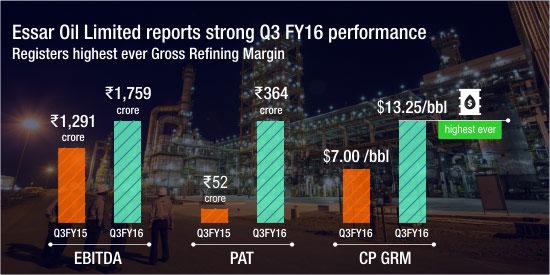 What does this mean to Russia and India and what can the investors expect?
"We are establishing a reliable energy bridge between our countries, which will be developing the interests of both Russia and India," said Rosneft CEO Igor Sechin. It is pretty obvious that by selling its oil field stakes to India's energy companies, Rosneft is trying to pay off its debts related to its $55 billion acquisition of TNK-BP (TNBP) in the year 2013. With a 49% stake in Essar Oil, Russia is trying to gain access to the booming Indian refining market. India is currently the fourth biggest refiner in the world, and the Essar Oil Limited refinery posted its highest ever gross refining margin of $13.25/barrel for the quarter ending December 31, 2015. Besides, Essar Oil's acquisition would give Rosneft access to its broad network of fuel pumps and CBM (coal bed methane) blocks. For India, the oil field deals with Rosneft signify Prime Minister Narendra Modi's vision of reducing the country's import dependence for oil by close to 10% in the coming six years. India currently imports almost 78% of its total crude oil requirements. The latest Indo-Russian energy deals are therefore a win-win proposition for both the countries. This makes Rosneft a promising long-term proposition for investors. On the other hand, the Indian public sector undertaking - Oil and Natural Gas Corporation Limited, which has made substantial investments in Rosneft, seems to be an attractive bet for investors who are looking to invest in an India-based energy company.
Disclosure: I/we have no positions in any stocks mentioned, and no plans to initiate any positions within the next 72 hours.
I wrote this article myself, and it expresses my own opinions. I am not receiving compensation for it (other than from Seeking Alpha). I have no business relationship with any company whose stock is mentioned in this article.
Editor's Note: This article discusses one or more securities that do not trade on a major U.S. exchange. Please be aware of the risks associated with these stocks.