On 2/2/2016, I wrote the article One Way To Beat The Market. The whole idea was that Seeking Alpha contests are full of moral hazard, and I was pretty sure that the average contestant will be wrong. This is just how it works. You can ask every second person who is interested in the markets and he will give you a smart opinion of what will happen. I call this illusion of knowledge. People who know what will happen do not exist. Professional analysts are wrong all of the time and they try to market only the ideas that have worked. Picking stocks is a serious task and it is not as easy as writing an article. It is not something you will learn in university. The traders who constantly beat the market are not the best stock pickers and you will hardly hear them giving an opinion of where a particular stock is headed.
The numbers
Let's start with the SPDR S&P 500 ETF Trust (NYSEARCA:SPY):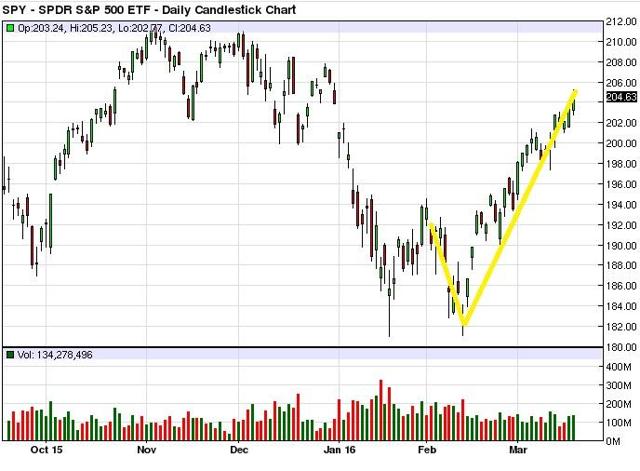 Click to enlarge
Source:barchart.com
The yellow line shows the behavior of SPY for the time I am tracking its performance against the portfolio of all the short ideas in the last Seeking Alpha contest taken long. The SPY price has risen from $190.12 to $204.63 or 7.72%.
The portfolio of short ideas
Here is the link to SA contest results where the reader can see how every single stock of the contest is performing. There were 56 stocks participating at the time of writing the article, so I decided to allocate $1000 for each one of them. The initial value of the portfolio was $56,000. The current value of the portfolio is 65,486 or an appreciation of 17%. This means that the average contestant in the short idea contest has lost 17% (not including hard to borrow charges). Keep in mind that this contest is for stocks that are not supposed to correlate with SPY. Valeant Pharmaceuticals (NYSE:VRX) is a perfect example of a "bad" stock. It has 0 correlation with the market. A company that has problems or is significantly overvalued will not appreciate with the broad market. It is a one-stock pick, and a contestant cannot use the SPY rally as an excuse. How many of the readers have their portfolio appreciated by 16% since 2/2/2016? It will be really interesting to read your comments with your personal results for that period.
The worst short picks so far
Paramount Resources Ltd. (OTCPK:PRMRF)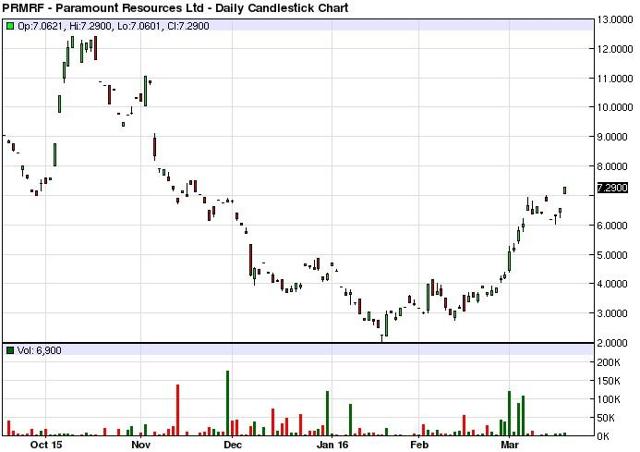 Click to enlarge
This was not a fundamental pick for me, so I will not even read what caused this stock to rise that much. All I know is that I took it in the portfolio at a price of $3 and it is currently at $7.29. This is a profit of more than 140% in 45 days. This position is closed (140% is enough I think).
RONA Inc. (OTC:RONAF)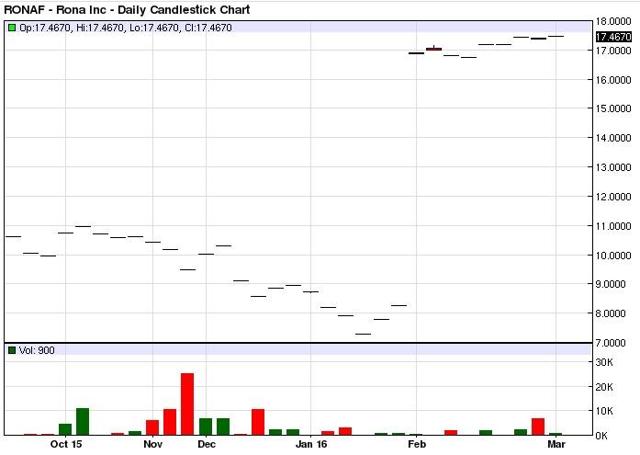 Click to enlarge
This is a Canadian stock that luckily was taken on 2/2/2016 and resulted in a 100% profit the next day on a buyout news. This was pure luck, but definitely not the best short pick.
Harmony Gold Mining Co. (NYSE:HMY)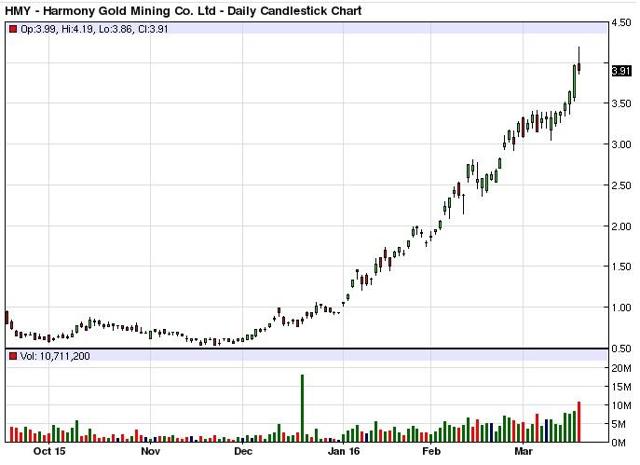 Click to enlarge
At the time of constructing the portfolio, this stock was at $1.95. It currently closed at $3.91. This is a 100% winner in 45 days. I have no idea what was the reason again for this sharp rally, but if it was a good fundamental short at $1.95, it is certainly a better one here.
Shorts that are working (or should I say - the only short that is working so far)
Everyone that has opened the spreadsheet with the portfolio can see that every winner (greater than 20%) is colored in green and every loser (greater than 20%) is colored in red. The only red stock currently is Ultra Petroleum Corp. (NYSE:UPL):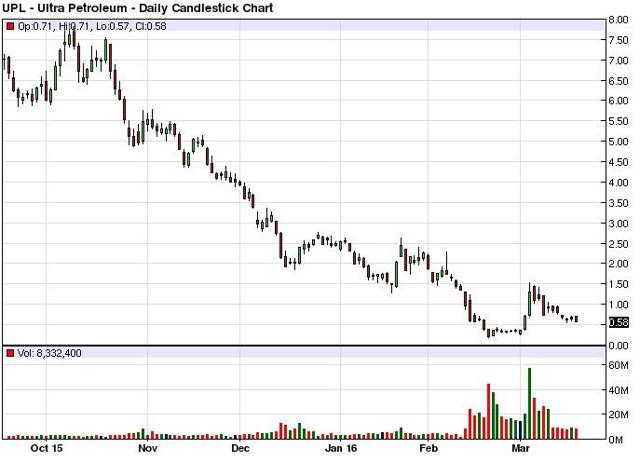 Click to enlarge
This position was taken long at a price of $1.58 and is currently a $1 loser (63%). Shout out to the "one warrior army" Elephant Analytics who has the best pick so far.
Conclusion
Every smart person can write a decent article. Almost every person with some financial knowledge and a high self-esteem can act smart and make you believe he knows what he is talking about. Illusion of knowledge combined with moral hazard is the most dangerous combination in investing. Judge only the results. Investing has nothing to do with philosophy. It is just numbers and numbers and numbers.
Disclosure: I am/we are short SPY.
I wrote this article myself, and it expresses my own opinions. I am not receiving compensation for it (other than from Seeking Alpha). I have no business relationship with any company whose stock is mentioned in this article.
Editor's Note: This article covers one or more stocks trading at less than $1 per share and/or with less than a $100 million market cap. Please be aware of the risks associated with these stocks.