Last week, I decided to sharpen my pencil on international real estate investing by traveling to an emerging market in Latin America.
This was my first trip to South America, where I spent around a week traveling across the copper-rich country hoping to gain insight into one of the Latin America's healthiest countries.
Although Chile remains among the least corrupt countries in South America, and although its judiciary is independent, proficient, and generally free from political meddling, a series of unrelated corruption scandals in 2015 took some of the shine off of the crown jewel country located in the extreme southwestern part of South America.
Chile has quite a few physical attributes that makes the country an attractive real estate market.
First, the country stretches through the Antarctic to the South Pole, and its most western territory is Easter Island in Oceania. Because of Chile's busy ports, Valparaiso and San Antonio, the country benefits from strong exports, where copper, other minerals, processed foods, fresh fruit, wood pulp, salmon trout, and wine are exported.
The vast majority of Chile's foreign trade passes through its ports, where containers account for around 75% of the general cargo shipped through the country's ports.
Also, Chile's wide coast line provides the country with a wider buffer that protects it from international conflicts. With a fleet of over a dozen battleships and over 25,000 serving in the navy (includes the Marines), Chile is considered to be among the most capable and professional in the Americas, and the country's Navy forces are closely aligned with the British Royal Navy and the US Navy.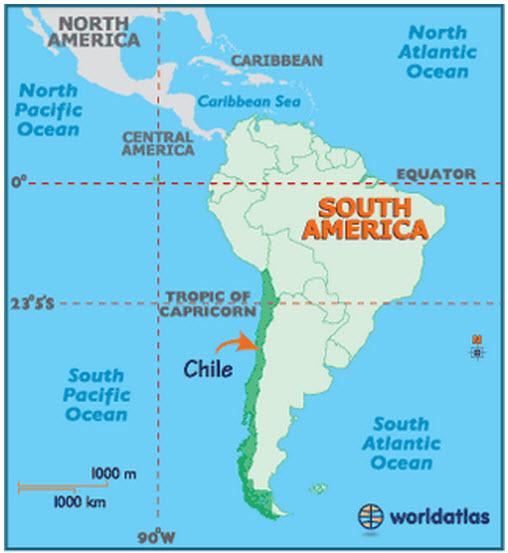 Also, the country is well protected on the east by the Andes mountain range that extends from Venezuela to the southern tip of Chile. The Andes encompasses thick rain forests, the driest desert in the world, high defying snowcapped peaks, ancient ruins, gorgeous lakes, luxury spas and termas, threatening volcanoes, ski resorts, cozy little villages - all in one long mountain range. I did not have time to visit the Andes while I Chile, but that's on the list for my next visit.
Investing in Chile
As mentioned, Chile's Socialist President, Michelle Bachelet, is currently serving her second non-consecutive four-year term, and in 2015, a corruption scandal involving her son and his wife was reported. The biggest uncertainty in Chile's economy is related to tax reform and education reforms, forced by the current administration, that has dampened consumer confidence.
Nonetheless, Chile retains the region's best investment profile and benefits from its membership of the Pacific Alliance and the vast network of free-trade agreements. It was the first South American country to join the Organisation for Economic Co-operation and Development, and is the world's leading producer of copper. Here's a snapshot of the country's historical and forecasted GDP growth.

Click to enlarge
While in Chile, I ate quite a bit of seafood, mostly salmon.
Up until 2007, Chile experienced over 15 years of a huge growth in its salmon aquaculture, becoming the second-largest salmon and trout producer after Norway. In 2006, the country contributed with 38% of the world's salmon volume, just behind Norway that produced 39% of it. But in 2007, the industry suffered an outbreak of infectious salmon anemia, and then the financial crisis forced salmon production to fall from 400,000 to around 100,000 tonnes.
More recently, an algal bloom in Chile has killed up to 20% of the nation's salmon, and according to industry experts, the losses - some $800 million in the last two months - has reduced supply lifting selling prices. Last week, shares in Santiago-listed Australis Seafoods rose 37%, and Camanchaca and Multiexport Foods jumped around 30%.
It's interesting that lunch in Chile starts around 1:00. I tried eating at several restaurants, and they did not open until 1:00 sharp. There's a reason for that - most Chileans take over two hours to eat lunch, enjoy some wine, and relax. Perhaps that's why Chileans live longer than people in the US.

Click to enlarge
Last week, I spent most of my time in Santiago, the capital and the biggest city of Chile, with over 7 million people (the same size as Dallas).
I was amazed at the robust growth in Santiago. Not what I expected from an emerging country hidden in the deepest part of Latin America.
The office market is incredibly strong, as many globally recognized businesses have located there - Google (GOOG, GOOGL), HP Inc. (NYSE:HP), and BBVA, to name a few. There are a number of new office towers being developed, and I visited the most visible one, Gran Torre Santiago, at Costanera Center - a 984-foot tall tower developed by Horst Paulmann, one of 10 billionaires located in Chile (see Forbes list here). The Gran Torre Santiago is the largest tower in Latin America and the 98th tallest in the world.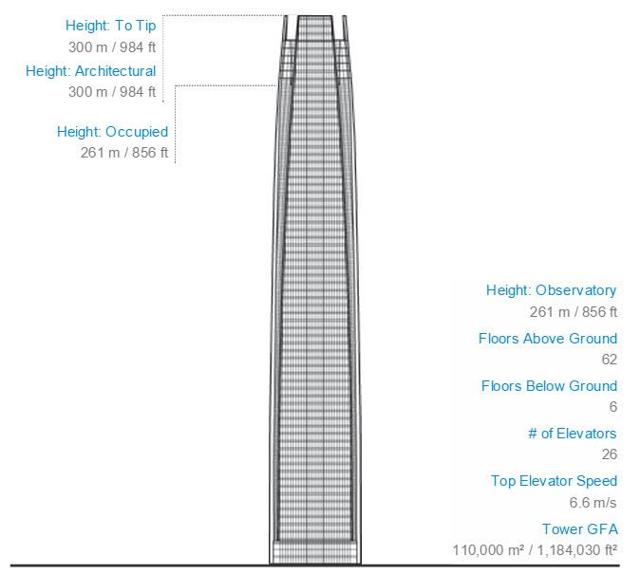 Click to enlarge
I was amazed to find out that Cencosud S.A. (NYSE:CNCO) was the holding company for the tower that also owns a number of supermarket chains in Chile, Argentina, Colombia, Brazil, and Peru under names such as Jumbo, Santa Isabel, Disco, Vea, Gbarbosa, Prezunic, Bretas, Perini, Wong, and Metro. In addition, it owns department stores such as Paris and Johnson's, and home improvement stores such as Easy and Blaisten.
In 2004, Cencosud began trading shares on the Santiago Stock Exchange and on the NYSE in 2011. The Paulmann family is the largest shareholder (controls indirectly 55.95%). As you can see below, Cencosud has evolved from one store in 1976 into a dominant Latin American holding company with an estimated $16 billion in annual revenues.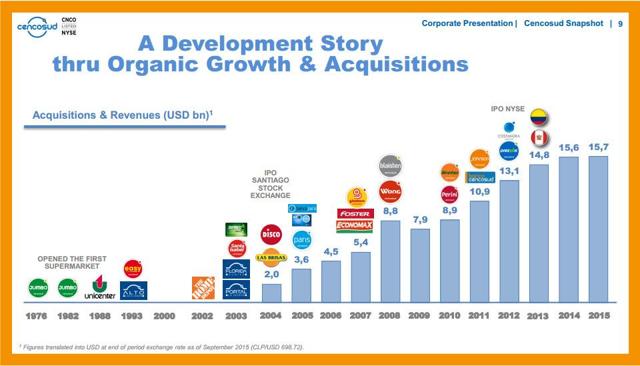 Click to enlarge
More interesting, however, is that it owns 55 shopping centers and/or malls that include 17 shopping centers in Argentina, 10 malls in Chile, including Costanera Center, the biggest project undertaken by Cencosud that opened in June 2012, with 326 tenants. In addition, Cencosud owns two shopping centers in Peru.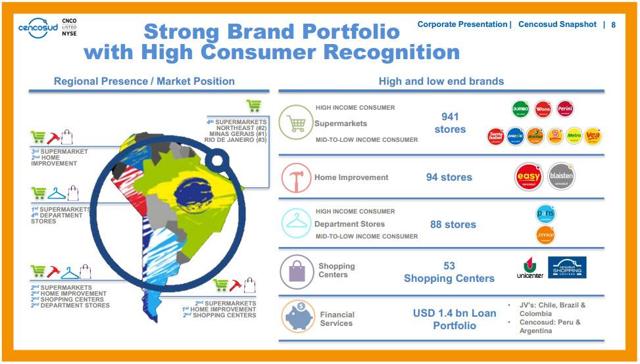 Click to enlarge
I find it intriguing that Cencosud has all of its operations rolled into one holding company. All of the retail businesses and real estate businesses are owned by the parent company, including the spec-built 700,000 m/2 tower that I visited. There are also 4- and 5-star hotels nearing completion (with no flag affiliation identified, and rumored to be Hilton (NYSE:HLT)), and several other office site pads for future buildings.
In short, Cencosud is literally betting the farm on downtown Santiago. On the company's website, it reads:
Through this mega Project we are aiming to introduce in Chile the "neo urbanism" concept which is linked to the idea of having in our main cities the relevant space areas suitable for accommodating both the new technologies and other features that go hand-in-hand with an interconnected world.
When I returned from Chile, I began to dig deeper into Cencosud, and even though this company is publicly traded, it became clear that breaking down the financial statements is almost as hard as writing my book on Donald Trump. There are multiple layers of entities related to Cencosud - just take a look at this filing here of all of the subsidiary companies.
I am most interested in analyzing the balance sheet to determine just how much capital the company has invested into the speculative high-rise and adjacent hotels. Just a quick back-of-the-napkin analysis suggests that the billionaire may have over $1 billion invested in the tower and adjacent hotel building.
I can't imagine how any public company in the US would take on such a bold move to construct a shrine that even Donald Trump would have waited to build (he would have leased up a few floors before commencing construction). The interest payments on this grand tower must be soaking up massive amounts of cash flow (being generated by the massive mall adjacent). So much for a high dividend payout! Cencosud is now yielding 1.82%, or $.14 per share, on the current price of $7.40.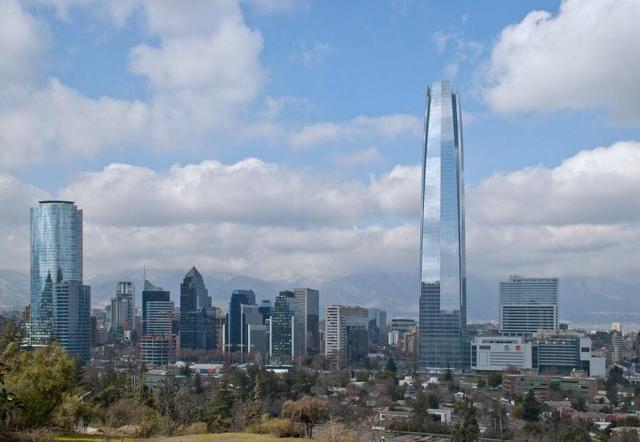 Click to enlarge
South of the Border
Mexican REITs are known as fibras - an acronym for "fideicomisos de inversión en bienes raices" - and were first introduced in 2010, with the first company, Fibra Uno (BMX: FUNO11), going public a year later. More recently, fibras have gained traction by capitalizing on increasing investor interest, improving economic conditions, and favorable government reforms.
Mexico and other Latin American countries are enticing real estate businesses, due primarily to favorable demographics - a young workforce, with 46% of the population aged 24 or younger, compared to 32% for the United States. Along with its proximity to its northern neighbor and a growing middle class, the commercial real estate market offers plenty of opportunity in sectors such as industrial, office, hotel, and retail.
The fibra structure in Mexico creates the same basic benefits of U.S. REITs by not being subjected to taxation at the entity level to the extent of distributed income. Fibras must distribute 95% of their net taxable income to shareholders in the form of dividends.
Fibra Uno was the first company to issue shares under the fibra structure in an initial public offering back in 2011. Others followed, including Fibra Hotel (BMX: FIHO12), Fibra Inn, and Macquarie Mexican REIT (BMV: FIBRAMQ). The IPOs are expected to keep coming.
For example, U.S. REIT Prologis Inc. (NYSE:PLD) separated its Mexican portfolio in May of this year, and raised $541 million in June for the IPO of Fibra Prologis (BMX: FIBRAPL 14).
Most REITs in Mexico and Latin America have chosen diversification over pure-play strategies simply because there is a much better opportunity to scale the portfolios and consolidate holdings. For example, Macquarie Mexican REIT has invested in the industrial, office, and retail sectors, and has been buying up smaller portfolios, such as a 50% interest in nine retail properties from Kimco Realty Corp. (NYSE:KIM) in March 2015 for $113 million. (Source: NAREIT)
Further South of the Border
Latin America has begun to follow the lead of the fibras in Mexico, and last week, I spent a few days with the management team of Aurus, a small asset management firm based in Santiago, that was created in 2008.
Similar to most fibras in Mexico, Aurus is an asset manager that owns a number of funds, one of which is a REIT called Aurus Renta Inmobiliaria (AURUSRI:CI). The ~$300 million (U.S.) REIT owns a number of properties, including office buildings, shopping centers, and warehouses. A majority of the properties are office buildings, and all of the shopping centers are owned in joint venture.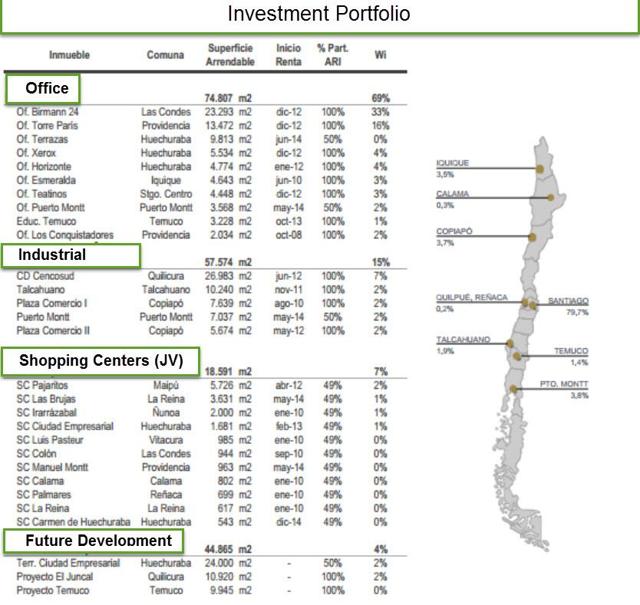 Click to enlarge
As I have disclosed below, I am working in a consulting capacity with Aurus, and one of the things that I found interesting is that the company has modeled its business strategies around that of Realty Income (NYSE:O).
Needless to say, mirroring Realty Income is not a bad goal, and while Aurus does not plan to become a dominating net lease landlord, the Chilean fund completely understands that REITs that grow dividends steadily generally outperform the companies that don't. On February 29th Aurus paid its 53th consecutive "monthly" dividend - that's a great start for the Chilean version of "the monthly dividend company".
AURUSRI's dividend yield is around 6%, and the shares are now trading close to NAV. Keep in mind that this REIT, like most all in Latin America, is externally managed, and of course, the shares aren't traded on US exchanges. I look forward to providing you with a few updates over the course of the year on this little gem in Chile.
In closing, my first trip to Chile was amazing, as I gained valuable insight into Latin America's increasing globalization of commercial real estate. In Chile, there is a unique opportunity to capitalize on higher yields (around 200-300 bps above US), while benefiting from the country's cyclical recovery and expansion.
Chile is definitely a rising star among South American countries. Economic growth is sound, and the country offers limited volatility in inflation (limited currency inflation). In terms of asset classes, I rank office and retail as the most desirable, based on the growing middle-class population and increased household wealth (strong consumer demand). Descubierto una joya en Santiago la semana pasada (I uncovered a gem in Santiago last week).
Special thanks to my daughter and interpreter, Lauren Thomas, who traveled to Chile with me so that I could communicate with others who speak Spanish. She's back in school now... go Tar Heels!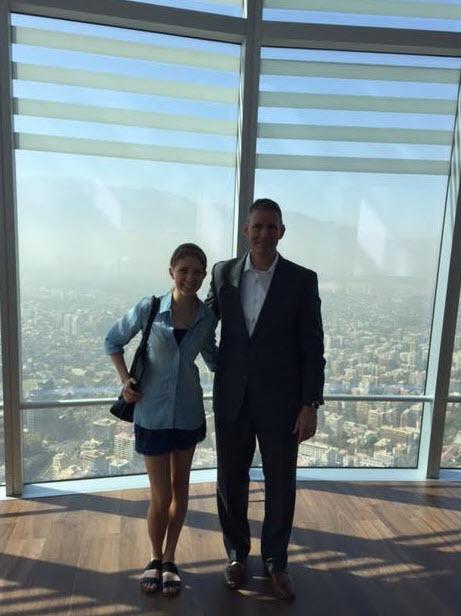 Disclosure: Brad Thomas has a business/consulting relationship with Aurus.
Author's Note: I'm a Wall Street writer, and that means that I am not always right with my predictions or recommendations. That also applies to my grammar. Please excuse any typos, and I assure you that I will do my best to correct any errors if they are overlooked.
Finally, this article is free, and my sole purpose for writing it is to assist with my research (I am the editor of a newsletter, Forbes Real Estate Investor), while also providing a forum for second-level thinking. If you have not followed me, please take 5 seconds and click my name above (top of the page).
The only guarantee that I will give you is that I will uncover each and every rock I can, in an effort to find satisfactory investments that "upon thorough analysis promises safety of principal and satisfactory return. Operations not meeting these requirements are speculative." (Ben Graham)
Disclaimer: This article is intended to provide information to interested parties. As I have no knowledge of individual investor circumstances, goals, and/or portfolio concentration or diversification, readers are expected to complete their own due diligence before purchasing any stocks mentioned or recommended.
Disclosure: I am/we are long O, DLR, VTR, HTA , STAG, GPT, ROIC, HCN, OHI, LXP, KIM, WPC, DOC, EXR, MYCC, BX, TCO, SKT, UBA, STWD, CONE, BRX, CLDT, HST, APTS, FPI, CORR, NHI, CCP, WSR, CTRE, WPG, KRG, SNR, LADR, HCN, HCP.
I wrote this article myself, and it expresses my own opinions. I am not receiving compensation for it (other than from Seeking Alpha). I have no business relationship with any company whose stock is mentioned in this article.