Today I wrote a bracketology article on the Multi-Family REITs and the winner of the tournament was Essex Property Trust (NYSE:ESS). Keep in mind that bracketology is not a competition based on luck, it's similar to the NCAA tourney, in which the winner is often the most durable contestant as measured by the most lasting forms of repeatability.
What's durability you may ask? Here's how Morningstar's Josh Peters describes it,
Durability implies that the firm can take a financial punch in one year and come back swinging the next. Durability implies an earnings stream that, if not quite predictable in any one year, can be relied upon over a series of years, during which short-term fluctuations should average out.
Essex is clearly a slam dunk, based on durability alone, and in this article I will dig deeper into valuation, perhaps one of the most crucial elements of the investing toolkit.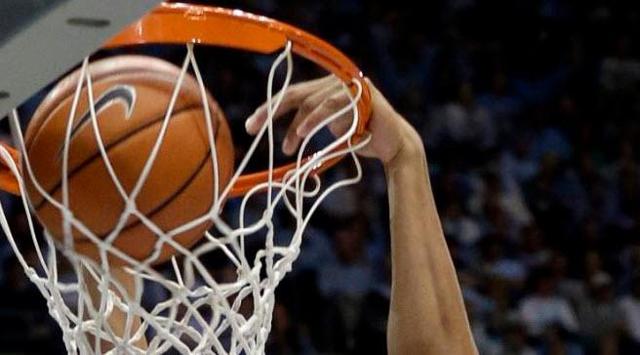 Click to enlarge
West Coast Focused REIT
Based in Palo Alto, California, ESS is a fully integrated REIT that acquires, develops, redevelops, and manages multifamily residential properties in selected West Coast communities.
Since its founding in 1971, ESS has developed a clearly defined approach for creating value and managing risk. The company's approach has three components - a sound real estate strategy, an experienced management team, and a strong financial condition. These three factors have contributed to ESS's historical results and future growth potential. Here's how ESS compares with the peers based on market capitalization:

Click to enlarge
ESS is dedicated to coastal markets of California and Washington with high barriers to entry. The portfolio consists of 246 properties totaling 58,000+ apartment homes.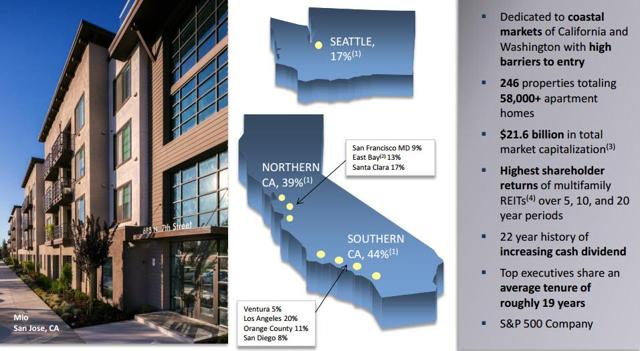 Click to enlarge
ESS's key objectives are to add value through strategic redevelopment and acquire and develop West Coast properties near transportation nodes in submarkets with highest expected rent growth. Here is a snapshot (below) illustrating the robust West Coast markets where ESS is focused.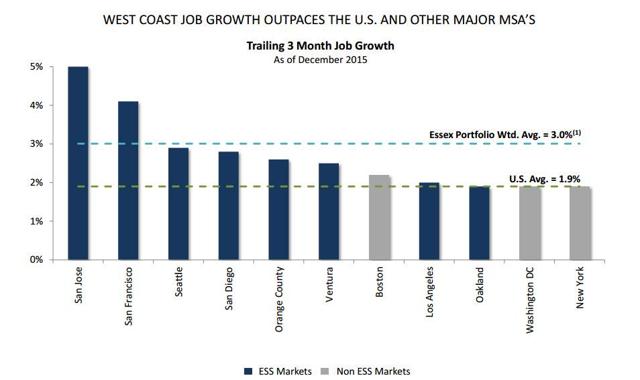 Click to enlarge
Accordingly, ESS enjoys favorable demographic trends that indicate continued rental demand.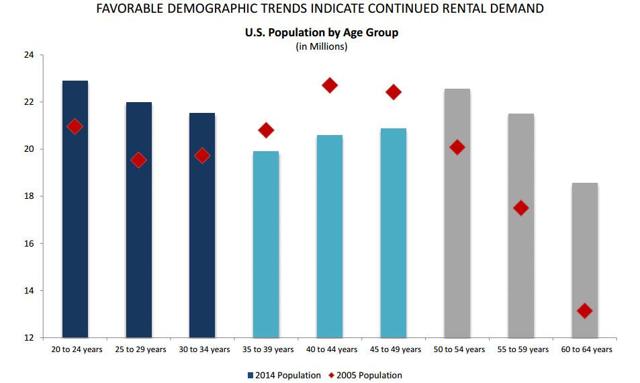 Click to enlarge
Strong personal income growth is a key differentiator for ESS and that growth supports stronger rent growth (and dividend growth).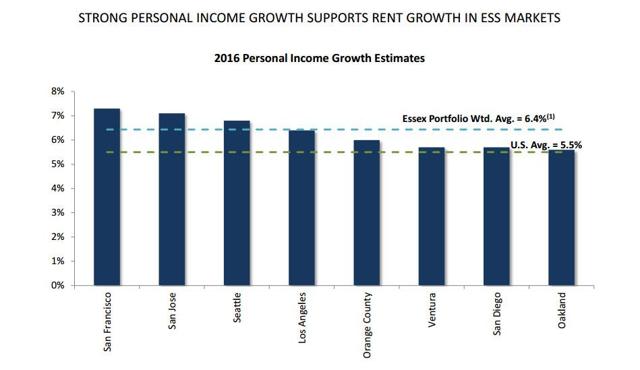 Click to enlarge
There is limited supply in most ESS markets - percent of stock has historically been below 1% and remains muted today. Relative to the nation, ESS's California markets have less housing supply with better job growth.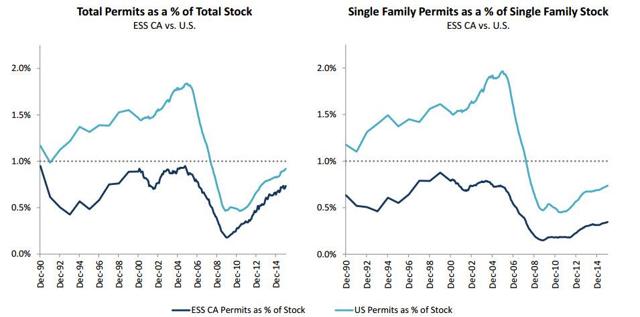 Click to enlarge
Demand exceeds supply in most ESS markets because the supply is constrained (demand is expected to exceed supply relative to other major metros).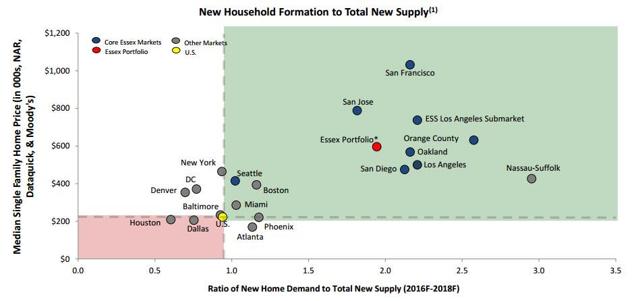 Click to enlarge
It's no anomaly, the West Coast should continue to outperform. Rent growth in ESS markets is expected to exceed the US and Top 20 MSAs' through 2020.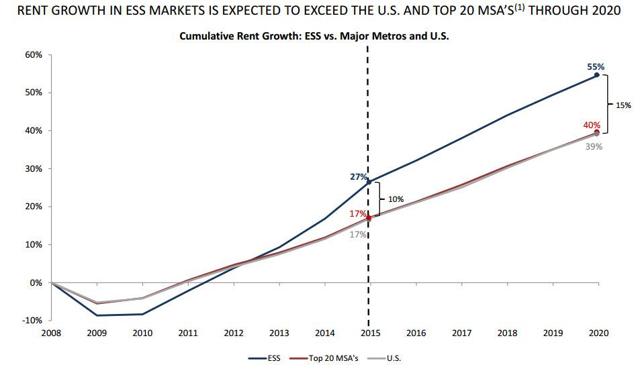 Click to enlarge
Tech Drives Dividends
Here's a snapshot of the tech world - comparing 2000 to 2015: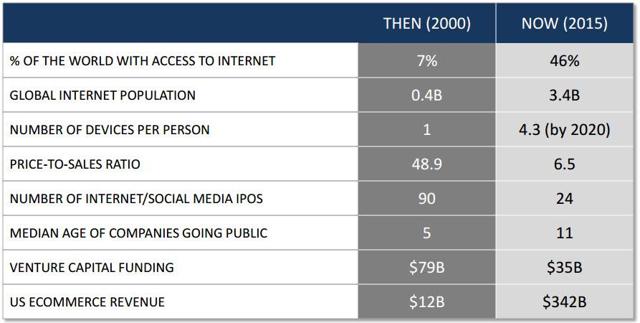 Click to enlarge
My oldest daughter recently accepted an internship with CNBC's West Coast "tech bureau". It's clear that the West Coast is a strong tech hub that is fueling the shift in economic power from east (coast) to west (coast). San Jose has the highest GDP per capita of all major U.S. cities.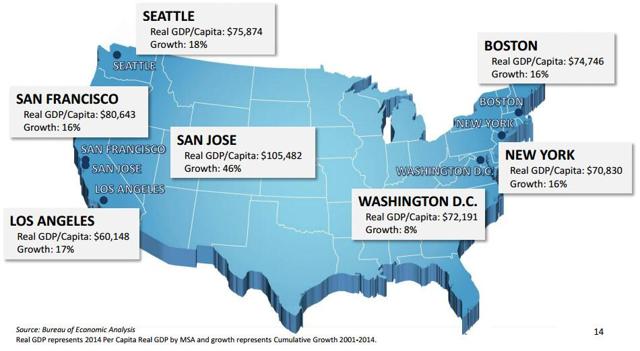 Click to enlarge
As illustrated below, the top 10 public tech companies employ almost 15x more people than the Top 20 unicorns in the Bay area and Seattle. Movements made by large public tech companies such as Apple (NASDAQ:AAPL) and Alphabet (GOOG, GOOGL) have a more relevant impact on the economy than unicorns.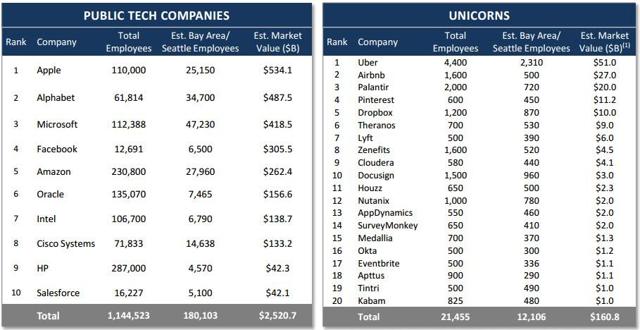 Click to enlarge
Tech firms have created $1.8 trillion in equity market value over the past 10 years, growing 3.2x faster than non-tech firms. Tech firms have 2.2 more cash on hand than non-tech firms. All Top 10 tech firms and 3 on the Top non-tech forms are headquartered in ESS markets.

Click to enlarge
The Top 10 large tech firms' global employment growth over the past decade has continued to rise - over the ten-year period, the compound annual growth rate of employment hiring has been 10.2%.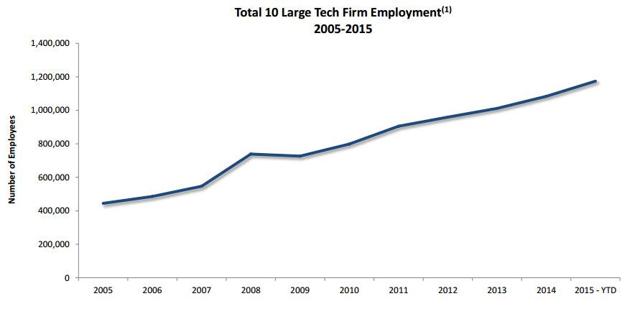 Click to enlarge
Driving ESS Growth
ESS has returned the highest shareholder returns of multifamily REITs over the last 5, 10, and 20 years. It's important to analyze the drivers for the performance and secrets behind the company's 22-year history of increasing cash dividends.
ESS is a well-positioned REIT with occupancy (as of February 2nd) of 96.1% and net availability of 5.3%. With this high occupancy and favorable supply and demand imbalance, ESS should continue to benefit from elevated pricing power in 2016.
As noted above, the West Coast should continue to produce top job growth and this should provide ESS with steady rent increases. ESS same-property growth has exceeded the peer average by 3.5% annually for the last 4 years. NOI growth in 2016 is projected to outperform the peer group yet again and be the highest among the peers.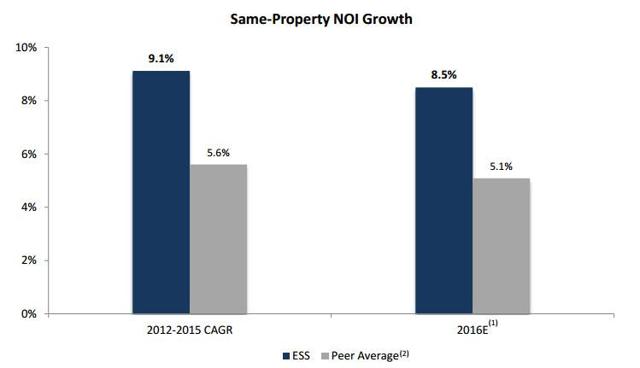 Click to enlarge
Year-to-date same-property revenue growth is tracking slightly favorable to ESS's full-year guidance range in all three regions.

Click to enlarge
ESS recently sold the 296 unit Sharon Green Apartments in Northern California for $245 million or $828,000 per unit, at a cap rate in the high 3% range. The company used 1031 exchanges to reinvest the proceeds of Sharon Green into three properties. ESS estimates that core FFO will increase by approximately $1 million in 2016, as a result of these transactions.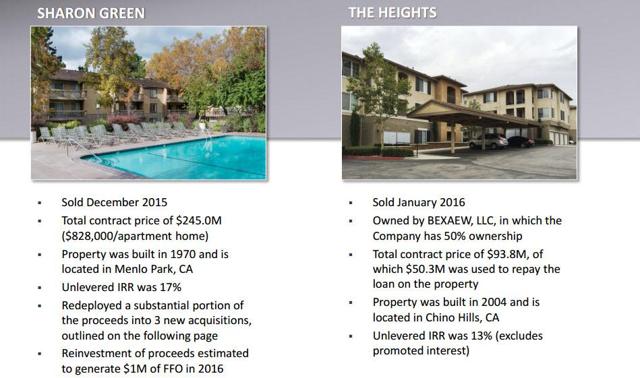 Click to enlarge
Here's a snapshot of recent acquisitions: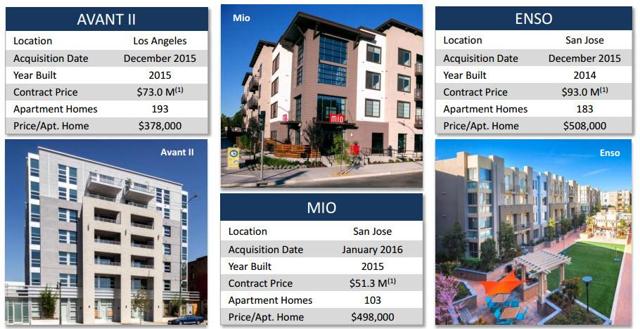 Click to enlarge
In 2015, ESS completed construction on 5 projects for a total cost of $.5 billion. Also, in 2016 ESS is expected to complete construction on 3 more projects for a total cost of $270 million.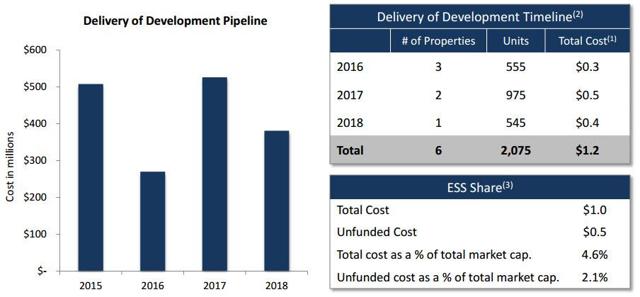 Click to enlarge
Strong Balance Sheet
ESS has an investment grade rated balance sheet (BBB by S&P) with favorable leverage. Here's how the company's Total Debt to Total Capitalization compares with the peer group: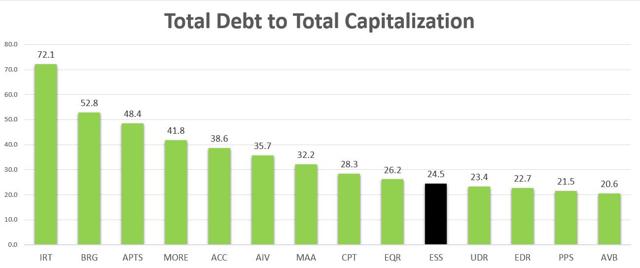 Click to enlarge
In January, ESS repaid $150 million of private placement bonds assumed an unsecured bond offering. The only noteworthy maturity remaining in 2016 is the $200 million term loan in the fourth quarter. The company has several options available to refinance this debt.
Click to enlarge
ESS is ahead of schedule in regards to reducing its net debt to EBITDA to 5.8x, due to substantial growth in EBITDA. With ESS's $1 billion line of credit extended to 2021, unfunded commitments of $230 million (below 3% of total market cap) mean the company is well-positioned to be opportunistic and to weather any potential capital markets dislocation.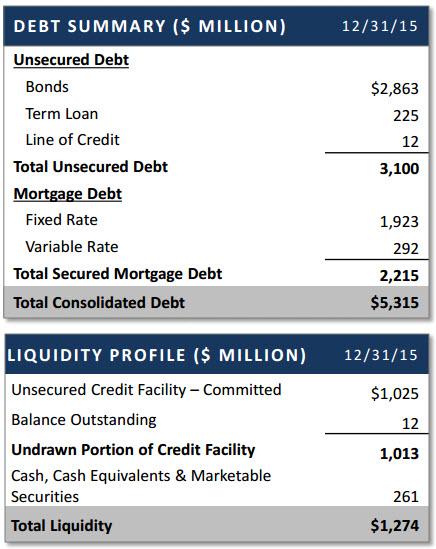 Last June, Standard & Poor's Ratings Services affirmed ESS's BBB corporate credit rating. The company's ratings outlook was revised to positive from stable. The positive outlook is based on S&P's view that the company's asset quality, scale and diversity have improved. The outlook also reflects strong rental demand in San Francisco and other supply-constrained markets with high barriers to entry, according to the rating agency.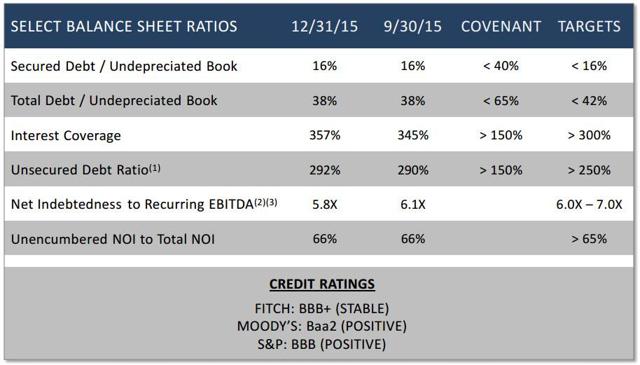 Click to enlarge
ESS's FFO Payout ratio of 57% is the second lowest in the peer group: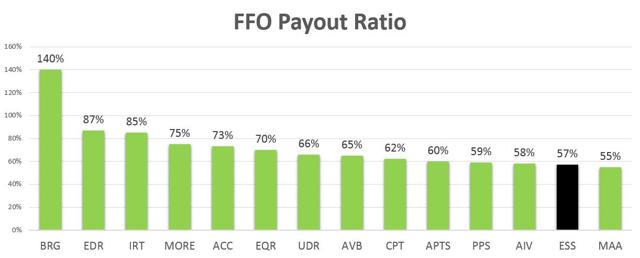 Click to enlarge
More Predictable Performance
For Q4-15 and full-year 2015, ESS announced continued strong operating results: core FFO per share increased 17% compared to Q4-14. For the full year, core FFO was $0.42 per share above the midpoint of the initial 2015 guidance range. For the five-year period from the 2010 recessionary trough, ESS has grown core FFO per share by 96%, increased its dividend nearly 7% per year and led the multi-family REIT industry with an annual total return of 19%. Take a look at the FASTGraph below: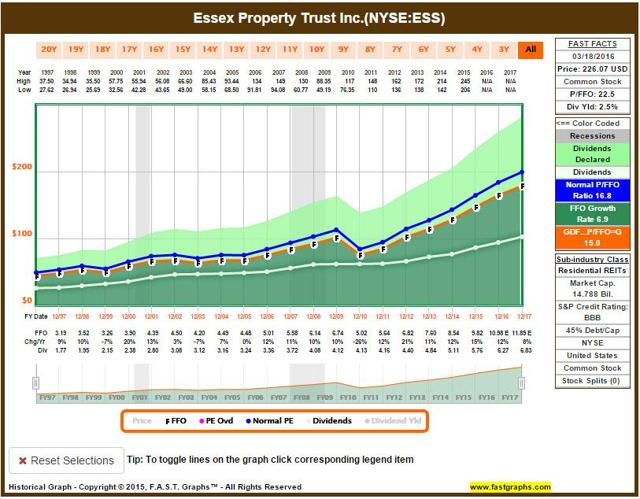 Click to enlarge
Here's a snapshot of the company's 2-year dividend growth record:

Click to enlarge
Here's a snapshot of the 2015 dividend growth record:

Click to enlarge
As referenced earlier, ESS has the best dividend record of all multi-family REITs:

Click to enlarge
Perhaps there's an opportunity, ESS has performed third worst (based on Total Return) over the last 12 months:

Click to enlarge
ESS has been the fourth worst performer (based on Total Return) year-to-date:

Click to enlarge
Who Wouldn't Want to Own this Dividend Contender?
ESS is deserving of its dividend contender label, having earned its stripes with over 22 annual dividend increases in a row. The catalysts for continued outperformance include: (1) strong balance sheet, (2) higher yielding development returns, (3) outsized same-store growth from SF Bay, Seattle, and LA/OC exposure, and (4) strong management team with tenure.
However, given these catalysts, I am not sure I am willing to jump in at this time. For example, the 2.8% dividend yield is not adequate as I am getting superior returns in healthcare now. I'm not expecting a 5% yield but I would like to see a yield of at least 3.25% to become a shareholder in ESS.

Click to enlarge
Also, compared with other peers, ESS looks a bit posh, but again, the West Coast offers much better demographic options.

Click to enlarge
It's now crystal clear, ESS is a durable REIT that continues to extend its wide moat model as evidenced by its very predictable earnings and dividend performance. Warren Buffett once remarked (Fortune 1999):
The key to investing is …determining the competitive advantage of any given company and, above all, the durability of that advantage. The products or services that have wide, sustainable moats around them ate the ones that deliver rewards to investors.
There is no argument that ESS is a sleep well at night stock, but I just can't sleep well unless I'm able to own shares when they go on sale. Upon review of the company's historical valuation (or FFO) I believe ESS shares are soundly valued offering little upside. As Benjamin Graham defined it, the margin of safety constitutes a "favorable difference between price on the one hand and indicated or appraised value on the other."
Essex Property Trust is a "slam dunk" REIT but I'm going to wait for the crowd to die down… and then I'll sneak in and score some points.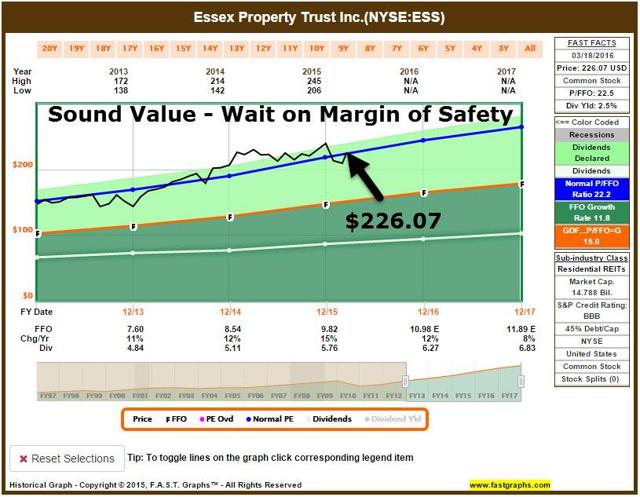 Click to enlarge
Author's Note: I'm a Wall Street writer, and that means that I am not always right with my predictions or recommendations. That also applies to my grammar. Please excuse any typos, and I assure you that I will do my best to correct any errors if they are overlooked.
Finally, this article is free, and my sole purpose for writing it is to assist with my research (I am the editor of a newsletter, Forbes Real Estate Investor), while also providing a forum for second-level thinking. If you have not followed me, please take 5 seconds and click my name above (top of the page).
The only guarantee that I will give you is that I will uncover each and every rock I can, in an effort to find satisfactory investments that "upon thorough analysis promises safety of principal and satisfactory return. Operations not meeting these requirements are speculative." (Ben Graham)
Sources: FAST Graphs and SNL Financial.
REITs mentioned: (NYSEMKT:IRT), (NYSEMKT:BRG), (NYSE:PPS), (NYSE:CPT), (NYSE:AIV), (NYSE:EQR), (NYSE:MORE), (NYSE:UDR), (NYSE:MAA), (NYSE:APTS), (NYSE:ACC), and (NYSE:EDR).
Disclaimer: This article is intended to provide information to interested parties. As I have no knowledge of individual investor circumstances, goals, and/or portfolio concentration or diversification, readers are expected to complete their own due diligence before purchasing any stocks mentioned or recommended.
Disclosure: I am/we are long O, DLR, VTR, HTA , STAG, GPT, ROIC, HCN, OHI, LXP, KIM, WPC, DOC, EXR, MYCC, BX, TCO, SKT, UBA, STWD, CONE, BRX, CLDT, HST, APTS, FPI, CORR, NHI, CCP, WSR, CTRE, WPG, KRG, SNR, LADR, HCN, HCP.
I wrote this article myself, and it expresses my own opinions. I am not receiving compensation for it (other than from Seeking Alpha). I have no business relationship with any company whose stock is mentioned in this article.