Arena (NASDAQ:ARNA) investors have seen carrot after carrot dangled in front of their proverbial noses for years now. What I find amazing is that many investors seem to embrace these carrots and believe that the latest carrots will be the ones that make sales rocket upward and deliver a great move in the stock price.
Eisai projected sales to be $150 million for the first 10 months and $200 million for the first year
Arena management said Eisai's projections were low
When print ads start, sales will increase
When television ads start, sales will increase
When these new sales reps hit the street, sales will increase
When the Belviq/Phentermine study results come in, the sales will increase
When BelviqXR hits the shelves, sales will increase
When South Korea launches, sales will increase
When Israel, Taiwan, Brazil, or Mexico approves, sales will increase
When the CVOT trial data is complete, sales will increase
The common theme here is that each of these projections managed to kick the can down the road to a future date, and none of these really addressed the core issue that was causing slow sales. The latest carrot we see is the CVOT data, which kicks the can down the road for an incredible 2 years or more! And just like clockwork, investors say, "OK, we will wait until then." I will address these items at the conclusion of this article.
This week, Belviq sales dropped by the biggest percentage in the space. Sales were down 1.8% to about 9,800. With 10 weeks of the 2016 weight loss season in the books, sales this past week are essentially right where they were at the beginning of the year. Already, unless there is a miraculous shift, I can project that sales in 2016 will be materially lower than what we saw in 2015.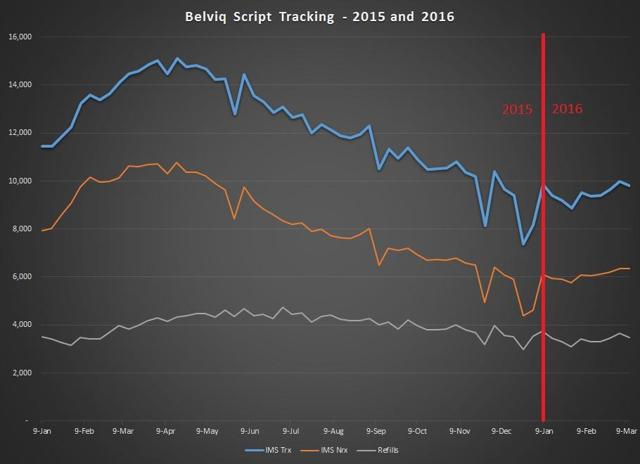 Click to enlarge
Chart Source - Spencer Osborne
On a quarter-over-quarter basis, the sales of Belviq are simply not impressive. Belviq in Q1 of 2016 (weight loss season) is trailing Q4 of 2015 (Q4 is the slowest season) by 6.78%. With just three weeks left in Q1, it should be crystal clear to anyone that Q1 is going to fall short of Q4. This will likely be the case even with what should be favorable holiday comparisons. At this stage, sales are about 7,000 scripts lower than where they were at this same point last quarter. Simply stated, there is no way that these 7,000 scripts will be made up in the three weeks that remain in Q1.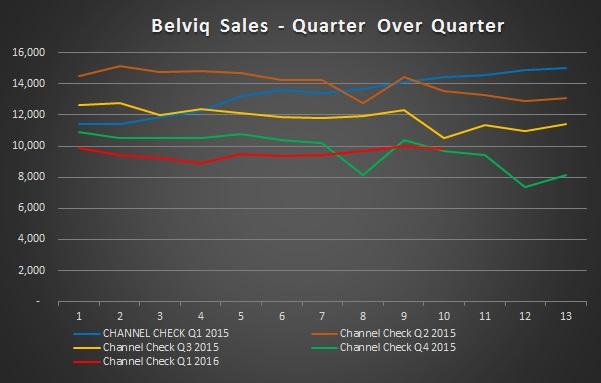 Chart Source - Spencer Osborne
On a year-over-year basis, the numbers are very troubling. Belviq sales are down 26.52% from what we saw a year ago. This number is still getting progressively worse. Even with sales from South Korea added into the mix (about 10,000 scripts per month), the year-over-year comparisons are simply not overly impressive. Peak U.S. sales in 2015 happened at about week 16. If that dynamic repeats itself this year, we will see the 2016 trend line going in the wrong direction very soon.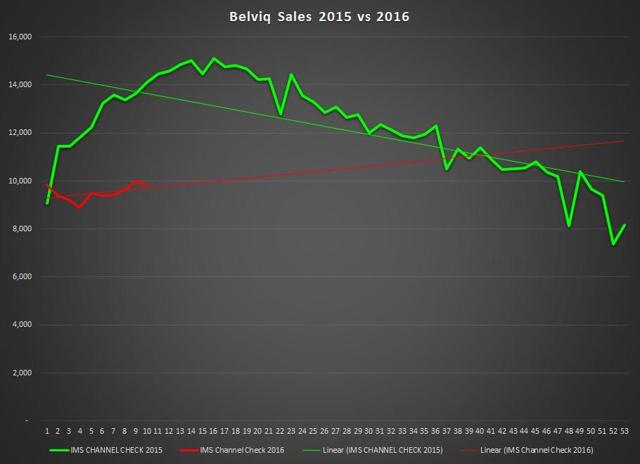 Click to enlarge
Chart Source - Spencer Osborne
In looking at the market share, we see that the drug is losing ground. Against the other branded pills, we see Belviq at a market share of 28.31%. This is not the lowest we have seen Belviq at, but is very close. The trend line on market share shows that Belviq might remain stable at this level for the balance of the year. That being said, sales rep cuts may mean that we are likely to see it decline a bit further.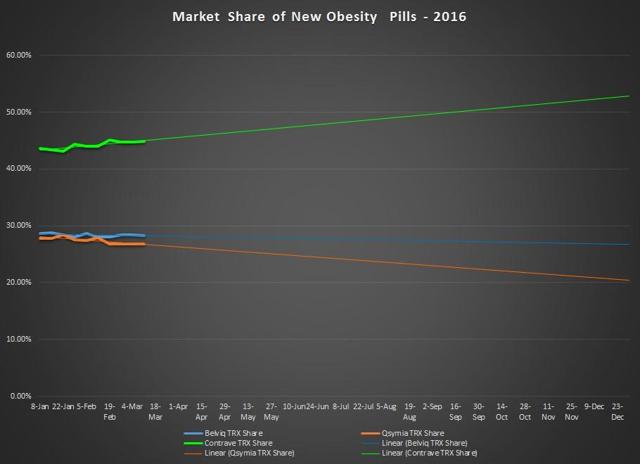 Click to enlarge
Chart Source - Spencer Osborne
In looking at the overall space, we have to include the anti-obesity injection Saxenda from Novo Nordisk (NYSE:NVO). Saxenda is slowly marching upward and currently has 7.74% of the overall branded anti-obesity market. Saxenda has the most impressive story in 2016. The drug costs about $1,000 per month and is hitting almost 3,000 scripts per week. The Belviq share of the overall market is at 26.12%. The only agents with a positive 2016 trend line in this sector are Saxenda and Contrave from Orexigen (NASDAQ:OREX).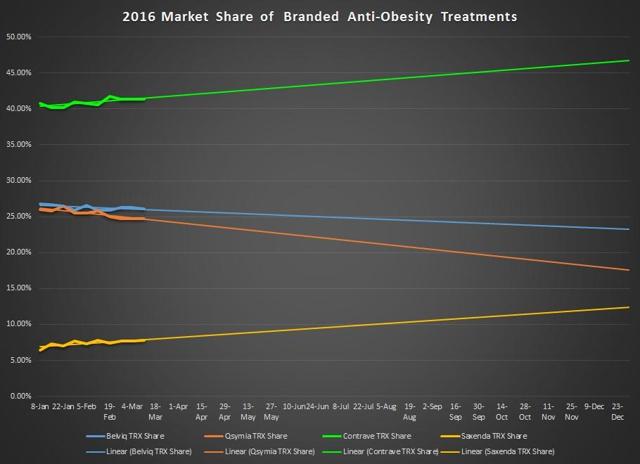 Click to enlarge
Chart Source - Spencer Osborne
Sector growth is very troubling. For branded anti-obesity pills, the sector growth is now trending toward negative territory. The overall growth in 2016 is now at just 4% with Orexigen's Contrave capturing 100% of that growth.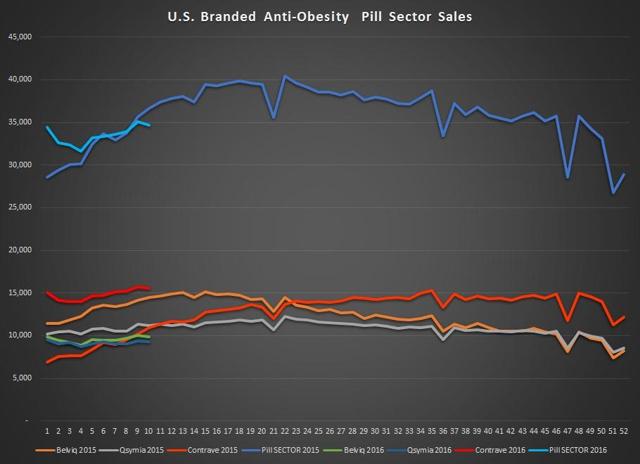 Click to enlarge
Chart Source - Spencer Osborne
The overall sector is slightly better in terms of being in positive territory, but the stark reality is that there is simply not enough overall growth to feed the needs of 4 companies.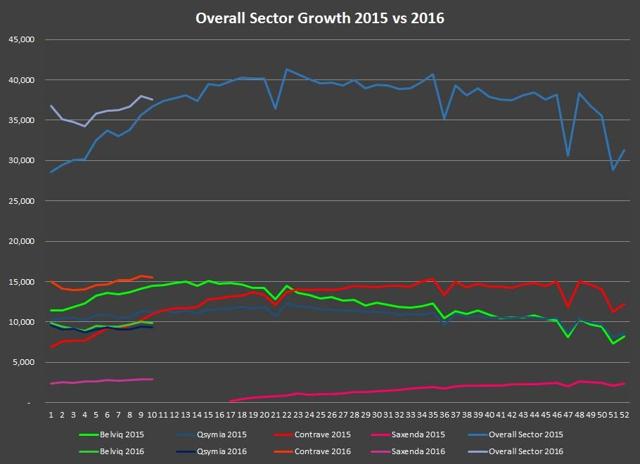 Click to enlarge
Chart Source - Spencer Osborne
There are some harsh realities that need to be discussed. Belviq is not making Arena enough money to fuel the pipeline. Belviq is not making Eisai, Arena's partner, any money at all. Eisai has indicated that it sees the CVOT trial data as a critical point in what will turn this market around. That data is over 2 years away. Ironically, competitor Vivus (NASDAQ:VVUS) is trying its hardest to get out of doing a CVOT trial because its consultants do not see that it will deliver anything meaningful from a clinical standpoint. In my opinion, waiting until the CVOT data is just a carrot that is being held out to buy time. By 2018, well over 3 million Belviq scripts will have been sold and the product will have been on the market for several years. Common sense tells any reasonable person that the CVOT data is not going to break free the market.
The simple reality is that most people achieve peak weight loss at between three and four months. After that point, the weight loss plateaus. The patients may have lost 5% of their body weight, but they could be 30 to 50 pounds short of where they want to be. At that point, they simply stop. Simply stated, Belviq (or its competitors) do not get patients to the finish line.
The other carrot that we see these days is Belviq XR. This is an extended release version of Belviq that allows patients to take just one pill per day instead of two. Back when the application for Belviq XR was submitted, I wrote about the event and characterized what it means to sales as well as the stock. In my opinion, the overall impact will be subtle and modest. Belviq XR does little to change the issues that are the core problems with this sector. The biggest benefit of Belviq XR will be the $10 million milestone that Arena will receive from Eisai.
All of this discussion brings us full circle to Eisai. Eisai is Arena's marketing partner that is losing money hand over fist in the anti-obesity space. Eisai is losing money on every sale of the drug, as well as losing money in paying for clinical trials. Simply stated, the willingness of Eisai to continue to pile up losses likely has a limit. Recently, we saw Orexigen's partner Takeda walk away from Contrave in the United States. Investors really need to consider that there is a chance that we see Eisai walk away as well. Some investors would celebrate that concept, but I assure you, it is a double-edged sword. Going it alone in the weight loss space has been terrible for Vivus, will be terrible for Orexigen, and will likely not be good for Arena.
In my opinion, if Eisai were to even be considering an exit strategy, it would be devastating to Arena if it happened prior to the readout of its pipeline drug APD334. Arena's pipeline is where the potential is with this company. The company is anticipating a phase 2 readout of APD334 in early 2017. The next several months are critical. Arena's cash position is not optimal, and being able to stretch cash to that readout could mean a lot. If Arena were to need to step up to market Belviq on its own, the stretching of cash would be even harder. Thus, even if you are an investor that does not want Eisai as a partner anymore, you may actually be rooting for them to hang on just a bit longer. Think about those dynamics.
The bottom line with Arena is that it could be a very good speculative play for those just entering the stock. Investors with cost averages of $4 or more are likely quite frustrated and are the ones most susceptible to the various carrots we have seen over the past few years. I like Arena as a speculative play at $1.50 and below, but if some positive events drive the stock, a speculator can likely see a decent return by playing this at current levels.
I anticipate a need for cash at any point in time. That can come from a partnership on another pipeline candidate, a private placement, or dilution. Dilution with the stock this depressed is scary, and the company is very much in a catch-22 situation. There is potential, but a lack of trust in the existing cash allowing that potential to be reached. Stay Tuned!
Disclosure: I am/we are long ARNA, OREX, NVO.
I wrote this article myself, and it expresses my own opinions. I am not receiving compensation for it (other than from Seeking Alpha). I have no business relationship with any company whose stock is mentioned in this article.
Additional disclosure: I have no position in Vivus
Editor's Note: This article covers one or more stocks trading at less than $1 per share and/or with less than a $100 million market cap. Please be aware of the risks associated with these stocks.