Valeant Pharmaceuticals International, Inc. (NYSE:VRX) is facing some major problems, and it doesn't look as if the bleeding can be stopped any time soon. Valeant's shareholders and Valeant's management really aren't in an enviable position after the stock crashed more than 50 percent in a single session last week, and continued to slide for the rest of the week. If you follow the drug company closely, you know by now that Valeant significantly reduced its revenue and earnings guidance for 2016 last week, and that did not go down well with shareholders.
Further, Valeant Pharmaceuticals' debtload has become a major issue for the company. Valeant has $30 billion in debt sitting on its balance sheet, which is something of great concern for shareholders.
While I do think that Valeant's debtload is manageable, and that the company has enough assets on its balance sheet to pay down that debt, the stock is a totally different ball game. Valeant Pharmaceuticals has already crashed ~71%, not in the last year, but in the last month. That's right, Valeant today is worth one third of what it was worth a month ago. And the performance picture for the whole year doesn't look much better either: VRX slumped ~87 percent (!) in a very turbulent year for the drug company. The chart looks nothing short of terrifying.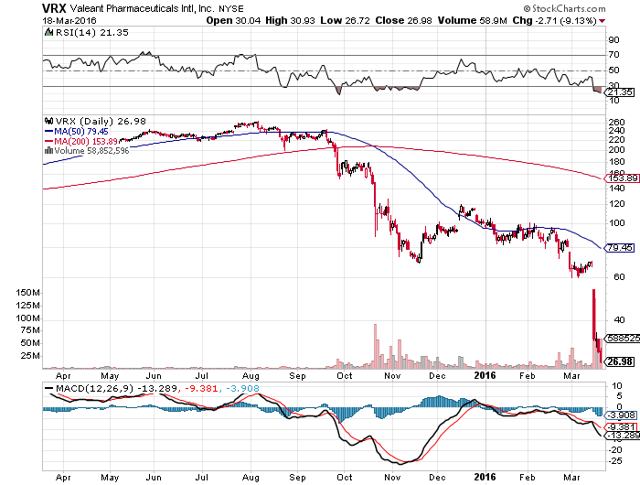 Click to enlarge
Everything Is Possible, But Is It Worth The Risk?
Once the Philidor accounting controversy blew up in Valeant's face, the stock essentially went from Wall Street darling to despised villain, and that happened practically over night. Ever since Valeant was forced to admit that it used a specialty pharmacy, investors have taken many opportunities and bought Valeant all the way down. Unfortunately, that hasn't worked out too well for them, and every dip lower that was touted as a buying opportunity has so far turned out to be quite the opposite: Valeant has been a falling knife.
Until this day, Valeant has not managed to restore investor confidence and influence sentiment. As a matter of fact, Valeant has made things worse by not being as open and transparent as it could have been, and it continues to haunt the company to this day. On Thursday, for instance, Bloomberg published a report about the drug company saying that Chief Executive Officer Mike Pearson sent a memo to Valeant's employees, reassuring them that the company is not "on the verge of bankruptcy". While such a memo may have been well intentioned to reassure employees, it also demonstrates how far Valeant Pharmaceuticals has fallen. Investors buying in light of these developments accept a VERY high risk, which may be hardly worth it.
Your Takeaway
Valeant Pharmaceuticals has not been a winning investment in 2016, and so far the company has failed to turn investor sentiment around. While the drug company is WAY oversold, there is a high chance that short sellers will continue to hurt the stock in the near term. As far as I am concerned, the reward-to-risk ratio is not too appealing at this point in time as Valeant could easily fall below $20 if selling pressure persists.
Disclosure: I/we have no positions in any stocks mentioned, and no plans to initiate any positions within the next 72 hours.
I wrote this article myself, and it expresses my own opinions. I am not receiving compensation for it (other than from Seeking Alpha). I have no business relationship with any company whose stock is mentioned in this article.