Oil prices surged on March 16th, closing up around 5.8% at $38.46 per barrel (for WTI) after the EIA (Energy Information Administration) reported positive inventory, production, and demand data. While the last bit of the move higher appears to have been driven by news that the Federal Reserve intends to keep interest rates unchanged for the moment (lower rates imply a lower dollar, which is bullish for oil), there's no denying that the organization's report was more bullish than bearish (though some bearish tones existed). In what follows, I will dig into the data and show why this is positive news not only for the United States Oil ETF (NYSEARCA:USO) but for other oil-related investments like Linn Energy (NASDAQ:LINE) / LinnCo (NASDAQ:LNCO), Breitburn Energy Partners (NASDAQ:BBEP), Approach Resources (NASDAQ:AREX), and Memorial Production Partners (NASDAQ:MEMP).
Inventory data was mixed but more bullish
According to the EIA, oil inventories for the week averaged 523.2 million barrels. This represents a build of 1.3 million barrels week-over-week and is the highest level of crude inventories that we've seen in decades. Although any sort of build in inventories is negative, the increase was smaller than the 1.5 million barrel increase the API (American Petroleum Institute) estimated a day ago and suggests the picture for crude may be improving fundamentally. In the graph below, you can see the trend that oil inventories have taken over the past 52 weeks.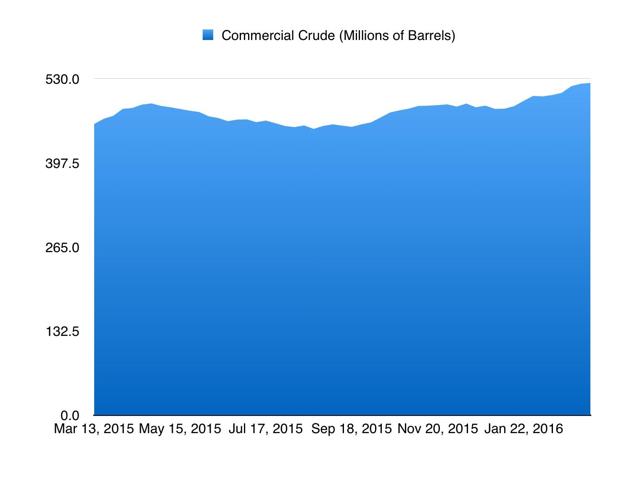 Click to enlarge
Although crude inventories increased for the week, there were a number of categories that improved. Based on the data provided, motor gasoline inventories fell by 0.7 million barrels from 250.5 million to 249.7 million, a number that is certainly not in glut territory. On top of this, distillate fuels also reported a decline, dipping by 1.1 million barrels from 162.5 million to 161.3 million.
Unfortunately, not every category of petroleum product fared well during this past week. In its report, the EIA stated that, among other products, kerosene-type jet fuel increased by 1.9 million barrels and propane/propylene ticked up a modest 0.2 million barrels. The "other" category of petroleum products (which is a catchall for all other products) grew by 1.3 million barrels from 236.9 million barrels to 238.2 million. As a result of these increases in storage, total crude plus petroleum products reported a build of 1.8 million barrels from 1.3456 billion to 1.3474 billion. While this isn't the highest we've ever seen, it is close to it.
Production and demand data were bullish
All-in-all, we saw some improvements in the inventory picture for the week but things still look somewhat mixed on that end. However, the same cannot be said of production data. According to the EIA, domestic production for the week came out to 9.068 million barrels per day, a drop from the 9.078 million barrels per day seen a week ago and the lowest production number seen in well over a year (last year's was 9.419 million barrels per day). This is far from being material but the overall direction is positive, especially given the fact that the Lower 48 states actually saw a drop of 20 thousand barrels per day, some of which was offset by a volatile Alaska, which saw production climb by 10 thousand barrels per day.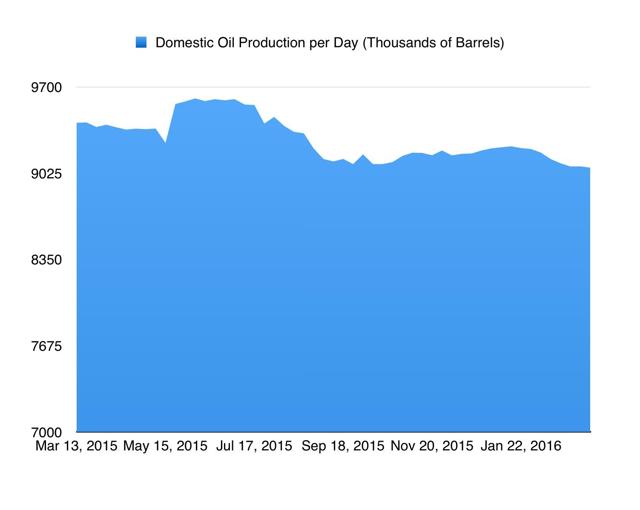 Click to enlarge
On top of seeing production data improve once again, we also saw a continued surge in demand year-over-year. For the week, motor gasoline demand was forecasted to be about 9.458 million barrels per day. This is slightly higher than the 9.411 million barrels per day seen last week but was 2.1% above the 9.260 million barrels per day seen the same period a year ago. Using the four-week average, which I believe is a more realistic barometer of the environment, demand came out to 9.392 million barrels per day, an increase of 6.4% from the 8.830 million barrels per day seen over the same four-week period last year.
The rig count's downward streak was broken
The one negative thing that happened this week, driving oil prices lower a bit after seeing yet another increase in price on Thursday, was the Baker Hughes (NYSE:BHI) rig count. According to the company, the number of oil rigs in the U.S. grew by 1 unit to 387 units, driven largely by a 2 unit increase in the Eagle Ford. Despite this, the rig count is still down by 53.1% year-over-year when the unit count was 825. Overall, this isn't material and I've been expecting something like this for a couple of weeks now but if the trend continues, it could be bearish. Meanwhile, in Canada, the oil rig count fell by 16 units to just 12 in operation. This represents a decline of 60% compared to the 30 units in operation seen the same period last year.
Takeaway
At this moment, Mr. Market is turning bullish once again on crude. Of course, not every increase in oil's price is due to the EIA's report (interest rate considerations and news that OPEC is meeting next month are both important items as well), but the fact remains that a lot of the fundamental picture for oil is improving. Near-term, we could see a great deal of volatility one way or the other, but I strongly believe that oil prices should be much higher this time next year than they are today.
Disclosure: I am/we are long AREX, BBEP, MEMP.
I wrote this article myself, and it expresses my own opinions. I am not receiving compensation for it (other than from Seeking Alpha). I have no business relationship with any company whose stock is mentioned in this article.
Editor's Note: This article covers one or more stocks trading at less than $1 per share and/or with less than a $100 million market cap. Please be aware of the risks associated with these stocks.