MLPs resumed their March back towards flat for the year with a 4.8% week. MLPs were helped by oil prices, which were helped by a weaker dollar, which was helped by a dovish Fed. MLPs outperformed oil prices after lagging last week's big oil move.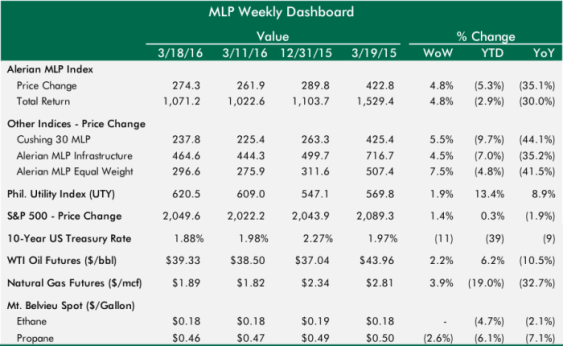 Small-cap and commodity exposed midstream MLPs outperformed. The Alerian MLP Equal Weight Index was up 7.5%, a top ten all-time week for that index, driven higher by some volatile action by several MLPs that won't be in either MLP index after this week's rebalance.
The S&P 500 turned positive for the year this week. MLP total return is creeping closer to flat for the year, but MLPs have actually well outperformed the S&P 500 since the Kinder Morgan (NYSE:KMI) dividend cut in December.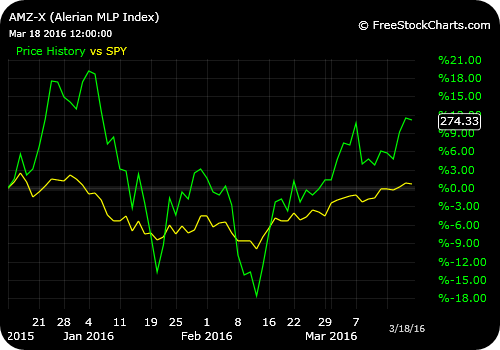 Positive news flow for MLPs (ex-CPPL) continued themes we've seen all year of sponsor support MPLX and alternative equity financings TRGP. Even as commodity price rip higher, concerns remain over the pace of volume declines expected to weigh on midstream results over the next few quarters.
MLPs have dramatically reduced capital plans and accelerated cost cutting measures in anticipation of the volume downturn, so if oil prices continue an upward trajectory, the market may look through weaker volumes. For now, aside from the contract rejection headline scare that held MLPs back last week, the oil price correlation with MLPs remains the dominant driver of MLP prices.
In the movie Wayne's World, Wayne and Garth are playing street hockey and have to periodically pause whenever a car passes through their "rink." When the coast is clear again, they both say, "Game on!" and resume the spirited 2-man contest.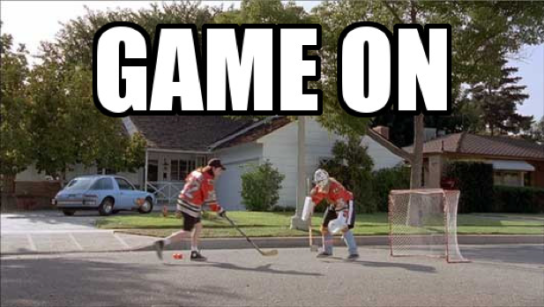 MLPs paused last week to digest the midstream contract rejection headline and to re-assess following a huge move up. This week, once it was confirmed that oil prices were continuing to move higher, it was "Game on" for MLPs again this week. It's unclear how many more cars will disrupt the play of MLPs throughout 2016, but for now, it's still all about oil prices.
MLP Universe Update
It's been said here before that the IPO boom from 2010 to 2014 left us burdened with too many MLPs chasing too few opportunities and investors. Consolidation among MLPs has been slow to materialize, hampered by awful performance of any MLP that attempts a merger using their equity (see Energy Transfer Equity (NYSE:ETE), MPLX, TRGP, Crestwood Equity Partners (NYSE:CEQP)).
But the market is rationalizing the sector on its own. The chart below highlights some statistics on the energy MLP universe. Back at the end of 2014, there were 120 MLPs and only 10 MLPs with market capitalizations less than $250m. Now, there are 116 energy MLPs and 27 with market capitalizations below $250m.

In other words, there are 89 MLPs worth paying attention to, a more palatable number and a step in the right direction. Hopefully, consolidation continues and helps the sector achieve a more sustainable number of participants in the next cycle.
Winners & Losers
Deep discount MLPs rallied hard this week. Teekay Offshore Partners (NYSE:TOO) exploded higher, up 64% on no news, Teekay LNG Partners (NYSE:TGP) rallied as well, but was only up 17%. The only common thread among the other top five was a 15%+ yield. Distressed MLPs littered the bottom 5, with the exception of CPPL, which landed in the bottom 5 again this week. More details on that one in the news section below.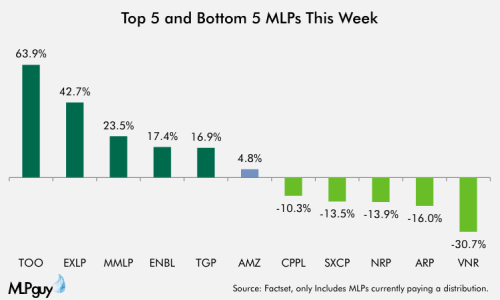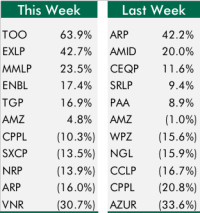 Going forward, we're going to restrict the charts we show here to MLPs with a greater than $250m market cap, just to highlight more relevant MLPs going forward. The disparity among MLP performance year-to-date continues to expand. Defensive MLPs still populate most of the top 5 MLPs, despite the risk-on MLP moves over the last 5 weeks.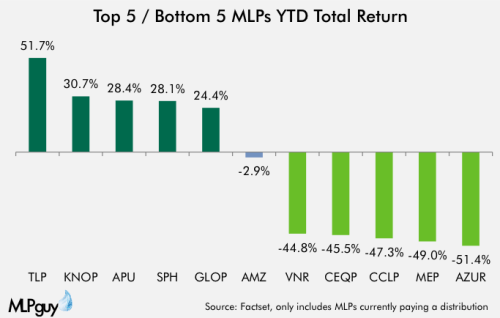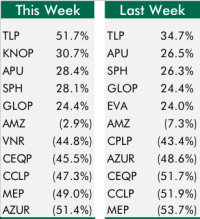 General Partner Holding Companies
GPs outperformed MLPs overall this week, with all of them trading up this week. ETE recovered most of its losses from last week, dragging WMB up with it to lead all GPs. EQT GP Holdings (NYSE:EQGP) underperformed for a second straight week. Columbia Pipeline Group (NYSE:CPGX) didn't make the top 5, despite the takeout announcement.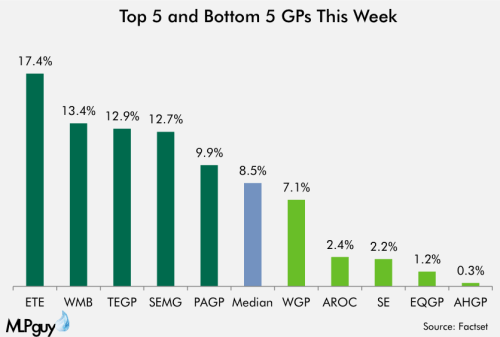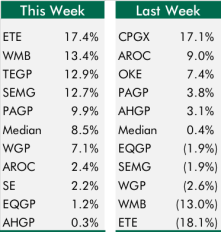 News of the (MLP) World
TransCanada Corporation (NYSE:TRP) pulled the trigger on an all-cash acquisition of a general partner, but orphaned one of the youngest MLPs in the sector in the process. In other sponsor news, Marathon Petroleum Corp. (NYSE:MPC) showed its supportive side with a 5x EBITDA drop down that helped MPLX outperform this week. Also, while TRGP raised another slug of preferred shares, once again there have been no MLP public common equity offerings in 2016 nearly 3 months into the year, an unprecedented dry spell for this capital intensive sector.
Financing
Targa Resources announced $500mm of additional preferred shares to additional private equity investors (press release)
TransCanada priced offering of 92.0m shares at $45.79/share, raising gross proceeds of $4.2bn Canadian (press release)

Bought deal, priced at a 7.4% discount to prior closing price
Traded well in the next session, closing up 7.3% from pricing
The biggest overnight equity transaction I've seen in this sector
Pembina Pipeline (NYSE:PBA) (PPL on the Toronto Stock Exchange) priced offering of 8.8mm shares at $34.00/share, raising $300.0m Canadian in gross proceeds (press release)

Bought deal, priced at 4.3% discount
Traded slightly up from pricing in the next session
Anadarko Petroleum (NYSE:APC) priced $3.0bn worth of senior notes of various maturities to refinance 2016 maturities (press release)

Not an MLP deal, but an impressive raise in a challenging market for energy debt issuance and another encouraging signpost on the capital markets road to recovery
M&A
MPLX announced acquisition of fee-based inland marine assets from sponsor Marathon Petroleum for $600m (press release)

MPLX expects the assets to generate $120m in annual EBITDA, implying 5.0x multiple, better than telegraphed in February
Transaction was financed 100% with equity issued directly to MPC
TransCanada announced acquisition of Columbia Pipeline Group for $25.50/share in a transaction that values CPGX at more than $13bn (press release)

Columbia Pipeline Partners was not mentioned by TRP in its press release or in the investor presentation, although in CPGX's press release, it was noted that CPPL will remain a publicly-traded entity post transaction, which doesn't really help clarify the plan for CPPL
Transaction to close in the second half of 2016, requires shareholder approval by CPGX
CPGX did file an 8-K Friday that noted its authority to continue to raise CPPL distributions at their stated 20% CAGR throughout 2016 as the deal awaits closure (filing)
CPPL, like other MLPs in the past, may or may not continue its growth trajectory, but the market wasn't willing to wait for an answer from TRP, which has not been the most supportive sponsor of its current MLP (TCP)
Pembina Pipeline announced $556m midstream acquisition (press release)

I note this transaction in Canada only to highlight that not only are the capital markets open, but midstream companies in Canada are buying assets from producers at a faster rate than in the U.S., likely the result of more rational sellers in Canada
Other
Editor's Note: This article covers one or more stocks trading at less than $1 per share and/or with less than a $100 million market cap. Please be aware of the risks associated with these stocks.