Auto companies did not have a good start to the year, as we all know. In fact, Ford Motor (NYSE:F) and General Motors (NYSE:GM) got really clobbered at the beginning of the year, which was the worst start to a year for stocks ever. Fast forward two months, and stocks have recaptured most of their losses: Ford Motor is still down ~3 percent for the year, but that's nothing compared to the big losses shareholders sustained in January and February when Ford Motor fell as low as $11.
As a matter of fact, Ford Motor, alongside the S&P 500, has gained a lot of ground over the last four weeks on the back of improving crude oil prices. Crashing crude oil prices and a high-yield debt rout were the main reasons why stock prices went into a tailspin at the beginning of the year. While lower gas and crude oil prices are a positive for automakers like Ford Motors, and actually help auto sales, investors would have none of it and sold the stock into the weakness. In a piece I penned in January, I said that this was a big mistake, though I figured that deteriorating investor sentiment was not going to help Ford Motor make a lot of gains in 2016:
The reason why I am reducing my 12-month price target has therefore nothing to do with Ford's operating results or outlook, but rather with the uphill battle the company will have to fight to overcome negative investor sentiment this year.

That said, I think the upside for Ford's stock unfortunately is very limited in 2016 since investors price a sales and earnings peak into Ford's shares at this point in time. My 12-month price target sits at $14, implying ~20% upside.
Two months forward, and Ford Motor has almost hit my 2016 price target.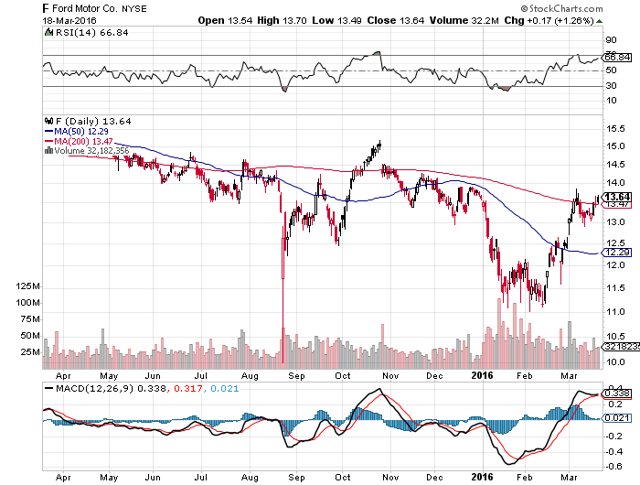 Click to enlarge
Limited Upside In 2016, Unfortunately
In January, I reduced my price target for automaker Ford Motor from $17 to $14 on the back of sharply reversing stock prices, and deteriorating investor sentiment with respect to auto companies.
Frankly, I have had high hopes for Ford Motor in 2015 and restructured my investment in the auto company by selling out of my warrant position and buying the common stock again, largely because of the very appealing dividend. That said, though, automakers are simply not investor favorites in today's stock market, and that might limit Ford's upside in 2016.
The best reason to buy Ford is the cash flow the stock produces in the future. Ford Motor is a solid income stock, first and foremost, and not much of a play on capital growth. Since Ford Motor is priced for a recession at this point, and has received analyst downgrades and negative commentary based on concerns over a cyclical downturn, there are a few positive catalysts on the horizon that could push Ford higher. Hence, there is no reason for me to adjust my price target on Ford Motor now that the stock has almost reached my 2016 price target of $14.
Your Takeaway
I love Ford Motor, including both the stock and the dividend. But I can't see how Ford Motor can move significantly higher at this point. The U.S. economy continues to be in good shape, but that has also been the case in 2014 and 2015... and it wasn't a reason for investors to buy Ford. My prediction at this point is that Ford Motor will move sideways in 2016. My strategy, therefore, will be to sit tight, collect and reinvest the dividend. Buy for income.
Disclosure: I am/we are long F.
I wrote this article myself, and it expresses my own opinions. I am not receiving compensation for it (other than from Seeking Alpha). I have no business relationship with any company whose stock is mentioned in this article.