With all the stock market mayhem of the last few months, the IPO window has been largely shut for new share issuances.
Although there have been a few life sciences IPOs in 2016 so far, those companies have struggled to price their offerings within their expected range.
Only two of four US-based technology IPOs in 2016 have sold shares at their expected price - Editas Medicine (NASDAQ:EDIT) priced its offering at the low end and AveXis (NASDAQ:AVXS) priced at the midpoint; the other two have underwhelmed with pricings well below their expected range - Proteostasis Therapeutics (NYSE:PTI) and Syndax Pharmaceuticals (NASDAQ:SNDX):
(click to enlarge)

Click to enlarge
(Source: VentureDeal)
Market Volatility
The main enemy of IPOs is market volatility, because it makes it hard for share sellers and buyers to agree on price.
The Volatility Index (VIX) chart of 2016 to-date shows volatility spiking in February when it reached $30, subsequently to fall back down to its current level of $19.
(click to enlarge)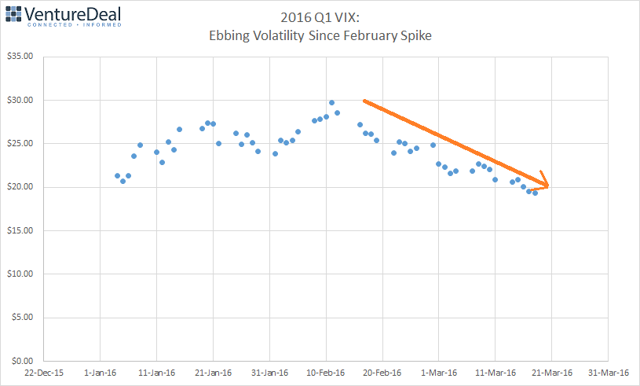 Click to enlarge
(Source: Google Finance, VentureDeal)
In periods of unpredictable market gyrations, IPO share buyers are in "fear" mode due to market uncertainty, rather than "greed" mode, so push bid prices down.
Issuers don't want to leave money on the table if they can avoid it, so the bid/ask spread becomes too great to overcome.
If issuers have enough cash on hand to fund operations for another 6 months, they'll frequently opt to wait out the poor reception and try again later.
Under Pressure
There is growing pressure for new IPOs from both sides of the bid/ask table:
For IPO Share Sellers:
Late stage institutional investors who have purchased private technology company shares generally want to hold no more than 18 months before selling.
There are dozens of technology companies - unicorns - that have received late stage investment and are achieving public-market level revenue run rates.
The institutional limited partners of venture capital firms are pressuring VCs to return some of the funds they've been advanced if VC firms want to raise a new fund. No liquidity, no new fundraising.
Recent public technology stock earnings have been promising, with companies such as Square (NYSE:SQ) and Box (NYSE:BOX) meeting objectives on the earnings front.
The leading company to catalyze the IPO market is not a company per se, but an industry: the life sciences sector. Biotech and pharmaceutical firms have gone public in droves in the past 36 months.
For IPO Share Buyers:
With lower market volatility, buyers can more accurately gauge valuation and future market demand for IPO candidates.
As market "fear" recedes, the "greed" impulse reasserts itself again as investors are pushed to look for increased return opportunities.
Q1 2015 is almost over and has probably been written off as a losing quarter for long investment returns. Buyers are gearing up for a more active and opportunistic 2nd quarter ahead and will seek to position their portfolio additions accordingly.
Seasonality
The 2nd quarter of the year is typically the busiest quarter in terms of the number of IPOs.
The chart below shows the number of technology IPOs by quarter for 2013 - 2015: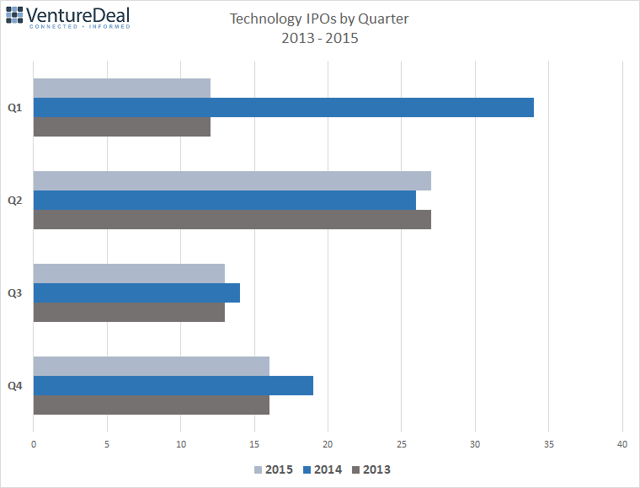 Click to enlarge
(Source: VentureDeal)
With the exception of an unusually busy Q1 in 2013, the most consistently active quarter in the past three calendar years has been Q2.
Since Q1 2016 has seen record low IPO activity, there is a significant pent-up supply of companies requiring access to public markets, as long as they can receive a fair price for their issues.
Conclusion
The IPO market will open up for new issuances as Q2 2016 gets underway, assuming market volatility stays reasonably low.
Expect more life science firms to go public.
Watch for leading general technology companies to further catalyze the IPO market during Q2 2016.
Disclosure: I/we have no positions in any stocks mentioned, and no plans to initiate any positions within the next 72 hours.
I wrote this article myself, and it expresses my own opinions. I am not receiving compensation for it (other than from Seeking Alpha). I have no business relationship with any company whose stock is mentioned in this article.