We have seen tons of discussion around Bill Ackman and the collapse of Valeant Pharmaceuticals (VRX) over the last week. When I published my Valeant article before the marked opened on March 15th, I had no idea the Company was about to drop 50% that day and another 20% in the following days. I knew pre-market being down 17% was a problem for Ackman (thus his $800 million unload of Mondelez the next day), but that nasty one day revaluation of the company was shocking to many people. Of course, every bear article written about Valeant over the last three years has been referenced by the respective author on Seeking Alpha this week.
I like Bill Ackman and think he is a very, very smart man. There is a lot we can learn from various articles he has written, presentations he has made and his annual shareholder letter. From his 2015 annual shareholder letter we can learn from one of Ackman's biggest mistakes.
In the shareholder letter, Ackman states:
"Our biggest valuation error was assigning too much value to the so-called "platform value" in certain of our holdings. We believe that "platform value" is real, but, as we have been painfully reminded, it is a much more ephemeral form of value than pharmaceutical products, operating businesses, real estate, or other assets as it depends on access to low-cost capital, uniquely talented members of management, and the pricing environment for transactions."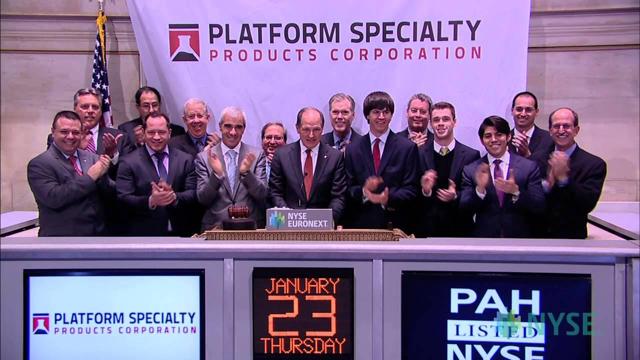 Click to enlarge
Platform Specialty Products
Valeant is making all the headlines, but one of Ackman's other holdings has the exact same issue with overvalued "platform value". These guys even named their company based on the idea of platform value. Platform Specialty Products (NYSE:PAH) is a specialty chemical products company. Ackman did a presentation on this company in May of 2015. PAH went public in May of 2013 at $10 a share raising net proceeds of $881.2 million. Over the next two years, the Company completed four acquisitions totaling total purchase price of over $6.7 billion. The acquisitions were funded largely through debt and additional equity offerings ($5.1 billion in debt on the balance sheet as of December 31, 2015). See the Company's 10-K filing here.
In Ackman's presentation, he pointed out PAH's stock price was up 175% in two years. The stock was trading at $27.40, up from the initial public offering price of $10. Ackman purchased 30% of the Company during January 2014 when the stock price was in the $15 range. Today, the stock trades around $9 a share. The Company's balance sheet would get kicked out of my potential investment population before I even cared to hear what they actually do. Although the Company has a working capital ratio of over 2:1, $5.1 billion in debt, only $2.2 billion in equity is way too under capitalized for me. Additionally, the Company has lost money all three years in existence, including losing over $300 million in 2015 on roughly $2.5 billion in sales. The $2.2 billion in equity assumes that the $7.3 billion in intangible assets created from acquisitions over the last 3 years is not impaired. I believe that's unlikely given how poor the agriculture business has been and will likely continue you to be in 2016. You could be looking at impairments that clean out any remaining book value of the company.
This is not another article to try to vilify Ackman or other big bad hedge fund guys. For PAH to have the run up it had, there were a lot of smart people investing in the Company. Ivy League schools wouldn't even return my phone calls when I was going off to college, but I have enough experience working on transaction to know there are a lot, I mean a lot of areas where acquisitions go wrong. I would go as far to say I do not believe you can make four acquisitions in a two year period and not have overpaid or at least bought one company that is a disaster. How many companies did Valeant buy in the last two years? I believe in excess of seven acquisitions. They make so many it's hard to even follow. You can only go around paying 17 times EBITDA for so long before you before you get smoked a couple times and end up destroying shareholder value. In Valeant's case, it is still about a $4 billion dollar EBITDA business that if they got the same multiple as Pfizer is paying for Allergan, Valeant could still possibly be a $100 stock. That's way too much reliance on the "bigger fool theory" for my risk tolerance. Meaning you are fine with paying $27 a share today because you think you will be able to find a bigger fool to pay $100 a share at a later date. Not the kind of investments I like to make. In Valeant's purchase of acquisition of Salix, there was a year long bidding process with multiple bidders. Valeant ultimately won the process and earned the right to cough up $11 billion for a business that had $1 billion in revenue and had lost $400 million in it's most recent annual filing (2014 10-K).
The Warren Buffett Way
I remember reading Robert Hagstrom's "The Warren Buffett Way" back in high school. I've always been fascinated by Warren Buffett, but I first needed to almost get wiped out in the technology bubble, then ride the roller coaster of naked options trading before I finally came around to the idea of value investing.
Some investors have tried to relate the concept of platform value to Berkshire Hathaway (NYSE:BRK.B). Ackman has referred to Buffett as his professor and someone he greatly admires. Berkshire Hathaway has been a tremendous platform company for some 70+ companies currently held by the conglomerate. But this platform is completely different than the platform Ackman discusses.
Warren Buffett only buys companies he can buy at what he believes is a tremendous value and usually pays cash. To my earlier point, Warren Buffett isn't making six pharmaceutical acquisitions in a year because there is no way there are six acquisitions at a good enough price to make them accretive to his shareholders. People don't go around giving companies away. Anything is for sale for the right price and if you're willing to pay more than anyone else on the planet, then you can probably make six acquisitions a year. See Valeant's Salix acquisition.
The final thing Buffett understands that gets completely missed by these rollup, "platform value" companies is the value of culture. Warren Buffett buys great companies and doesn't touch them. For the most part, he doesn't try to combine multiple companies. Buffett buys great companies and tells management to keep doing what they've been doing. To put six companies together and think there won't be serious culture problems is silly. Culture value is real and needs to be considered way more than any "platform value" someone dreams up.
Conclusion
Acquisitions are risky. Harvard Business School did a study that concluded between 70-90% of acquisitions fail. Culture clash is one of the specific reasons pointed out in the study. The theory of platform value is very risky and not something I think is a long-term investable strategy. Like Ackman said in his own words, platform value is very ephemeral in nature, relies heavily on uniquely talented management (which is hard to measure) and requires favorable "pricing environment" for transactions.
Warren Buffet says you should buy a company any idiot can run because one day one will. Bill Ackman is saying he values a company based on a metric (platform value) that in his own words "relies heavily on uniquely talented management". Could those two investment approaches be any different?
If I were Bill Ackman, I'd never use the words "platform value" again.
Disclosure: I/we have no positions in any stocks mentioned, and no plans to initiate any positions within the next 72 hours.
I wrote this article myself, and it expresses my own opinions. I am not receiving compensation for it (other than from Seeking Alpha). I have no business relationship with any company whose stock is mentioned in this article.