Best Gold Stocks for 2016: An Update on My Top 10 Picks
Back in December of 2015, I gave my top overall gold stock picks for the upcoming year, as I do every year now.
The goal of any gold investor should be to outperform the price of physical gold (NYSEARCA:GLD) and also the gold miners index (NYSEARCA:GDX), which contains a basket of gold mining stocks that's meant to replicate the performance of the gold mining sector as a whole. If you don't think you can outperform both, there's no point in trying to pick individual gold stocks as you're better off buying these indexes.
Looking back, my timing for the article couldn't have been better. At the time the article was published, gold was $1,072 per ounce or nearly $200 per ounce lower than where it is today. The GLD is up 16.19% since then; the GDX was at $14.05 per share and has advanced 43.32% since publication. But the real question is, how have my top 10 picks performed in relation to the GDX and gold prices?
Here's a first-quarter recap of my top gold stock picks, an update on recent activities, and my thoughts on each pick headed into Q2.
Q1 Summary
AVERAGE GAIN ON TOP PICKS: 55.34%
GAIN ON GDX: 43%
OUTPERFORM PICKS: 5
#10 Richmont Mines (NYSEMKT:RIC)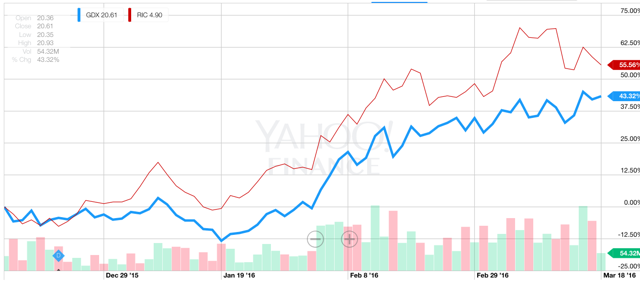 Click to enlargeI put Richmont at #10 because I felt the company's strong net cash position ($71 million net cash) and valuation (EV/EBITDA of just 4) made it an attractive pick. So far the pick has worked out really well, as Richmont has advanced 55.56%, compared to a 43.32% gain in the GDX since the article was published.
But I think Richmont is really just getting started. On Feb. 9 of this year, Richmont announced a 187% increase in reserves, including a 206% increase in reserves at its Island Gold Mine and a 95% increase in reserves at the Beaufor Mine. Then on Feb. 25, Richmont announced some pretty impressive new drill results at Island Gold, including intersections of 31.19 g/t over 3.43 meters and 23.11 g/t over 3.54 meters.
The company's strong balance sheet, high gold grades and exploration upside make it a strong takeover target (which would likely come at a nice premium), and I wouldn't be surprised to see the stock continue to outperform its peers for the remainder of 2016.
#9 Royal Gold (NASDAQ:RGLD)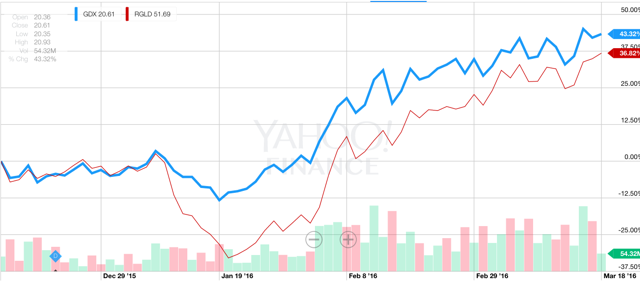 Click to enlarge
Royal Gold is another pick I am proud of. Although the stock hasn't outperformed the GDX, it's still returned 36.82% since article publication. With a dividend yield approaching 2%, an EV/EBITDA ratio of 16.67 and a Price/Sales ratio of 9.92, the stock is still cheap compared to peers Franco Nevada (NYSE:FNV) and Silver Wheaton (NYSE:SLW).
And strong growth is coming, with new gold streams on Teck's (NYSE:TCK) Carmen de Andacollo mine, New Gold's (NYSEMKT:NGD) Rainy River project, Golden Star Resources' (NYSEMKT:GSS) Wassa, Bogoso and Prestea mines, and silver and gold streams on the Pueblo Viejo mine owned by Barrick Gold (NYSE:ABX).
Royal Gold is also a really attractive stock for dividend growth investors, as the company has increased its dividend for 14 consecutive years. I think the stock has further room to run in 2016.
#8 Agnico Eagle Mines (NYSE:AEM)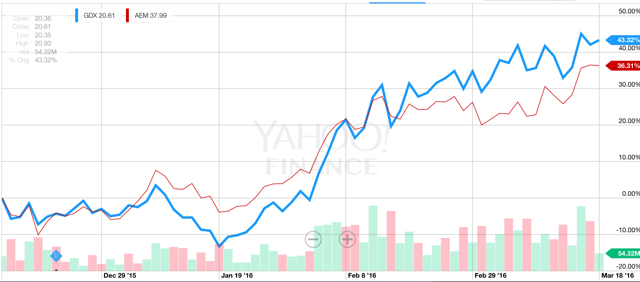 Click to enlarge
Agnico Eagle is another gold stock that has performed really well, returning 36.31% since article publication, but like Royal Gold, it has slightly underperformed the GDX. This is surprising to me given Agnico's strong fourth quarter and full-year 2015 performance, as the company reported 1.67 million ounces of gold production at all-in sustaining costs of just $810 per ounce.
Looking out further through 2018, Agnico expects similar results, with 1.53 million of gold ounces produced annually at AISC of $850 to $890. Upside may come from the Amaruq project, which now contains 3.3 million ounces of gold in inferred resources; a 75,000 meter drill program is underway, with a focus on expanding and upgrading the resources.
What's more: Agnico ended the year with net debt of just $190 million, which is an insanely low figure for a major gold producer. This is a gold miner that you definitely don't want to bet against in 2016.
#7 Endeavor Mining (OTCQX:EDVMF)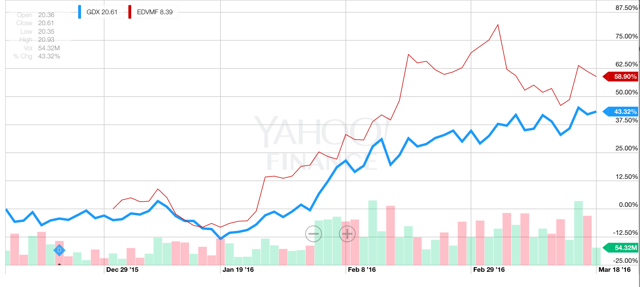 Click to enlarge
Endeavor Mining has just crushed it, as shares are now up 58.90% since article publication on Dec. 11. The company continues to return profitable results: on March 3, the company announced its full year results, with gold production up 11% to 517,000 ounces and all-in sustaining costs down 9% to $922 per ounce. This led to strong free cash flow of $85 million and a reduction in net debt to $144 million following a $60 million debt repayment in 2015.
Next, the company announced a 32% increase in gold reserves and a 39% increase in resources following the acquisition of the Ity gold mine, and on March 4, Endeavor announced it would acquire True Gold for its Karma gold mine in Burkina Faso - a deal which I felt makes a whole lot of sense for both companies.
Endeavor is undervalued, has a strong balance sheet, is profitable, and has strong growth ahead with future production at the Hounde mine and the Karma mine. I strongly recommend buying shares on any pullbacks because I think the outperformance will continue.
#6 Semafo Mining (OTCPK:SEMFF)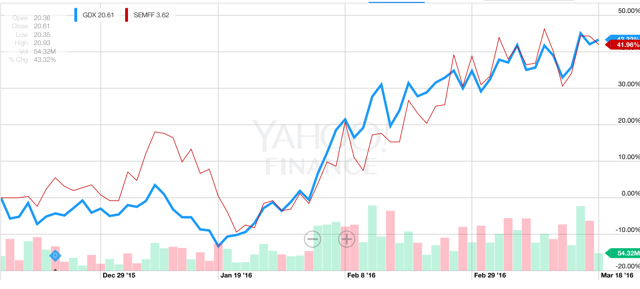 Click to enlarge
Semafo has returned 41.96% since the article, which is almost the same as the return of the GDX. As mentioned in the article, Semafo benefits from a strong balance sheet: according to Q4 results, the company ended 2015 with $167 million in cash and equivalents compared to just $59 million in long-term debt.
This is another really profitable gold miner, reporting 255,900 ounces of gold production in 2015 at $645 all-in sustaining costs and $147.6 million in operating cash flow. Expect similar results throughout 2016.
However, future upside will come from the advancement of the Natougou gold project, which, according to a recently released feasibility study, will produce 226,000 ounces of gold annually at all-in sustaining costs of just $374 per ounce. Construction should begin on Natougou by the end of 2016 with first gold pour expected in late 2018.
Semafo remains a strong takeover target in my view, so I think shares will outperform for the remainder of 2016.
#5 Randgold Resources (NASDAQ:GOLD)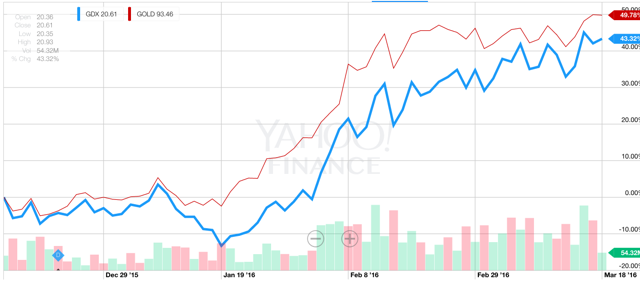 Click to enlarge
Randgold Resources has performed well, returning 49% or 6% better than the GDX.
It's been a reliable pick. No surprises here, as the strong performance has been driven by strong operating results. On Feb. 8, the company announced record annual production of 1.2 million ounces, a 6% increase, with cash costs per ounce falling by 3% to $679. Strong operating cash flow allowed the company to increase its cash on hand by 158% year-over-year to $213.4 million. Shareholders have been rewarded with strong share price gains, but also with a 10% increase to the dividend to $.66 per share.
For the rest of 2016, expect more of the same: solid operating results and profits, even if gold prices fall lower from here, as all of Randgold's operations should generate strong cash flow below a $1,000 gold price.
#4 Klondex Mines (NYSEMKT:KLDX)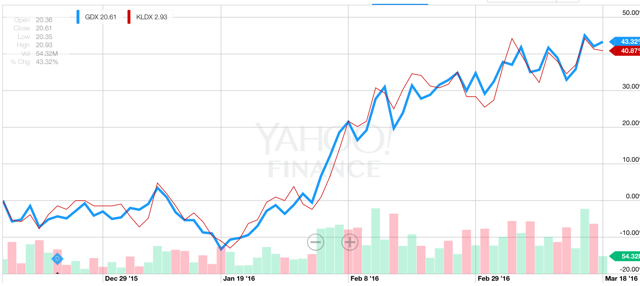 Click to enlarge
Klondex Mines has pretty much performed the same as the GDX. But the company's exploration upside makes it an intriguing pick going forward.
As mentioned in the article, the company is in the middle of an exceptional growth spurt as it continues to aggressively explore its properties; at Fire Creek, 93% of the land package is untested. And on Jan. 19, the company announced strong 2015 production of 128,000 gold equivalent ounces, and gave even better 2016 guidance, with a target range of 145,000 to 150,000 GEOs at all-in sustaining costs between $850 to $900.
2015 was an important year for Klondex, but 2016 is even more important as the company aims to grow its low-cost production at Fire Creek and Midas, plus develop its nearly acquired Rice Mine and Mill in Canada, which provides long-term upside to shareholders (this property comes with a gold mill and equipment that carries a replacement cost of more than $100 million, and 455,000 ounces of proven and probable mineral reserves, while the acquisition only cost Klondex $32 million; more details can be found in this corporate presentation).
#3 Kirkland Lake Gold (OTCPK:KGILF)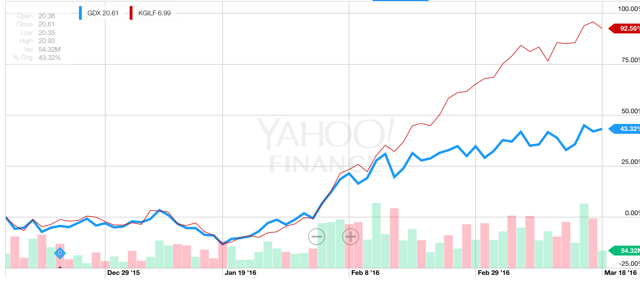 Click to enlarge
Kirkland Lake is just killing it. I previously named the company a top pick for 2016 following a C$178 million acquisition of St. Andrews Goldfields (OTCQX:STADF). The market clearly likes the deal as shares are now up 92% since the article was published.
In addition, Kirkland Lake recently reported pretty positive financial results, with all-in sustaining costs dipping below $1,000 for the year and Kirkland Lake's seventh consecutive quarter of positive earnings and free cash flow.
The company has a healthy balance sheet with over $100 million in cash, low-cost production and a strong exploration portfolio located in one of the best mining jurisdictions in the world. While shares have nearly doubled in the past four months, further upside could be ahead.
#2 Aurico Metals (OTCPK:ARCTF)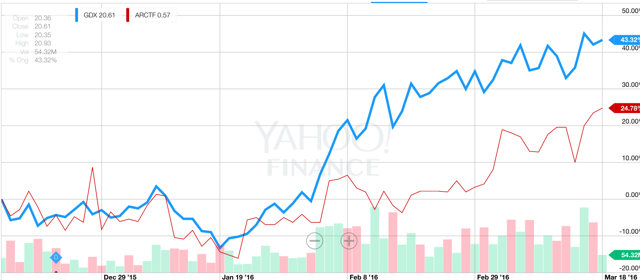 Click to enlarge
So, Aurico Metals hasn't quite performed up to my expectations, returning 24% compared to the 43% gain in the GDX. As mentioned, AuRico is profitable and producing around $8-$9 million in annual EBITDA at gold prices of $1,100; I felt the royalty company was undervalued, as the stock traded at an EV/EBITDA ratio of just 6.33, with a book value per share of $.88.
The company reported strong fourth quarter results on Feb. 3 and gave its 2016 outlook, with royalty revenue of $7 million expected in 2016 (at $1,150 gold). However, the one thing I failed to account for is care and maintanence costs at the Kemess project, which is estimated to cost the company $4.5 million in 2016. In addition, total Kemess East exploration costs should come in just under $2 million. That expense eats into cash flow, so Aurico likely won't be free cash flow positive in 2016.
Despite the underperformance, I think there is reason to be bullish on Aurico here. For one, the company will release an updated Kemess underground feasibility study and an updated Kemess East resource estimate any day now. And with $8.3 million in cash and no debt, the company is in good financial shape. I'm not as bullish on Aurico as I was previously, but I wouldn't bet against the company either.
#1 Newmarket Gold (OTCQX:NMKTF)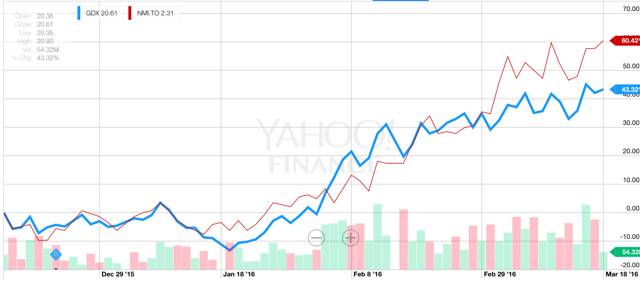 Click to enlargeNewmarket Gold has outperformed the GDX by 17%. This isn't too surprising. As I mentioned in the article, Newmarket produced operating cash flow for the nine months ended 2015 finished at $65.9 million, a 34.8% increase year over year, while net income was $17.5 million or $.14 per share. Shares were trading at an EV/EBITDA of just 1.6, a Price/CFPS of 2.1, and a forward P/E of 4.77. So shares were pretty cheap compared to its peers.
Newmarket finished the year really strong, with year-end production of 222,671 gold ounces (exceeding guidance of 205,000 to 220,000 ounces) at $987 AISC; operating cash flow finished the year at $76.5 million, while the company's cash position increased to $36.5 million even after investing $12 million on exploration projects.
With a strong cash balance and virtually no debt, 205,000 to 220,000 ounces of production expected in 2016 at sub-$1,000 AISC, excellent exploration potential at its Fosterville Gold Mine, and a cheap valuation (3.31 EV/EBITDA and a 6.79 forward P/E, according to Yahoo Finance) Newmarket is in a great position to continue its outperformance in 2016.
Disclosure: I am/we are long SLW, FNV, RIC, KGILF, RGLD.
I wrote this article myself, and it expresses my own opinions. I am not receiving compensation for it (other than from Seeking Alpha). I have no business relationship with any company whose stock is mentioned in this article.
Editor's Note: This article covers one or more stocks trading at less than $1 per share and/or with less than a $100 million market cap. Please be aware of the risks associated with these stocks.