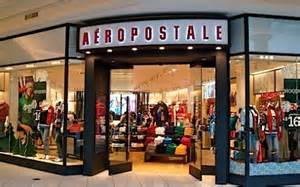 Beleaguered apparel retailer Aeropostale (NYSE:ARO) is a stock I've been telling readers was overvalued for almost three years. Back when I first said ARO was a short, the stock was trading for a now unbelievable $14 per share. Since that time, the stock has lost almost all of its value and after yesterday's Q4 earnings report, shares are now trading for just 26 cents. After ARO's Q3 report, I said the company was simply delaying the inevitable with its ample liquidity situation. The inevitable, of course, is a bankruptcy filing as this company has been structurally unprofitable for a very long time at this point. The Q4 report has some very unsettling information in it if you're long. So in this article, I'll take another look at ARO's operations to see how long it can last.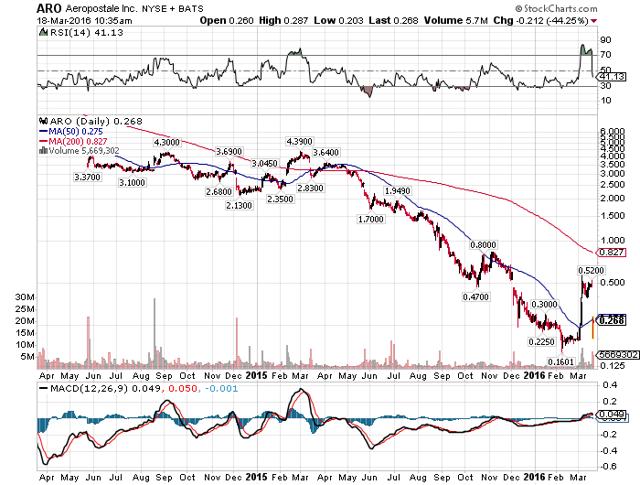 Click to enlarge
It's literally been years since ARO reported a decent quarter, a key reason why I've been so sure of myself in calling it a short. This company has been an unmitigated disaster for a long time and its problems are getting worse. It is in the midst of closing stores and trying to cut its way to break-even but its sales and profits are falling even more quickly than it can cut expenses. That's a very bad combination and Q4 showed us why.
Total sales fell 16% as a combination of store closings as well as a 6.7% fall in comp sales was too much for ARO. While the comp was not quite as bad as the company's Q3 number of -10%, it's still atrocious. And the problem is that ARO has been stacking comp losses on top of comp losses for many quarters, indicating that the problem continues to get worse despite lower bars for ARO to step over. In other words, the company's bottom in sales is nowhere in sight and that's a huge negative considering the situation ARO finds itself in.
Gross margins also plummeted 240bps to just 20.3%, one of the lowest gross margin numbers I've ever seen for a retailer. There are very few companies that can operate with that level of margin in any business but retailing is certainly not one of them. The reason is because stores are expensive to run so SG&A for a retailer is necessarily high. You have to have people in the stores, in the back office and in the warehouse to support the sales effort. There is only so much you can cut and that is a problem for ARO right now; it's trying to cut its way to break-even but its gross margins are so low that they prohibit profitability.
But ARO doesn't have a choice; it has a product nobody wants so it has to discount in order to move it. And it can't simply wait around and hope it can sell for higher prices because it needs the cash; ARO's liquidity situation is such that it cannot sit on inventory. That leads to discounting and it is simply exacerbating an already tense situation.
SG&A spending was 24.1% of revenue in Q4, down from 24.7% in last year's Q4. That's actually a very nice SG&A number for a retailer as ARO has done a great job of cutting expenses where possible. The problem is that it cannot simply continue to cut because as I said, you have to have lots of people to run a retail business. I applaud ARO's efforts to cut costs but costs are not the problem, the problems are sales and margins.
ARO also noted that it is experiencing supply disruptions due to a dispute with a vendor, absolutely the last thing this company needs. This is what happens when a retailer is about to go out of business; it starts fighting with vendors that don't want to extend product to it. We've seen this time and again and I think this is really the beginning of the end. Once vendors start to withhold product, there is really no turning back. ARO's liquidity situation and the fact that it is losing tons of money with no respite in sight continue to be pressing issues but vendors withholding product may be the death knell for ARO.
The bottom line is that ARO has less time than I said it may after the Q3 report. The company's strategic review will likely yield nothing in the way of a favorable solution for shareholders because if a sale happens, it will happen for almost nothing. This brand has no value at this point, so if someone does want to buy ARO, it will likely just want the locations or some inventory; there is nothing else to buy here.
With gross margins still almost 400bps below SG&A costs, ARO has zero hope of breaking even anytime soon. Its operating margins are solidly negative and will continue to be because it has no turnaround strategy. And at this point, it is so constrained with what it can do with its finances, even if it had a plan, it likely couldn't afford to enact it. This company is going to go out of business in one way or another; it's just a matter of when and how at this point.
The fact that it is fighting with vendors means the end is close and the share price at 26 cents is telling you that. I honestly can't understand why anyone wants to own this stock at this point; there is literally nothing left of value. The company's inventory value is obviously impaired because it can't even sell it for better than 20% gross margins in the stores. And while it still has some untapped liquidity, why would anyone lend this company money? I think the ultimate outcome here is a fire sale for pennies or an outright bankruptcy filing but either way, if you own it, please take the 26 cents and run for the hills.
Disclosure: I/we have no positions in any stocks mentioned, and no plans to initiate any positions within the next 72 hours.
I wrote this article myself, and it expresses my own opinions. I am not receiving compensation for it (other than from Seeking Alpha). I have no business relationship with any company whose stock is mentioned in this article.
Editor's Note: This article covers one or more stocks trading at less than $1 per share and/or with less than a $100 million market cap. Please be aware of the risks associated with these stocks.