The twenty-eighth edition of:
Resource Sector Digest
(vol.28 - March 21, 2016)
an offering that is brought to you by Itinerant and The Investment Doctor.
As always, this edition of our newsletter will:
set the scene;
highlight actionable ideas;
comment on news releases;
and link to relevant articles.
As always, here is a cordial invitation to join Itinerant Musings for exclusive access to actionable research on mining and energy stocks. Some examples are sprinkled throughout this newsletter for good measure.
And before we forget, you can read the three most recent editions here, here, and here in case you missed them!
Setting The Scene
The commodity markets seem to have been resuscitated, as the prices of practically all commodities have gained some momentum again. With gold trading at $1250/oz and copper closing in on $2.3/lbs whilst the zinc and lead prices are able to stand their ground at $0.80/lbs, there are some happy faces again. It also shows you should never give up on companies and investors who picked up more stock of First Quantum Minerals (OTCPK:FQVLF) and Teck Resources (NYSE:TCK) will be very happy!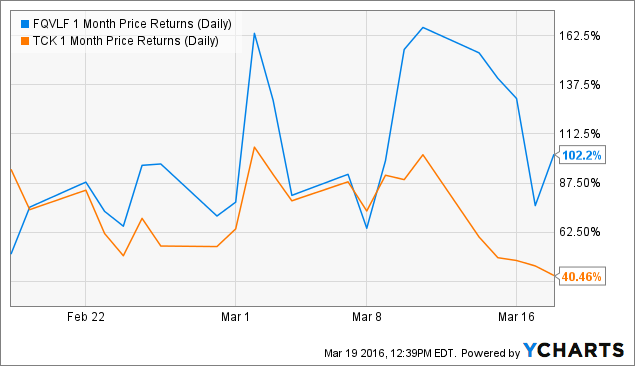 FQVLF 1 Month Price Returns (Daily) data by YCharts
The market's appetite for copper increased again, and to show you we just didn't pick the two obvious winners of the copper space, the ETF (NYSEARCA:COPX) also performed really well in the past few months.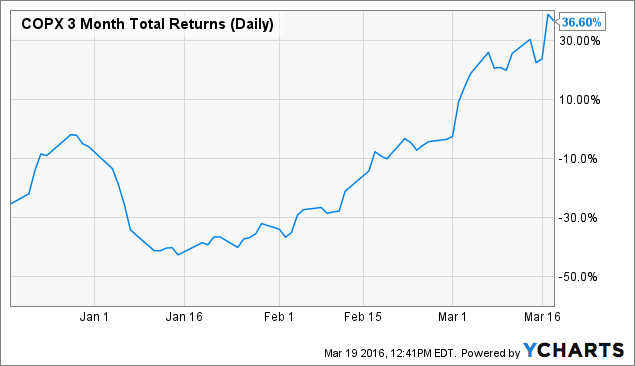 COPX 3 Month Total Returns (Daily) data by YCharts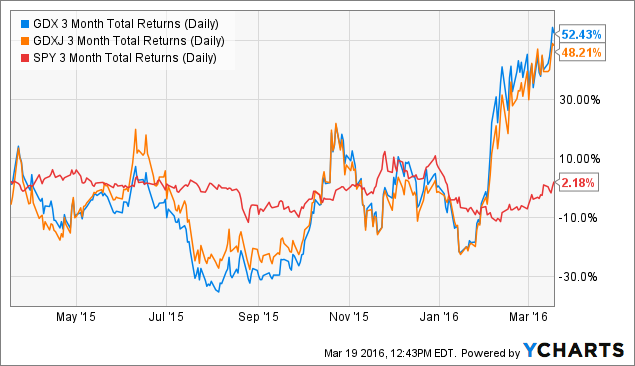 GDX 3 Month Total Returns (Daily) data by YCharts
And the previous chart really shows you how incredibly strong the recent rally in the gold price and the correlation with the performance of the gold mining companies was. Looking back at the different levels just one year ago, the S&P500 (NYSEARCA:SPY) increased by less than 2.2% whilst the (NYSEARCA:GDX) and (NYSEARCA:GDXJ) saw their values increase by 50% after having lost 30% before starting their recovery.
Actionable Ideas
Quite a few eyes were on the oil space last week, and we'd like to highlight two potential actionable ideas in this sector.
Chesapeake Energy (NYSE:CHK) was subject to quite a few articles last week, as for instance The Traveling Investor grabbed quite a bit of attention with his headline 'Is Chesapeake going bankrupt?', whereafter The Value Investor replied with 'I bought bonds at 20 cents on the dollar'. The stakes are obviously high, and, gentlemen, rien ne va plus! And Chesapeake isn't alone, as the clock is ticking for instance Linn Energy (NASDAQ:LINE) as well!
A little bit older, but Itinerant doesn't seem to be positive about Copper Mountain Mining (OTCPK:CPPMF), as he thinks the company is 'toying with bankruptcy'. The share price has been gaining some strength lately, but the results are incomparable to, for instance, the share price increases of Teck Resources and Freeport-McMoRan (NYSE:FCX).
News Releases
Some companies still had to report the financial results, but there also was quite a bit of action on the corporate front as several companies closed previously-announced financings.
Osisko Gold Royalties (OTC:OKSKF) has reported its financial results for 2015. No real surprises here and the company could look expensive based on the 2015 results. However, The Investment Doctor argues Osisko's attributable gold production will increase by a double-digit percentage this year.
Cliffs Natural Resources (NYSE:CLF) says it plans to restart its pellet production at the Northshore Mining operation in Minnesota in May as the (domestic) demand for iron ore pellets has increased. Cliffs claims the overhang of cheap steel that has been dumped on the world market is being reduced.
Pretium Resources (NYSE:PVG) was able to add some more cash to its treasury as the Zijin Mining group confirmed it would subscribe for almost 2.8 million shares of Pretium at $4.58 million for a total additional investment of $12.75 million. A very nice vote of confidence, but it comes at a price.
Mountain Province Diamond (NASDAQ:MDM) released yet another update on its Gahcho Kue diamond mine in Canada. The overall completion of the project has now reached a level of 87%, and the company is still anticipating to see its first diamond production in the second half of the current financial year.
Newmont Mining (NYSE:NEM) has announced the final pricing and tender results of its offer to retire some of its debt. It now looks like $273 million of the 2019 notes and $258 million of the 2039 notes will be retired (unless Newmont increases the total amount it wants to spend on retiring debt). This should reduce the interest cost by approximately $30 million per year.
Fortuna Silver (NYSE:FSM) has released its financial results over 2015 as well as a comprehensive and detailed outlook for 2016. Even though Q4 2015 was a little bit disappointing, The Investment Doctor thinks investors should focus on 2017 and beyond, as that's when the total capex commitment will dwindle down.
Duran Ventures (OTC:DUVNF) seems to be proud to announce First Quantum Minerals as its new joint venture partner on the Panteria Copper-Gold project in Peru. First Quantum has the right to earn a 80% stake in the project by making staged payments over five years. Should First Quantum want to put the project in production, it can buy Duran's 20% interest at $0.02 per pound of copper-equivalent in the ground.
B2Gold (NYSEMKT:BTG) is completing the final piece of the puzzle to get the development and construction of the Fekola gold project in Mali going. The company has entered into a pre-paid sale agreement for its gold to the tune of $120 million as well as using an $81 million equipment financing facility provided by Caterpillar (NYSE:CAT). Pre-selling gold might sound like a bad idea, but the received price is actually pretty decent at $1160/oz.
Gold Standard Ventures (NYSEMKT:GSV) has released an updated resource estimate on the Railroad-Pinion gold project in Nevada. The current resource estimate contains approximately 1.7 million ounces of gold at an average grade of almost 0.6 g/t. Main shareholders OceanaGold (OTCPK:OCANF) and Goldcorp (NYSE:GG) will be very happy!
NexGen Energy (OTCQX:NXGEF) has released the results from an additional nine drill holes as part of its 30,000 meter winter drill program at the Rook property in Canada's Athabasca basin. The strike length has now been increased from 670 meters to 840 meters, indicating there's definitely more potential to increase the resource estimate, which currently contains in excess of 200 million pounds of uranium. With every hole that's being drilled, the chances of a Cameco (NYSE:CCJ), Rio Tinto (NYSE:RIO) or Areva (OTCPK:ARVCF) buying the company are increasing.
Trevali Mining (OTCQX:TREVF) has closed its bought deal offering, raising C$15 million at C$0.32 per share. Belo Sun (OTCPK:VNNHF) has also raised cash by closing a private placement whereafter Agnico Eagle Mines (NYSE:AEM) now owns almost 20% of Belo Sun Mining.
Silver Wheaton (NYSE:SLW) has reported its financial results for 2015. The company's bottom line is showing a net loss, but The Investment Doctor argues the operating cash flow remained relatively stable, and that's what really counts for a streaming company. However, due to the impairment charges and ongoing uncertainty in its case against the Canadian Revenue Agency, Silver Wheaton will probably continue to trade at a discount compared to its peers in the foreseeable future.
Argonaut Gold (OTCPK:ARNGF) had a pretty decent 2015 wherein it was able to generate a positive free cash flow. On top of that, the company expects to reduce its capex commitments in 2016, and TID thinks the free cash flow might quadruple this year.
Primero Mining (NYSE:PPP) announced its updated resource estimates, and the company is now sitting on 4.3 million ounces of gold as well as 165 million oz silver at its Mexican and Canadian operations.
IAMGOLD (NYSE:IAG) has sold its entire position in Galane Gold (OTC:GGGOF). No financial details have been shared, but it doesn't look like IAMGOLD recovered a substantial amount of cash.
Timmins Gold (NYSEMKT:TGD) is also gaining back some ground. The company produced 93,196 ounces of gold resulting in a revenue of $109 million. The all-in sustaining cost was approximately $1144/oz, and this might open up some options for the company as it might decide to keep the San Francisco mine open.
Denison Mines (NYSEMKT:DNN) has released the results of a metallurgical test program at its Gryphon deposit. Leaching tests have shown 99% of the uranium from the Gryphon deposit can be recovered after 12 hours of leaching with 'reasonable reagent consumption levels.'
In 2015, Turquoise Hill Resources (NYSE:TRQ) produced in excess of 202,000 tonnes of copper, but the total production rate will fall by approximately 10% this year. On top of the copper production, Turquoise Hill should also be able to produce 210,000-260,000 ounces gold. The AISC in 2015 was $1.37 per pound of copper.
There wasn't a lot of excitement on the market last week, but perhaps we will see some more sparks of life in the coming weeks on the back of a weakening US Dollar.
Disclosure: I am/we are long FSM, OKSKF, MDM.
I wrote this article myself, and it expresses my own opinions. I am not receiving compensation for it (other than from Seeking Alpha). I have no business relationship with any company whose stock is mentioned in this article.
Editor's Note: This article covers one or more stocks trading at less than $1 per share and/or with less than a $100 million market cap. Please be aware of the risks associated with these stocks.