Orexigen (NASDAQ:OREX) investors have had a rough couple of weeks of news. Marketing partner Takeda is walking away and got paid to do so, while a much coveted partnership in Europe ties to smaller nations which do not make up the big markets in that region. With all of that news, the last thing Orexigen investors want is a reminder of how bad the anti-obesity sector is here in the United States. That being said, the news is the news, and the situation is the situation. Contrave sales were down 0.9% this past week with sales of about 15,500 scripts. This was high enough to be the sales volume leader, but well off of a sales level that delivers meaningful revenue to Orexigen.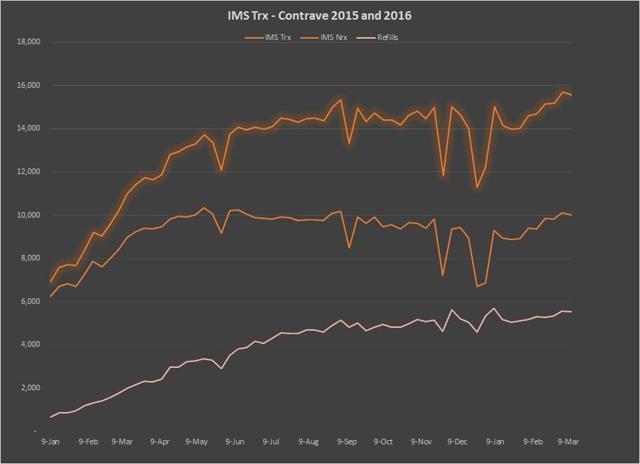 Click to enlarge
Chart Source - Spencer Osborne
One of the more troubling issues with script levels of Contrave seems to be the refills. The refill levels are much flatter than what we have traditionally seen with Contrave. Takeda, in an effort to save money became far more stringent on the discounting to consumers and the savings program. This dynamic has consumers looking at their own bottom lines much more closely. At one stage, there were Contrave sales reps posting here that believed sales would increase substantially from this strategy and that insurance companies would be forced to cover because of demand. The first thing we see is that sales are not increasing substantially. The second thing we see is that consumers are dropping off of the drug. The third thing we see is that insurance companies are not changing their attitude. What we no longer see is Contrave sales reps posting here saying all is well.
On a quarter over quarter basis we see Contrave as the only branded anti-obesity pill that is selling better than what was delivered in Q4. Even at that, the increase here in weight loss season for Contrave is a disappointing 3.2%. Q1 sales are certainly on a pace to do better than Q4, and while Q1 of 2016 is looking to be the best sales volume quarter yet, it is not achieving that status by a very wide margin.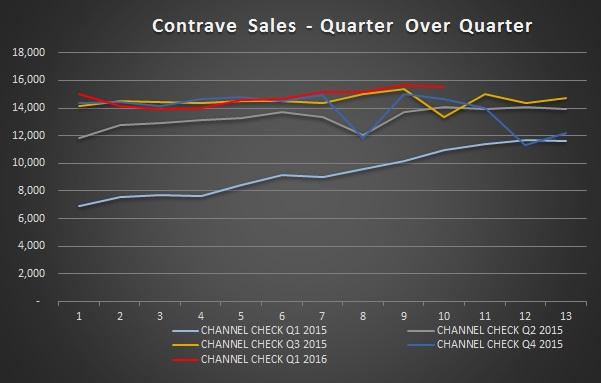 Chart Source - Spencer Osborne
On a year over year basis we can clearly see that the sales trajectory is not as robust as it once was. The current trajectory points to 2016 growth, but only by a modest level. In fairness, Orexigen points to growth of between 5% and 10%, so the fact that sales in the U.S. will be unimpressive should not come as a total shock. What we now have is an added uncertainty for the second half of the year when Takeda steps away and the sales reps reduce from 900 to 150. On a year over year basis, sales are up 69%. This number is decreasing with each passing week.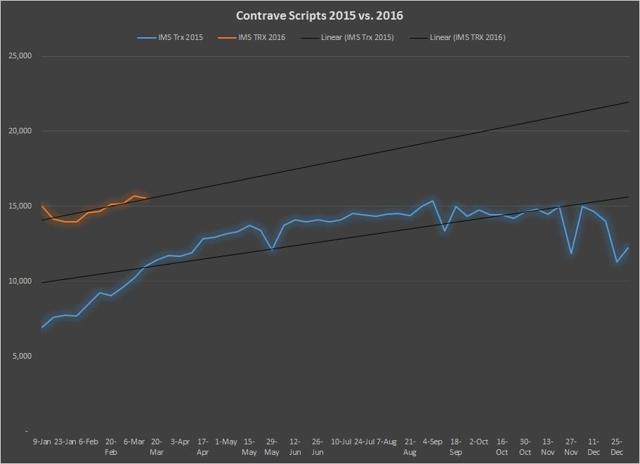 Click to enlarge
Chart Source - Spencer Osborne
In looking at market share, we see that Contrave is achieving its highest level yet. This past week Contrave saw 44.84% of the branded anti-obesity pill market and 41.37% of the overall branded anti-obesity market. Contrave and Saxenda from Novo Nordisk (NYSE:NVO) were the only drugs that saw market share increases.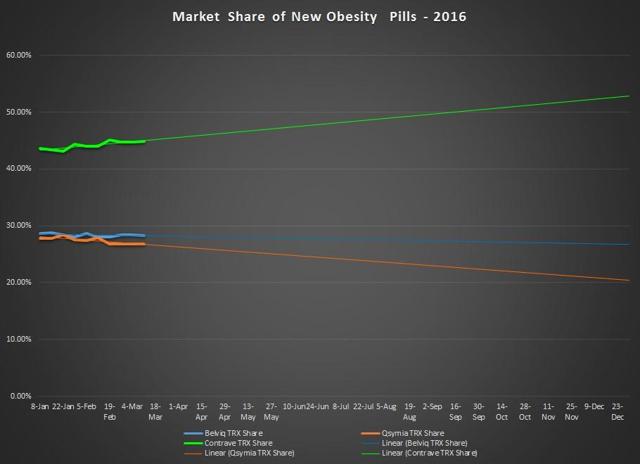 Click to enlarge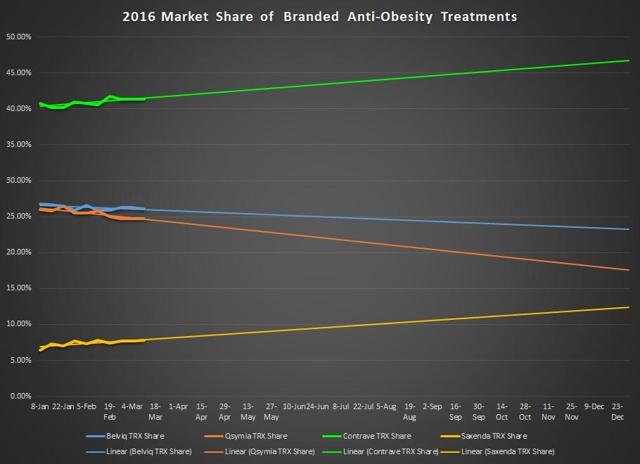 Click to enlarge
Source of Charts - Spencer Osborne
In looking at the overall sector we can see that pills are now dropping below the growth line of last year. Essentially, what is providing this sector with growth is the entrance of Saxenda. Even at that, the growth numbers are not very impressive. The pill sector has grown just 4% this year while the overall sector is growing a disappointing 12.23%. This lack of growth presents problems for Orexigen, Vivus (NASDAQ:VVUS), Arena (NASDAQ:ARNA), and Arena's partner Eisai. Novo Nordisk is a much bigger company and can take the process slowly. In addition, Novo Nordisk gets substantially more revenue from Saxenda than any of these other players in the space.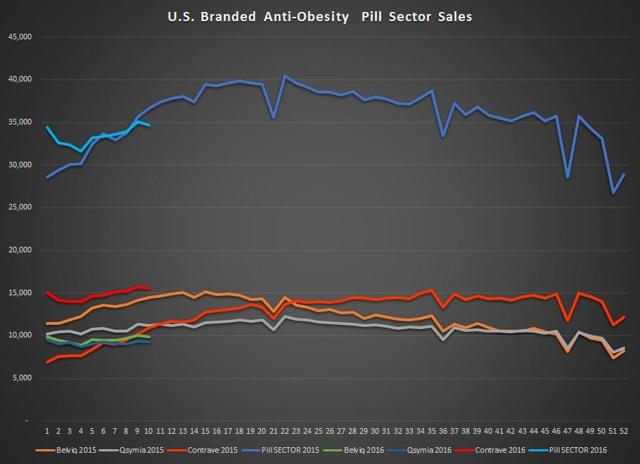 Click to enlarge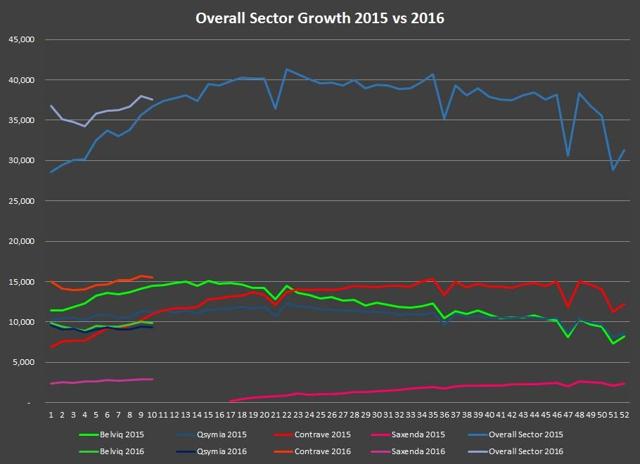 Click to enlarge
Source of Charts - Spencer Osborne
The bottom line here is that Orexigen needs a big increase in sales volume. That is not likely to come from the United States alone. A launch in South Korea will help in the second half of the year. Europe was critical, but the deal struck for Europe involves very small countries that are not very likely to drive the sales volume needed. Stay Tuned!
Disclosure: I am/we are long ARNA, OREX, NVO.
I wrote this article myself, and it expresses my own opinions. I am not receiving compensation for it (other than from Seeking Alpha). I have no business relationship with any company whose stock is mentioned in this article.
Additional disclosure: I have no position in Vivus
Editor's Note: This article covers one or more stocks trading at less than $1 per share and/or with less than a $100 million market cap. Please be aware of the risks associated with these stocks.