It has been a very tough 2015 and to this point in 2016, for investors in Gilead Sciences (NASDAQ:GILD). Despite a ~six-fold increase in profits from FY2013 to FY2015 driven by the blockbuster success of its hepatitis drugs Sovaldi & Harvoni, the shares are actually down about 10% from where they began 2015 at. At just seven times earnings and a dividend yield of two percent, the stock is one of the cheapest large cap equities in the market.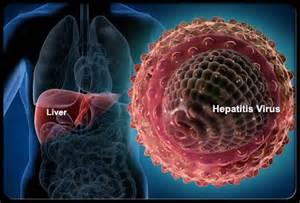 Investors are entirely focused on where the next leg of Gilead's growth comes from now that is the undisputed leader in the HCV and HIV markets, where some $30 billion of the company's ~$32 billion in revenue emanated from in 2015. In order to achieve a higher earnings multiple, the company is going to have to find an additional focus area for growth as hepatitis C sales will flatline and eventually start to decline in 2016. The HIV franchise should still achieve revenue growth of up to 10% in 2016. Sales outside these two areas should grow in the mid-teens like 2015, but off a ~$2 billion base is hardly a key driver of growth.
Gilead needs to either develop or buy a successful franchise outside of HCV or HIV. Unfortunately, it does not seem to be able to develop one internally. The cancer franchise it hoped to spark with the development of Zydelig seems to have gone kaput last week as the company has decided to curtail the six trials for new indications around this blood cancer treatment due to adverse side effects. The head of that development effort left the company after less than 18 months on the job. The company will begin an immediate search for a replacement which shows it still has great interest in this area.
However, it does appear that Gilead's best opportunity to develop a third channel of significant growth is through acquisition. It should be recalled that Gilead did not develop its blockbuster hepatitis C franchise. It got the rights to Sovaldi & Harvoni through an amazingly astute purchase of Phamasset for $11 billion in 2011.
Luckily the company has the financial firepower to make a huge purchase or a series of smaller and/or medium ones. The company should throw off some $15 billion in free cash flow in 2016 and has a rock solid balance sheet. Currently, Gilead is eschewing large dividend hikes in favor of stock buybacks. The company should retire more than one percent of its float per month in 2016. While this is hardly an imprudent use of Gilead's astounding free cash flow, given its cheap stock valuation, this will not solve its growth problem. That looks like it will have to be done via acquisition.
Fortunately for Gilead and its shareholders, by sitting out the huge surge in M&A activity in 2014 & 2015 the company sits in the catbird's seat. The biotech sector is enduring its steepest and longest bear market since the end of the financial crisis. The sector overall is down more than 40% from its recent highs with many small & mid-cap biotech stocks down 50% to 75% almost entirely due to sharp shift of sentiment on the space. Simply put, it is a Buyer's market and Gilead has the firepower to be the biggest buyer in the market should it choose to be so.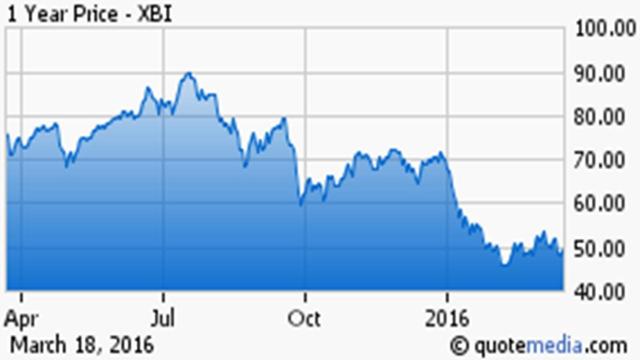 Click to enlarge
I don't think the company, based on its history, will go in that direction. I believe it will make a series of small to medium purchases to establish itself in areas outside of HIV and HCV and/or look to add to its desired oncology focus. So what might this buy? Here are two "suggestions" among myriad opportunities.
If Gilead pursues a string of smaller acquisitions, I continue to believe Dynavax Technologies (NASDAQ:DVAX) should be near the top of that list. Thanks to the recent decline in biotech, the stock is selling for just over half its 52-week highs and now only has a market capitalization a bit over $650 million, of which almost $200 million is in net cash.
The company's hepatitis B vaccine HEPLISAV-B should be approved on the market by the fourth quarter. In an over 8,000 subject Phase III trial it showed it was clearly superior to the current standard on the market (~95% to ~81%) as far as the protection it offered. It also can be delivered effectively in two doses instead of three currently for the market leading offering from GlaxoSmithKline (NYSE:GSK). I expect HEPLISAV-B to eventually garner the lion's share of the $600 million to $700 million annual hepatitis B vaccine market. This also meshes well with Gilead's effort to treat hepatitis B.
The company also has a mid-stage oncology product "SD-101" that shows great promise and would be of interest to Gilead given its desired focus in that area. Finally, the company has an asthma drug in Phase II trials with development partner AstraZeneca (NYSE:AZN). This is probably not of any interest to Gilead, but the rights may be able to be sold to offset somewhat the cost of the purchase.
The company also has expressed an interest in getting into the emerging field of immunotherapy. Juno Therapeutics (NASDAQ:JUNO) is one of the biggest and well-known players in this space. However, it inked a $1 billion collaboration deal with Celgene (NASDAQ:CELG) this summer which included a $150 million equity investment from the biotech heavyweight. This would probably be a substantial complication for Gilead and I don't see Gilead targeting this CAR-T concern for that reason.
Kite Pharma (NASDAQ:KITE) might be a good alternative entry into this field. The company does have lesser collaboration deals with Roche and Amgen (NASDAQ:AMGN) but these seem more manageable from a takeout perspective than Juno in my opinion. Thanks to the recent slide in its stock, Kite has a market capitalization of barely over $2 billion, over 25% of which is represented by cash on the balance sheet. I also find it encouraging not a single insider has sold a share since the biotech sector entered its deep downturn in late July.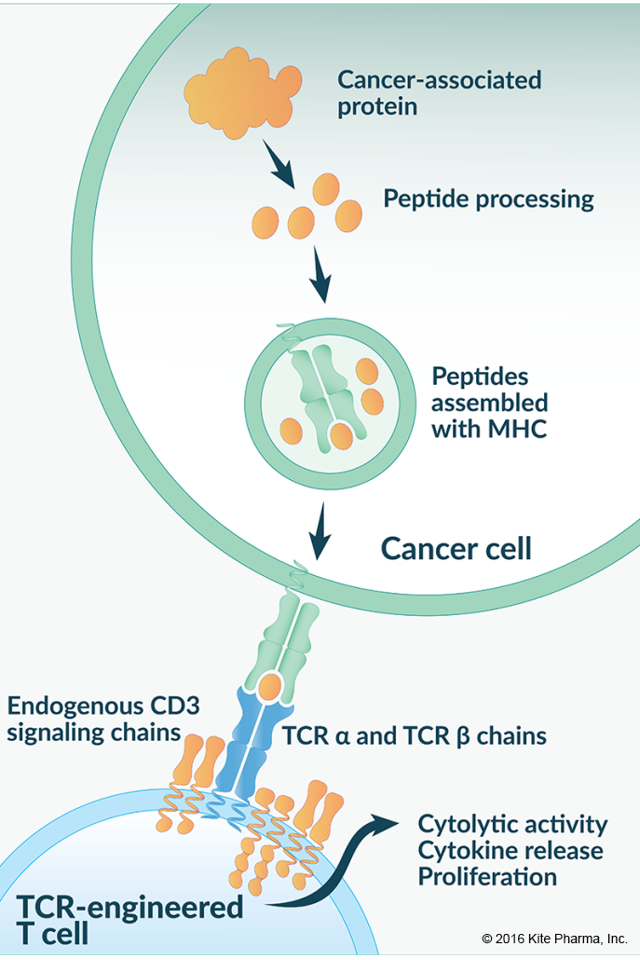 Click to enlarge
The company has a deep and evolving pipeline involving two core focus areas. The first one is around T Cell Receptors ('TCR'). TCRs are proteins that allow T cells to identify cancer targets presented on the surface of cancer cells or inside cancer cells. Endogenous TCRs that are specific to a cancer can be isolated and then engineered into a large number of T cells that recognize and attack various types of solid and hematologic cancers. The company has numerous compounds in development in this area including a treatment for solid tumors in Phase II trials.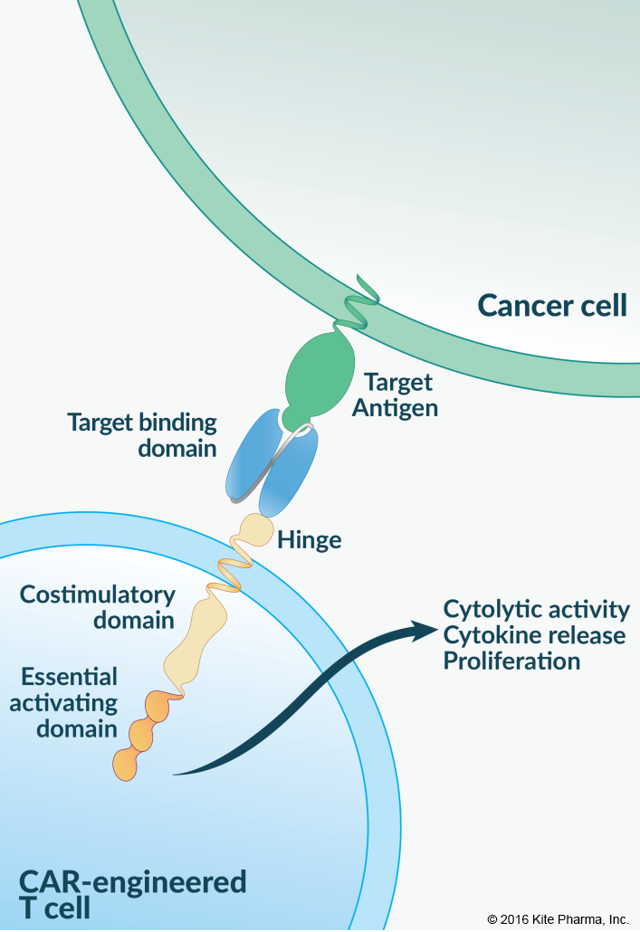 Click to enlarge
Kite's other focus area is Chimeric Antigen Receptors ('CAR'). CARs are engineered proteins composed of two distinct functional components. The first consists of an antibody fragment or target binding domain that allows CARs to recognize targets that are present on the surface of cancer cells. The second provides signals that rapidly and powerfully activate the T cell to attack and kill cancer cells. The company has a developing pipeline of compounds and two are Phase II trials.
I think either or both of these companies would be good strategic pickups for Gilead. Regardless of whether Gilead buys these or other promising concerns, now is the time to strike given the huge downturn in the biotech sector and Gilead's need to accelerate growth outside of HCV & HIV. For Gilead and its shareholders, I hope the company's management is prudent enough to seize this opportunity.
Disclosure: I am/we are long AMGN, CELG, DVAX, GILD.
I wrote this article myself, and it expresses my own opinions. I am not receiving compensation for it (other than from Seeking Alpha). I have no business relationship with any company whose stock is mentioned in this article.