It's hard to find good news about Brazil these days. The economy has officially been in a recession since the second quarter of 2015, and a political crisis is sparking massive protests throughout the country. Some are still in support of Rousseff, but on Thursday a special congressional committee begins another attempt to impeach the embattled President, who is now the center of a corruption scandal involving former President Luiz Inácio Lula da Silva. Rousseff recently attempted to appoint Lula as her chief of staff; however, a wiretap revealed that this was likely nothing more than a political favor to protect the former President, who is at the center of the current Brazil Petrobras (NYSE:PBR) scandal. Below is a great summary from Vox of the scheme at Petrobras that has been uncovered:
Construction executives secretly created a cartel to coordinate bids on Petrobras contracts and systematically overcharge the company.
A select group of Petrobras employees turned a blind eye, allowing the construction companies to charge Petrobras outrageous sums.
The construction executives then pocketed the proceeds from these inflated contracts and rewarded their partners inside Petrobras with big bribes.
Some of the proceeds also got sent to friendly politicians, as either personal gifts or donations to their campaigns. Because Petrobras is partially owned by the state, politicians can install people as executives - who then turn around and reward that politician with a bribe.
A judge has stepped in and blocked the appointment, however, leaving Lula exposed to further prosecution.
The economy is mirroring the chaotic political situation. As mentioned above, the economy has officially been in recession since the second quarter of 2015, and only seems to plunge deeper down the rabbit hole with each new data release. The current situation is textbook stagflation, with high unemployment, high inflation, and deteriorating GDP growth. Consider the following: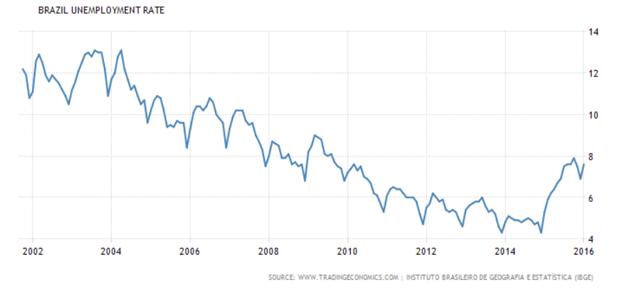 Click to enlarge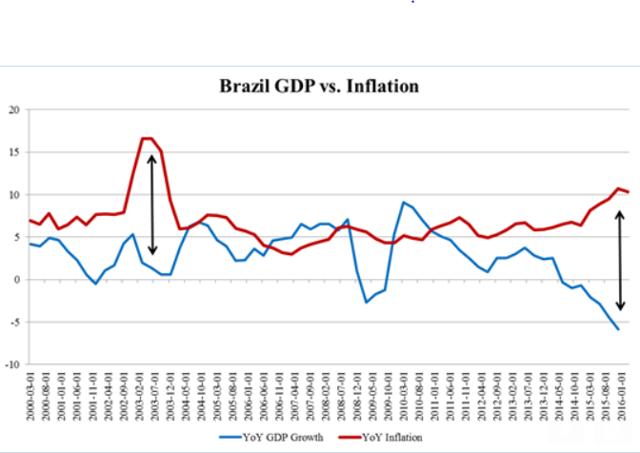 Click to enlarge
The real has suffered a similar fate, as have most commodity-linked emerging currencies: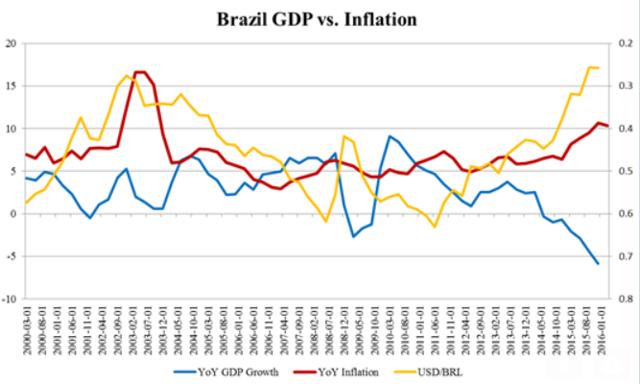 Click to enlarge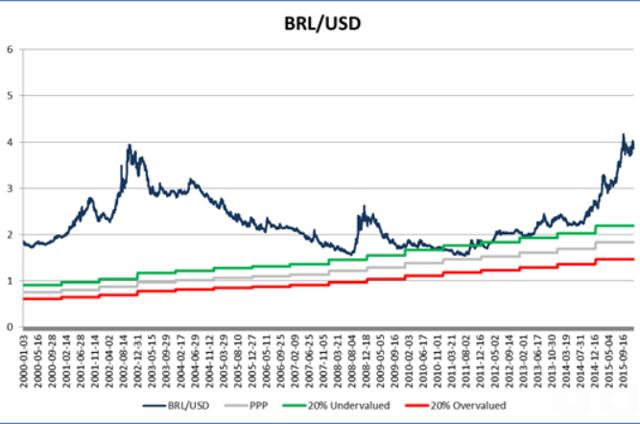 Click to enlarge
And along with all of these movements, market expectations have cratered. Note the following from Bloomberg: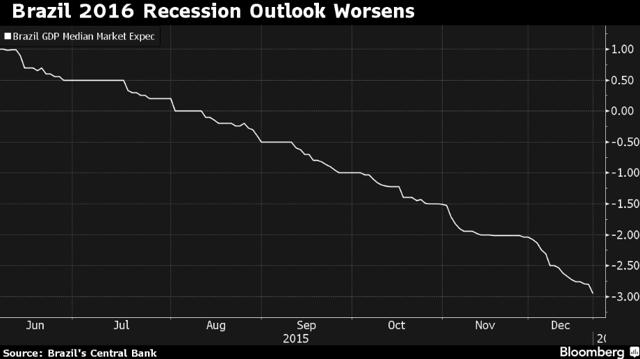 Click to enlarge
So, you may be asking yourself, am I trying to get at something here, or did I just have a bad week at work and decide to start my weekend by lambasting Brazil to feel better about myself? Well, the motive here has been to point out that we've seen all of this before with Brazil, and the current situation looks eerily similar to 2002, after the Argentinian (well, all of South America, really) crisis. Please review the charts above. Note that at that time (~2002), Brazil was in a similar stagflationary rut, with high unemployment, high inflation, and slowing GDP growth (albeit not negative, as currently). The currency was also finishing a large move down against the dollar, having left its peg with the greenback in 1999. A New York Times article from October 6, 2002 summed up investor fears at the time, when it observed that "Most of the fear is that Mr. da Silva will relax current policies to cut spending, fight inflation and keep paying on Brazil's $240 billion public debt."
Interestingly, on March 14th of this year, Forbes ran an article noting that current investor fears are quite similar, when they remarked that "The government has been trying to tackle the problem by cutting public spending and implementing austerity policies through the Central Bank. However, their plans have been thwarted by a political crisis that makes it very difficult to get anything approved by Congress."
Not surprisingly, EWZ has fallen in tandem with strength in the dollar: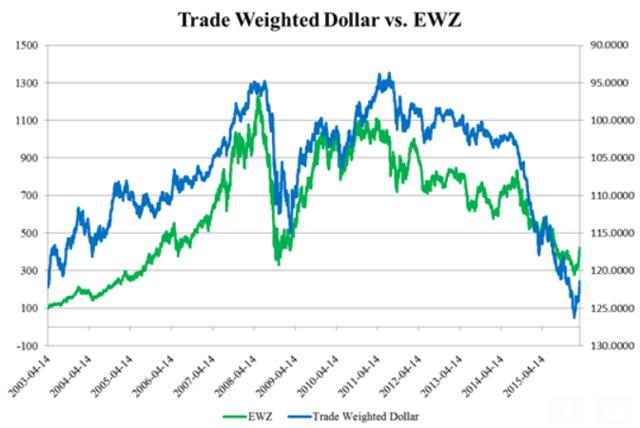 Click to enlarge
Again, this should be unsurprising, as capital flight and debt service are very real concerns:
I'd like to reiterate that there is something bigger I'm getting at here, and it relates to the oft-quoted words of Baron Rothschild, who declared that "the time to buy is when there's blood in the streets." I'll remind you that we saw a similar economic and political environment in Brazil around the turn of this century, and it preceded a breathtaking rally in Brazilian equities. Review the chart above with the time series, as well as the following: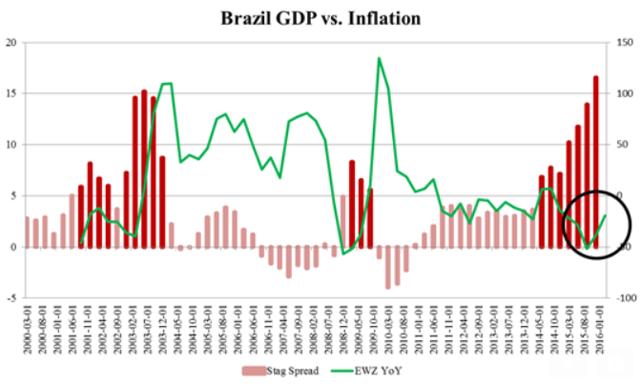 Click to enlarge
If you purchased the index (via the ETF) in 2002 and were lucky enough to sell before the GFC, you would have enjoyed a price return of over 400%. It is certainly contrarian; however, I would pay close attention to the situation in Brazil and for clues to possible reversals in the current stagflationary environment and a bottom in the real (a general turn in broader economic prospects, really), as this may foretell another major opportunity in Brazilian equities. For the moment, medium-term calls on could also be a very attractive strategy, as you'll want the right to receive these shares if history does in fact start showing signs of repeating itself.
Disclosure: I/we have no positions in any stocks mentioned, and no plans to initiate any positions within the next 72 hours.
I wrote this article myself, and it expresses my own opinions. I am not receiving compensation for it (other than from Seeking Alpha). I have no business relationship with any company whose stock is mentioned in this article.