Silver as a portfolio diversifier - which makes sense in the current market dynamic
Silver (and Gold) are portfolio diversifiers - their values usually rise during volatile times or when there is a high level of uncertainty in the markets due to their safe haven statuses. As such, they have a negative correlation versus risky assets in one's portfolio.
We are currently in the seventh year of the bull market for the S&P 500 Index, and have seen large amounts of volatility in the markets recently. The truth is, the ongoing debate with regards to whether U.S., Europe, China, or Japan are in recessionary times will continue to rage on, and no one can presciently predict when the bull market will fizzle out.
As such, it makes sense to allocate a percentage of your portfolio to diversifiers like Silver, which can help hedge the downside or against volatility, all while staying invested in high-quality stocks.
In my article here ("Early Signs Of A Weaker USD: What Industries Should Benefit?"), I have expanded on signs in various asset classes pointing to sustained weakness in the USD, where the largest beneficiaries in such a scenario would be commodities - including metals like Silver.
As detailed in the article, I noted that the Fed would be cautious in embarking on too aggressive a rate hike cycle, as despite the U.S. economy seemingly chugging along decently (unemployment numbers and wage growth are robust, inflation numbers are gradually improving), the Fed would prefer to let the volatility in the equity markets subside a little before resuming their hawkish stance. True enough, in March's FOMC meeting, the Fed chose not to hike, but instead maintain a generally dovish tone.
Silver's performance has lagged that of Gold's, which presents an opportunity
Gold's rally this year has surprised many. The USD's weakness spurred a mini rally in energy and base metals, and Gold managed to burst out assertively from its downtrend channel, as seen from the chart below. YTD, XAU/USD is up 19.27%.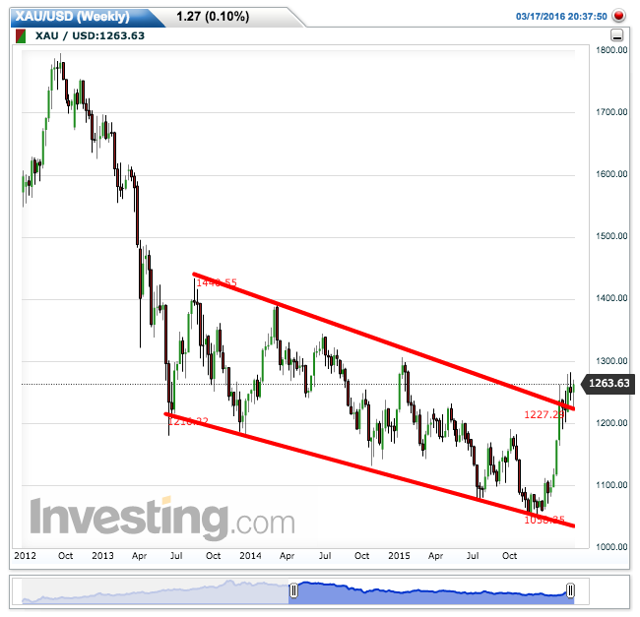 Click to enlarge
On the other hand, Silver has lagged its counterpart, with XAG/USD returning only 13.38% YTD (a good 6 percentage points less than XAU/USD). As seen from the chart below, the price consolidation is still in its early formative stage.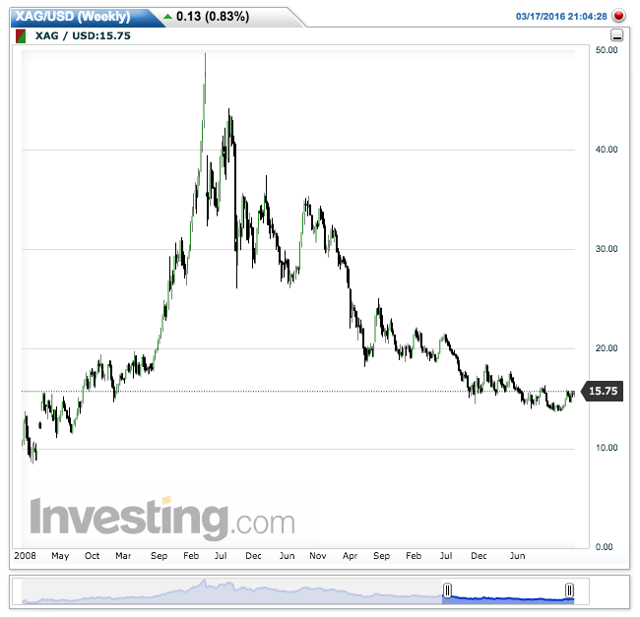 Click to enlarge
When we look at the Gold/Silver weekly chart below, the price action has met with some near-term exhaustion recently near the peak of 82, and could fall back lower to find support around the 50-period exponential moving average (NYSEMKT:EMA), which is currently around 75. This increases the probability of Silver outperforming Gold in the upcoming weeks, which explains me favoring adding the former to my portfolio over the latter.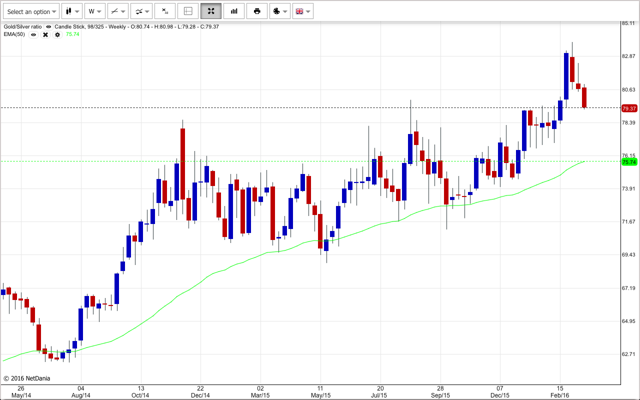 Click to enlarge
Application - Investing in Silver, Risks, Technical Analysis
Unlike other commodities like oil, it is inexpensive to be invested in Silver via an ETF. Funds like the iShares Silver Trust (NYSEARCA:SLV) or the SPDR Gold Trust ETF (NYSEARCA:GLD) hold bullion in their vaults on behalf of their investors. As such, there is no cost-of-carry in contrast with the case where an investor buys an oil ETF, where he suffers negative carry due to the oil futures curve being in contango (upward-sloping).
However, I must caution that Silver has historically been more volatile than Gold, mainly due to its dual roles of 1) a safe haven asset and 2) a metal used for industrial activities, whereas Gold's value as perceived by the markets is more singular and focused - that of a safe haven asset.
From a technical perspective, we are seeing what is known as a cup-and-handle pattern, where price action exhibits a rounded bottom, signalling loss of selling momentum and price consolidation. We also see price action breaking out above the downtrend channel which was in place since August, and i am looking for XAG/USD to hit 19-20 levels in the coming weeks.
For short-term traders, that represents potential upside of 20-25%. For me, I am comfortable holding on to Silver for the longer-term given the current volatility and uncertainty in the markets.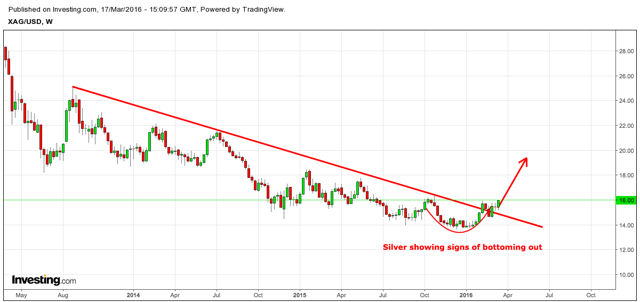 Click to enlarge
In conclusion, Silver seems to be under-bought in comparison with Gold, and I expect Silver to rally more strongly versus Gold in a weak-USD environment. The shiny metal acts as a diversifier for the portfolio as well, and will do well to protect an investor's risky assets (e.g. equities) from volatility or potential downside.
Disclosure: I am/we are long SLV.
I wrote this article myself, and it expresses my own opinions. I am not receiving compensation for it (other than from Seeking Alpha). I have no business relationship with any company whose stock is mentioned in this article.