Casey's General Stores, Inc. (NASDAQ:CASY) may not be a convenience store you have heard of unless you live in the Midwest or frequent there. This convenience store is headquartered in Ankeny, Iowa and has locations in Illinois, Indiana, Iowa, Kansas, Minnesota, Missouri, Nebraska, North Dakota, and Oklahoma. This convenience store chain is the fourth largest among its competitors and boasts 1,896 stores. Like many of its competitors, Casey's features a large retail convenience store as well as fuel pumps at many of its locations which allows the chain to appeal to a wide range of consumers. With fuel prices continuing to fall and WTI currently hovering around $30 a barrel, there is a significant opportunity for the retail/fuel store to see significant profit margins both in the store and at the fuel pumps.
Casey's has enjoyed a large amount of success because of its constant expansion of new stores and renovations of old stores which keeps customers returning. The chain added 81 stores in 2015, up from the 59 it added in 2014. These constant renovations and additions are creating more sales and making the chain more available to the customers. The expansion plan for 2016 includes building or acquiring 75 to 113 new stores and to replace 10 more existing stores. In addition to expanding its reach, the company plans to remodel 100 new stores to keep the chain up-to-date with technology and offer its customers the best experience possible. The convenience store retail market is widely open to interpretation based on where a person lives because very few are multinational as 7-11. Instead, certain chains dominate certain regions; Casey's dominates the Midwest just as Wawa dominates the Northeast region (South-West Pennsylvania, Maryland, Delaware, Virginia, New Jersey, and Florida). By expanding its reach, Casey's has the opportunity to find new clientele and continue to beat its income estimates.
Comparing Casey's to other convenience stores in the industry, it is outperforming its competition significantly. Casey's is the largest publicly traded convenience store followed by CST Brands (NYSE:CST) and Murphy USA (NYSE:MUSA). Both CST Brands and Murphy USA have seen declines in their stock price over the last year while Casey's has enjoyed tremendous success. Since February 2015, CST Brands has seen its stock value decline by 24% and Murphy USA by 9%.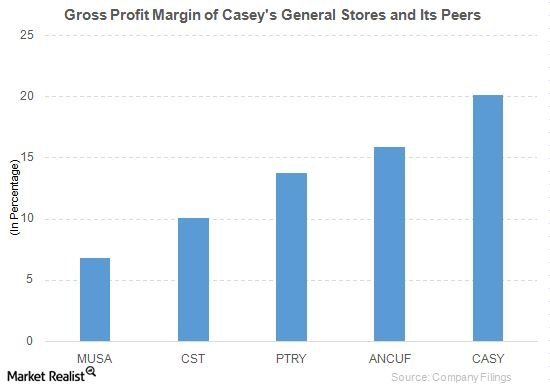 The above graph shows Casey's gross profit margin compared to its peers (including CST Brands and Murphy USA) for December of 2015. Gross profit margin is extremely important to the convenience store and fuel retail business as fuel typically has a very low profit margin, and convenience stores typically make most of their money when you buy products from inside the store. The typical profit margin on a gallon of gasoline is about twelve cents. This low profit margin should significantly lower convenience stores' gross profit margin, but does not hurt Casey's. This shows that Casey's either makes a significant profit margin on fuel or outsells its competition with sales from within the store. Either circumstance is a positive sign for this retailer.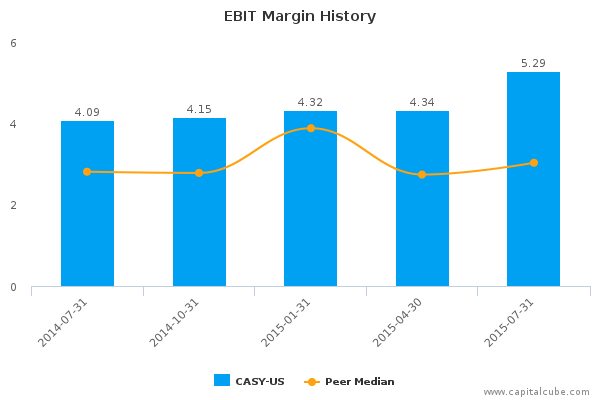 As shown above, Casey's EBIT has been steadily ahead of the competition. Casey's also reported a 2.78% average increase in fuel gallons in fiscal year 2015 and is already showing a 2.78% average increase in fiscal year 2016 (based on same store sales). In addition, Casey's reported a 7.9% increase in average sales of grocery and other merchandise in fiscal year 2015 and is currently showing a 7.27% increase in fiscal year 2016. To further emphasize that Casey's growth is not being weighed down by additional expenses, its stores saw a $217 million increase in gross profit and only a $127.5 million increase in operating expenses.
I would expect Casey's to continue to grow and to keep beating prior earnings as long as fuel prices stay low. Even if oil prices begin to rise, I expect its profit margins on sales made in the store and not at the pump will keep the company ahead of its competitors. The chain is going to continue to see increasing revenue in the coming year with primary contribution coming from the acquiring and building of nearly 100 new locations.
Disclosure: I/we have no positions in any stocks mentioned, and no plans to initiate any positions within the next 72 hours.
I wrote this article myself, and it expresses my own opinions. I am not receiving compensation for it (other than from Seeking Alpha). I have no business relationship with any company whose stock is mentioned in this article.