Just before OneMain (NYSE:OMF) reported its Q4 earnings, I came out with a piece that said the prudent course of action heading into the report was to buy the stock. My reasoning was that the panic selling that occurred in February with respect to financials had taken far too big of a toll on OMF, whose fundamentals continue to improve. The stock was trading for $20 at the time and as I suspected, the company's Q4 was better than expected and shares are up ~40% in just a few weeks. Now that the easy money has been made, however, is there still more on the bone here or is this the new fair value for OMF?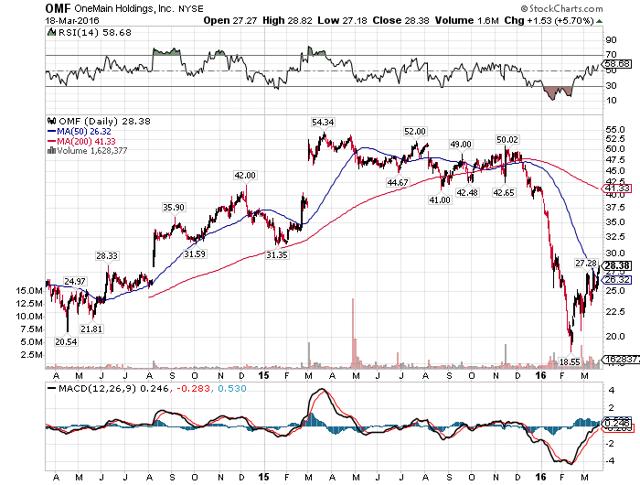 Click to enlarge
I explained in my linked article why OMF was a buy from a macro perspective but Q4 provided us with much more firepower for the bull case as it was even better than I'd hoped. My bullishness in February was based upon the fact that the stock was so cheap that OMF didn't even need a nice Q4; it just needed to tell investors the world isn't ending and that would be good enough. Of course, we got much better news than that and shares are flying.
OMF's acquisition of Springleaf led to an enormous increase in its operating metrics as the purchase almost doubled the size of the company. Net interest income was up 83% Y/Y and thanks to continuously improving credit metrics, the company's pretax earnings were strong as well. In addition, origination volume for Q4 was very strong with the combined portfolio producing 391k new accounts and $2.5 billion in new loans. That's very strong growth and the company's diverse branch network will allow it to continue to produce strong portfolio growth numbers like we saw in Q4. This is a significant piece of the bull argument and OMF certainly delivered in Q4.
The company's credit metrics remain strong as well, a point that I made in February. This is key because the recession multiple that OMF was/is trading for assumes that OMF is going to see massive losses on its receivables portfolio. If that doesn't happen - we have no evidence that it is happening - there is a catalyst for a quick rally not unlike the one we've just seen from $20 to $28. The company's Consumer and Insurance segment saw annualized net charge offs of 6.46%, disastrous for a traditional lender but for OMF, whose portfolio yields in excess of 25%, that is a very manageable level. And its 60+ day delinquency rate was just 3% at the end of the quarter, again, a very manageable number. OMF's credit metrics don't have to improve from here for the bull case to work out. In fact, the stock is so cheap that they could deteriorate and it would still be a buy. Shares are pricing in a massive amount of portfolio losses that we have no evidence are occurring or will occur and Q4 was further proof of that.
At 6.1 times this year's earnings, OMF isn't as cheap as it was last time I visited the stock at $20. But after a 40% rally, you'd expect shares to be more expensive. The good news is that six is still a ludicrous multiple for a company that is the largest in its sector and has stable to improving credit metrics. The combination of Springleaf and OMF has created a personal loan juggernaut with a portfolio yield of ~25% and acceptable credit metrics that is also trading for a recession multiple, even after considering the recent rally.
Indeed, next year is slated to be much better as the integration of Springleaf will be complete and we should see well in excess of $6 in earnings. On a $28 stock, we are talking about a PE of well under five for next year. OMF's domination of the personal loan space and its terrific management team mean that it will be growing at high rates for years to come and the double digit sales growth forecast for next year will become the norm. OMF's originations are still very strong and the fact that it continues to rack up hundreds of thousands of new accounts quarterly is proof of strong demand. OMF is there to fill that demand and despite loss rates that look impossible to overcome for traditional lenders, OMF is fully capable of much bigger write offs than it is currently experiencing.
In short, I think the rally is just getting started as all of the reasons I was bullish in February were confirmed by the Q4 report. Of course, the stock isn't as cheap as it was but there is still time to buy as OMF should easily be trading for a PE of 8 or 10, good for ~$50 to $60 on next year's earnings estimates. That's roughly a double from here and I think we'll get there once the market realizes there is no reason to panic.
Disclosure: I am/we are long OMF.
I wrote this article myself, and it expresses my own opinions. I am not receiving compensation for it (other than from Seeking Alpha). I have no business relationship with any company whose stock is mentioned in this article.