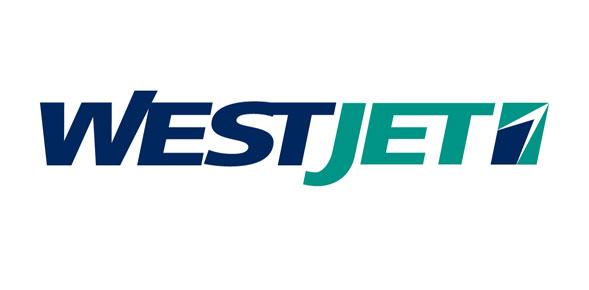 I believe WestJet Airlines Ltd (OTC:WJAFF) is getting ready for another big expansion of its routes. In recent years it has been steadily increasing its fleet numbers and expanded both its domestic and international routes. In 2015, the airline added 12 new destinations: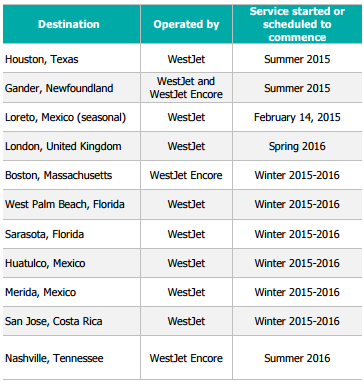 (Source: WestJet 2015 annual report)
A news article published about a month ago also hinted that the WestJet CEO has been steadily hiring staff that can speak European and Asian languages in a potential push to new foreign destinations. This is a strategic move by WestJet to increase profits from international routes.
Profitability Track Record
The past is never an indication of future results but one fact I do want to highlight is the company's financial performance in the last year 5 years: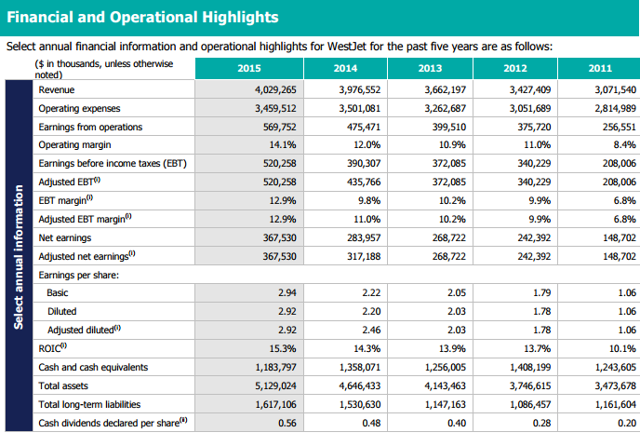 Click to enlarge
(Source: WestJet 2015 annual report)
While its stock price ebbs and flows according to external market factors, the airline's financial performance has been on an upward trend. Its Basic Earnings Per Share (EPS) has been growing year over year. Its ROIC (Return on invested capital) has also been growing steadily.
2015 profits may have been inflated somewhat because of lower fuel costs but the company's success has been over a period of 5 years and I attribute this to a strong management team and culture.
Consistent Investment into Its Business:
One of WestJet's strengths is its strategy to consistently invest in new planes. The company has been in operation for over 20 years and yet its planes on average are 6.7 years old: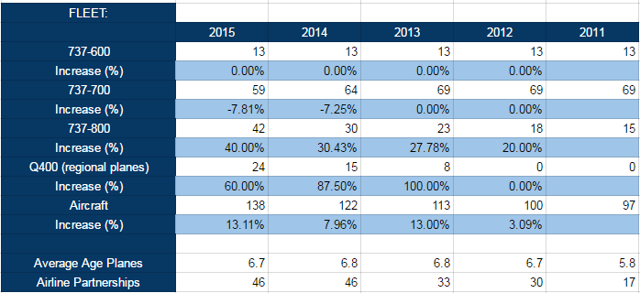 Click to enlarge
(Source: WestJet Annual Reports and Author's Own Calculations)
Starting in 2013, WestJet has been increasing its fleet by more than 7% a year. In that time it has created the WestJet Encore where it services short term routes to compete with domestic airlines such as Porter Airlines, Jazz Airlines, and a new upstart carrier: Newleaf Travel.
I believe the consistent investment into new planes and hiring of new personnel, shows that WestJet is geared towards more growth in the future. The company has seen its EPS steadily trend upwards year over year, and the only way this can be sustained is by expanding its network of cities it flies to.
Dividend Policy: 20/80 Payout Ratio
WestJet seems to hover at a 20% dividend payout ratio where 80% of its earnings are invested back into its business:

Click to enlarge
(Source: WestJet Annual Reports and Author's Own Calculations)
Because of the recent price drop, its dividend yield has risen to 2.75% at the end of 2015. I anticipate the dividends will continue to rise as profits continue to grow.
Fuel Price Risk:
Fuel costs make up over 20% of the airline's total operating expenses. Fuel prices are currently at record lows and this increases the company's bottom line. But fuel prices will rebound eventually and this will eat into its profit margins. The only way to control costs is to continue investing in the latest planes that will ensure fuel efficiency.
An Undervalued Company
I believe this company is under valued. In Dec 4, 2014 it reached a high of $34 (TSX). In June 2015, the price had declined further to $26.50. In Feb 2016, it had traded in the mid-teens before bouncing back into the low 20s. Throughout all of this, the financial performance of the company has been steadily improving so it doesn't justify the price decline.
I believe the markets are taking an overly negative view of WestJet because of the downturn in the Albertan economy.
My opinion of this company is it is a strong buy.
Disclosure: I/we have no positions in any stocks mentioned, and no plans to initiate any positions within the next 72 hours.
I wrote this article myself, and it expresses my own opinions. I am not receiving compensation for it (other than from Seeking Alpha). I have no business relationship with any company whose stock is mentioned in this article.
Editor's Note: This article discusses one or more securities that do not trade on a major U.S. exchange. Please be aware of the risks associated with these stocks.