National Oilwell Varco Inc (NYSE:NOV) experienced a very tough year in fiscal 2015. It completed the spin-off of its distribution business into a separate entity. It further split its two reaming business segments into four, in order to focus more efficiently on each area of operations. On the other hand, the company also raised its quarterly dividends by 75% to $0.46 per share, a move that, in the environment of the moment, portrayed great confidence in its future cash flows.
Drastic Fall Amid Low Prices
Unfortunately, the company's business plan of focusing on key businesses went wrong when oil prices started falling at an unbelievable rate. The price of oil plunged by 70% to around $26 in the space of eighteen months. This situation strongly impacted NOV's business plans, its financial performance, and its backlog. The company posted massive reductions in revenue and earnings for fiscal 2015, primarily over the final two quarters.
Excluding impairments and other charges, NOV posted earnings of $2.80 per fully diluted share, a drop of 54% from 2014. In the final quarter, its rig systems revenue declined by 32% while rig aftermarket revenues remained flat on a Q/Q basis. In addition, revenue from wellbore technologies declined 9% Q/Q and 50% Y/Y.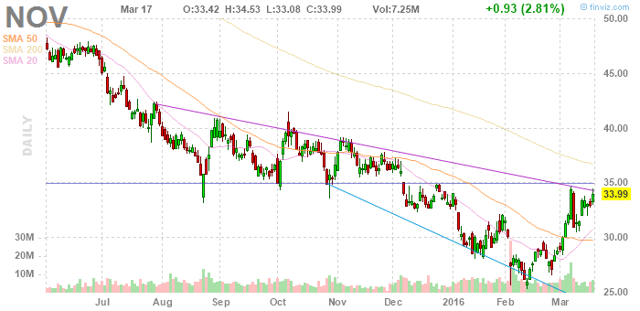 Click to enlarge

Falling oil prices significantly impacted the company's share price over the past year. NOV's shares dipped from $55 per share a year ago to $25 per share on Feb 11 of this year. However, oil prices have now shown a dramatic shift, contrary to all projections. Since dipping to a 13-year low of $26 per barrel on Feb 11, oil prices have now surged almost 53%, all in a matter of weeks. At the end of the latest trading session, U.S oil traded above $40 a barrel for the first time in a couple months.
Strong Fundamentals for Oil Prices
Climbing oil prices have provided strong support to struggling oil companies and those impacted by them, including National Oilwell Varco. NOV's stock rallied almost 16% in the last month alone. Here the question arises whether NOV's stock is still offering a buying opportunity, in light of recent gains. Or, would selling the stock on this rally be a wise strategy? I suggest investors hold this stock for further gains ahead of a potential rally in oil prices throughout 2016.
Several analysts are suggesting oil prices should trade above $50 a barrel by the second half of this year. Based on PIRA, major OPEC producers are expected to sell oil at around $50 a barrel in the coming days. At the same time, fundamentals for oil prices are now looking strong, following the confirmation of production talks among the 15 largest oil producers - who account for 73% of the globe's production.
Defensive, But Smart Strategies
It's possible that the increasing prices may persuade oil producers to boost their output. However, National Oilwell Varco has remained focused on its operational improvements and plans for expansion. In addition, the company has continued to reduce its expenses - operational and otherwise - in order to adjust to the low pricing environment. Over the final quarter of 2015, NOV reduced its SG&A expense by 28%. This translates into an annualized cost savings of about $600 million. Overall, the company has been aggressively reducing its costs as much as possible in order to maximize support to its margins
In addition to its defensive strategies, cost cutting measures, and major cuts to capital investments, NOV has continued on its path of expanding into major oil-producing nations, including Saudi Arabia, Russia and Abu Dhabi. The company completed seven acquisitions in 2015; most of them will increase its penetration into the world's lucrative oil regions.
Final Thoughts
National Oilwell Varco's share price is likely to sustain its rally, with only a few shortfalls along the way, amid strong future fundamentals for oil prices. Oil is likely to trade above $50 a barrel soon. T. Bonne Pickens is expecting oil to reach $60 a barrel by the end of this year. With this anticipated boost to oil prices, NOV's stock could well extend its rally. In addition to its share price appreciation, the company's dividends appear safe, due to its low capital-intensive business model. Therefore, selling this stock at its current value is not an attractive strategy.
Disclosure: I/we have no positions in any stocks mentioned, and no plans to initiate any positions within the next 72 hours.
I wrote this article myself, and it expresses my own opinions. I am not receiving compensation for it (other than from Seeking Alpha). I have no business relationship with any company whose stock is mentioned in this article.