On Friday, April 1st,e'll get fourth quarter results from BlackBerry (NASDAQ:BBRY). The company will put another dismal year in the books, with revenues plunging more than 30%. A major part of the decline has been the struggling hardware division, where phone sales have fallen short of expectations. Now that the company's newest device has had some time on the market, it is time for management to determine if hardware is in the company's future.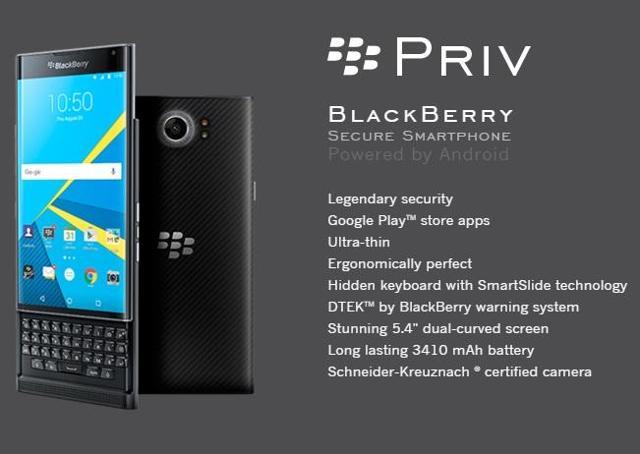 Click to enlarge
(Source: BlackBerry Priv website)
The Priv's rollout has been over several months. In fact, Verizon (NYSE:VZ) didn't start selling the device until after the quarter ended. AT&T (NYSE:T) had an exclusive window for a few months, and other carriers have jumped on as well. Add in the fact that purchase committments weren't up much sequentially, and sales expectations for Q4 should be tempered a little, which is why overall revenues are estimated to barely rise sequentially.
BlackBerry is still selling devices based on the BB10 platform, but this year will all be about Android devices. The hardware division is struggling to get to breakeven, so the Priv could be the company's last phone if it did not sell well. BlackBerry CEO John Chen has stated the hardware division could be axed, but he also wants to see if the segment can be profitable.
With many months on the books, however, management will have an idea of how demand has fared for the Priv. If demand is lackluster, management should exit the phone business. With acquisitions continuing, the future should be primarily focused on software and services. But if sales were very strong, the company should detail that and work on more devices, and hopefully profitability. The area I don't want to see BlackBerry in is that middle of the road where the hardware division sells some phones, a couple of million a year, but not enough to be profitable or really make a difference overall.
If the company can't even decide what it truly wants to be, where does that leave investors? As you can see in the chart below, BlackBerry shares have been mostly range bound in the past two years, stuck primarily between $7 and $10. Shares closed Friday just a few cents above the median price target on the street, so analysts don't really see the stock going anywhere either.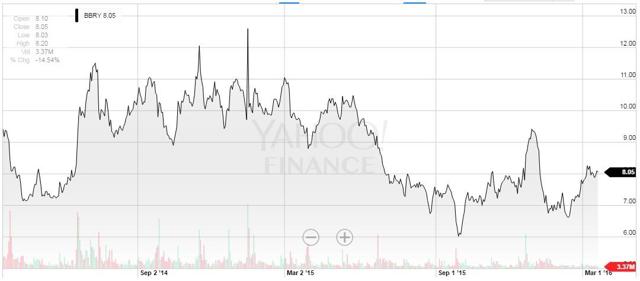 Click to enlarge
(Source: Yahoo Finance)
With Q4 earnings coming up soon, I pose the following question to BlackBerry management: What does the future hold? With more than enough sales data in hand on the Priv, a meaningful decision needs to be made on the hardware division. Investors want some clarity, and until a strategy is laid out I don't see this stock making a sustained move in either direction.
Disclosure: I/we have no positions in any stocks mentioned, and no plans to initiate any positions within the next 72 hours.
I wrote this article myself, and it expresses my own opinions. I am not receiving compensation for it (other than from Seeking Alpha). I have no business relationship with any company whose stock is mentioned in this article.
Additional disclosure: Investors are always reminded that before making any investment, you should do your own proper due diligence on any name directly or indirectly mentioned in this article. Investors should also consider seeking advice from a broker or financial adviser before making any investment decisions. Any material in this article should be considered general information, and not relied on as a formal investment recommendation.