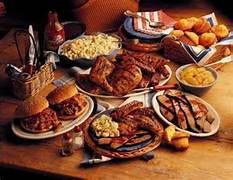 Famous Dave's (NASDAQ:DAVE) is a stock I've been telling readers was a short for a while now. The company's unique blend of overvaluation and horrendous fundamentals has made it an easy target for sellers for about a year now. Back in November, I reiterated my short position at $8 after first being negative on DAVE at $14 and it has worked out in my favor. DAVE continues to struggle with just about everything and that is good enough for me. Shares hit $5 before bouncing a bit, but are still stuck at just $6, down more than 80% from their highs of 2015. With Q4 earnings providing some buyers with reason to be optimistic, is it time to declare victory from the short side and move on or is there more meat on the bone here?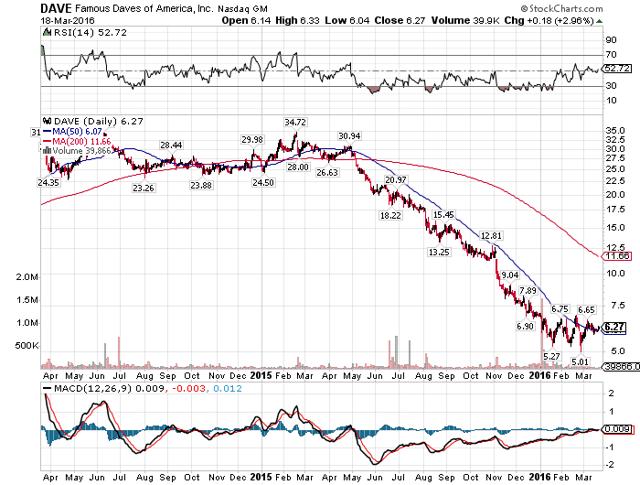 Click to enlarge
DAVE's Q4 saw total revenue dip 15%, something we've become accustomed to from the struggling chain. DAVE's comp sales have been absolutely horrid for several quarters now, and it is also in the process of reshaping its store base to better fit what is obviously lower demand for its product. The fact that revenue continues to decline is not a shock; the interesting part is the magnitude with which it is doing so.
Comp sales for Q4 of 2014 were down 4.8%, but DAVE managed to post a comp sales decline of 10.6% in 2015's Q4, stacking an enormous loss of revenue on top of what was already a very sizable loss of revenue. This is part of the reason why I know DAVE is permanently impaired; even when faced with a very easy bar to step over, it manages to post an even larger loss. Stacking massive comp losses on top of massive comp losses is one of the biggest red flags any restaurant or retail business can exhibit and DAVE is the poster child right now.
But the fun doesn't stop there; DAVE's unit-level margins are falling as well. The company's unit-level cash flow margins fell 150bps during the quarter as its free-falling comp sales continue to deleverage its costs to operate its stores. There are other costs like marketing and plateware purchases in this quarter, but those are not the problem; DAVE's margins will be terrible until comp sales improve and that looks pretty implausible at this point.
To its credit, DAVE is still actively trying to reduce its headcount but it can't do so quickly enough for its rapidly declining revenue base. Adjusted EBITDA was negative in Q4 after coming in at +$1.5 million in Q4 of 2014. DAVE's issues have been bad for some time at this point and if one data point can sum it up, it is the negative adjusted EBITDA number in Q4. When operating earnings go negative, there isn't a lot a company can do to right the ship because liquidity begins to become an issue. DAVE isn't there yet, but its fundamentals are clearly getting worse, not better.
The limited number of analysts that cover the company have DAVE at negative 10% revenue growth this year and basically flat next year. However, that's curious to me because DAVE's sales have been in free fall for some time and as we saw in Q4, its problems are getting worse, not better. I think down 10% is fairly optimistic for this year considering that DAVE has closed or franchised formerly company-owned locations, a move that will drastically reduce total revenue by itself. When you add in that its comp sales will almost certainly continue falling this year - there's no evidence that is going to stop - I have a really hard time believing DAVE will hit -10%.
At more than 50 times this year's earnings, DAVE is still way too expensive. If it were in the midst of a turnaround, I'd have no problem with that kind of multiple. But the fact is that it continues to struggle and its problems are worsening, not getting better. I think DAVE will struggle to hit $0 in EPS this year, let alone the 26 cents one very bullish analyst has for DAVE. I think the company's issues will continue to plague it throughout this year as a management change and lots of new menu items create lots of growing pains. If DAVE does manage to post a profit this year, it will be very small and that means that the stock is still expensive. Even if the bullish analyst at 26 cents is right, DAVE should be trading for $3 or $4, not $6. Despite being up so much on my short, I think there is more to go, so I'm pressing here.
Disclosure: I am/we are short DAVE.
I wrote this article myself, and it expresses my own opinions. I am not receiving compensation for it (other than from Seeking Alpha). I have no business relationship with any company whose stock is mentioned in this article.
Editor's Note: This article covers one or more stocks trading at less than $1 per share and/or with less than a $100 million market cap. Please be aware of the risks associated with these stocks.