Background
GulfMark Offshore (NYSE:GLF) engages in the provision of marine support and transportation services. It operates through three business segments: North Sea, Southeast Asia, and Americas. Its services include platform supply, anchor handling, towing, marine construction support, and crewboats. As of February 29, 2016, the company owned a fleet of 70 offshore supply vessels (OSV), in the following regions: 27 in the North Sea, 13 offshore Southeast Asia, and 30 offshore the Americas. Of these, 37 are currently stacked for lack of available work.
At the time of this article, GLF's stock price was $7.27 - significantly above its 52 week low of $2.50 with a negative current PE, a negative forward PE and a market capitalization of $187.64 million. In addition, GLF unsecured bonds due March 15, 2022 (GMRK3956992) last traded at $44.25, yielding 24.682%.
This analysis is based on information from GLF public SEC filings, press releases, earnings calls and investor presentations from the period 1Q14 through 4Q15.

Click to enlarge
Settlement Reached With BAE Systems
As reported by Reuters on March 15, GLF announced a settlement was reached with BAE Systems concerning the construction of two vessels for the Americas business segment. The settlement stipulated that no additional payments would be made to the shipyard and that the first vessel would be delivered in 3Q16.
The settlement will further support management's statement in the 4Q15 earnings call that no liquidity issues are expected over the next several years even if the market does not improve.
In addition, management has been aggressive in retiring debt as evidenced in the following excerpts from the 2015 SEC filings. Specifically, the repurchase of $1 million face amount in bonds cost only $500,000 and resulted in a $300,000 gain. Expect additional repurchases if liquidity improves and bond prices continue to be discounted.

Click to enlarge
Finally, as of the March 1 earnings call, management stated that GLF had $28.5 million in cash and $166.1 million available under the Multicurrency Facility Agreement and Norwegian Facility Agreement. In addition, the only long-term debt is due in 2022.
Majority of Revenues Are Now Generated By North Sea Business Segment
As illustrated in the table below, beginning in 3Q15 the majority of quarterly revenues were generated by the North Sea business segment. The trend continued in 4Q15 with North Sea revenues increasing to 62.56%.

Click to enlarge
Part of the explanation for this trend was provided by management during the earnings call when they stated weather conditions and vessel lay-ups affected North Sea revenues by increasing the average day rate to the highest of 2015. Consequently, North Sea day rates and utilization were highest of the three business segments beginning in 3Q15, correlating to the revenue generation noted above.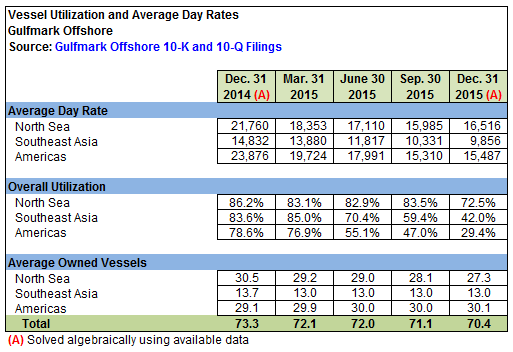 Expect this trend in the North Sea business segment to continue as management stated two vessels were reactivated for duty in the segment during 1Q16.
In addition, the North Sea segment has the greatest percentage of forward days under contract for 2016 (41%) and 2017 (18%) as of Feb. 29, 2016.
Finally, a detailed analysis by business segments notes that the North Sea is the only segment that has consistently been profitable throughout 2015. The following illustration removes the special items of impairment and gains/losses on asset sales to provide clarity on business segment profitability.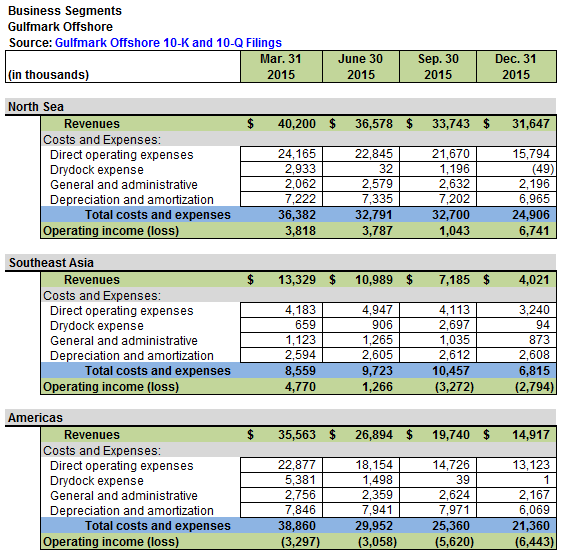 Incorporating Offshore May Be Viable Option
Based on recent corporate actions and the shifting of revenue to non-US sources, it would appear reasonable to believe management might be considering domiciling offshore.
For example, on page 75 of the 2015 10-K, "During 2015, we determined to repatriate all future foreign earnings and $200 million of prior earnings of certain of our non-US subsidiaries, thereby reducing our total permanently reinvested earnings. The change in our foreign repatriation strategy resulted in a non-cash tax charge in 2015 of approximately $70.0 million."
Had the company been incorporated offshore, the $70 million could have been used in a more productive manner by the company. A lower tax rate would also provide GLF a competitive advantage over its competitors in the long run.
Conclusion
The recent announcement concerning the settlement of the vessel dispute is just one more reason to be optimistic about GLF. As noted in the financials highlighted above, management has been successful in increasing liquidity as well as paying off debt.
Going forward, revenues from the North Sea business segment should continue to improve while the other two business segments struggle with spot rates.
Although the company is well off the low of $2.50 set on January 12, 2016, it is also far from the 52 week high of $17.68 set on April 15, 2015. The time may be right to start an equity position in the company. In addition, the unsecured bonds are currently trading at $44.25 with a yield of 24.682%.
Disclosure: I/we have no positions in any stocks mentioned, and no plans to initiate any positions within the next 72 hours.
I wrote this article myself, and it expresses my own opinions. I am not receiving compensation for it (other than from Seeking Alpha). I have no business relationship with any company whose stock is mentioned in this article.