Waste Management (NYSE: WM) is known as a slow-and-steady stock, but its returns in recent years are anything but. The stock has had a tremendous run-it returned 8% in the past one year, which might not sound impressive, but the stock beat the S&P 500 by more than 10 percentage points. Looking back further, the gains are even more outstanding. Shares of Waste Management are up 43% in the past two years, while the S&P is up just 9% in the same time.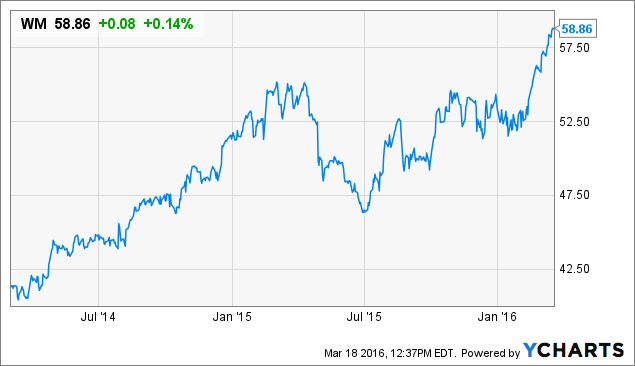 And, keep in mind these returns don't even include Waste Management's market-beating dividend yield. The reason why Waste Management, a stock that some might call "sleepy", could produce such market-trouncing returns, is largely because of its business model. To borrow a popular term from legendary value investor Warren Buffett, Waste Management has a wide economic moat-meaning its industry is characterized by high barriers to entry. This significantly reduces the chance that Waste Management will see a smaller competitor swoop in and steal market share.
As a result, Waste Management generates healthy profits and cash flow, and thanks to its shareholder-friendly management, the company returns a good chunk of its profits to investors. Here's why income investors should see a lot to like about Waste Management.
A Buffett-Approved Business Model
Waste Management offers waste management and environmental services to residential, commercial, industrial, and municipal customers in North America. These services include collection, transfer, recycling and resource recovery, and disposal services. The great thing about the business is that it is very capital-intensive, and it has high hurdles from a regulatory standpoint. That means Waste Management has an iron-clad grip over its industry. Moreover, another benefit of this business is that it is highly recession-resistant. Trash disposal and recycling are necessities of society. Waste Management's earnings are not highly vulnerable to economic downturns.
Last year was another slow-and-steady type, that risk-averse income investors crave. Waste Management's adjusted earnings grew 13% in fiscal year 2015, to $2.61 per share. The company managed strong earnings growth due to lower fuel expenses, significant cost cuts, and the benefits of share repurchases, even though full-year revenue of $13 billion was down 7% from the previous year. However, it is worth noting that much of the revenue decline was due to the effects of divestitures and foreign exchange, which could be short-term issues in nature.
Waste Management does a very good job of generating free cash flow, thanks to its strong profitability and modest capital expenditure requirements.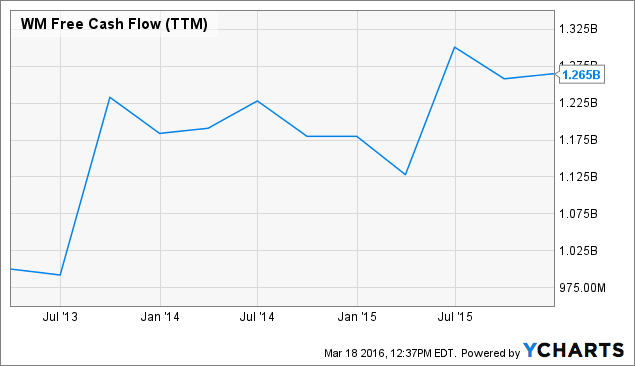 Going forward, the company expects 2016 to be another year above expectations. Waste Management expects 2016 fiscal year adjusted earnings per share to be within $2.74-$2.79 per share. At the midpoint of its forecast, the company should generate approximately 6% earnings growth in the current year. That growth should be realized by continued expansion of the company's recycling and solid waste businesses. Assuming the company meets its own projections, 2016 will be another strong year for Waste Management, and investors will receive another nice haul of cash returns.
Steady Fundamentals Support Dividends, Buybacks
Reflecting its successful year, Waste Management recently raised its dividend by 6%. The new annualized dividend rate is $1.64 per share, which represents a solid 2.8% yield based on its current stock price. This is the 13th year in a row of increased dividends for Waste Management. The company also returns excess cash to shareholders through stock buybacks.
Along with its dividend increase, Waste Management announced a new $1 billion stock buyback authorization. This represents approximately 4% of its market capitalization, and will provide a nice boost to earnings growth in 2016.
Waste Management's $1.64 per share forward annualized dividend results in a 59% payout ratio, based on likely 2016 earnings. That means Waste Management should have no trouble continuing its track record of solid dividend increases each year.
Trash Is Treasure
To be sure, Waste Management isn't the cheapest stock around. It trades for 20 times forward earnings estimates, which is slightly above the broader market multiple. But as the saying goes, premium companies command premium valuations. Considering the defensive nature of Waste Management's business model, investors don't have to worry about a sudden downward shock to earnings, and consequently are willing to pay a higher multiple for that relative stability.
Investors particularly interested in a low-volatility stock with reliable profits and a high dividend yield should view Waste Management very favorably.
Disclaimer: This article represents the opinion of the author, who is not a licensed financial advisor. This article is intended for informational and educational purposes only, and should not be construed as investment advice to any particular individual. Readers should perform their own due diligence before making any investment decisions.
Disclosure: I/we have no positions in any stocks mentioned, and no plans to initiate any positions within the next 72 hours.
I wrote this article myself, and it expresses my own opinions. I am not receiving compensation for it (other than from Seeking Alpha). I have no business relationship with any company whose stock is mentioned in this article.