On Monday morning, we received some more news from Tesla Motors (NASDAQ:TSLA) on the upcoming Model 3 reservation process. While the company revealed some minor details, it also discussed how the delivery process will occur. Unfortunately for a number of US consumers, this may limit the tax breaks for the Model 3, which in turn could limit the vehicle's addressable market. Let's take a look at the main part of this morning's announcement:
In order to be as fair as possible, there will be a different queue for each region. And as a thank you to our current owners, existing customers will get priority in each region, meaning that the fastest way to own a Model 3 is to own a Model S or Model X.

Model 3 production is scheduled to begin in late 2017. When production begins, we will begin deliveries in North America starting on the West Coast, moving east.
Those already holding a Model S or X would get priority, meaning they would be first in line to get the Model 3. This is very important in the US, because federal tax breaks are scaled back when a vehicle manufacturer hits 200,000 unit sales. In the chart below, one industry tracker details when this number could be hit.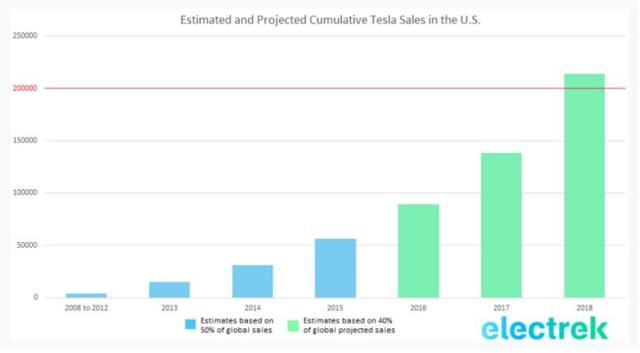 Click to enlarge
(Source: electrek article last month)
Tesla is forecast to break through the 100,000 mark sometime next year, meaning that if enough Model S and X holders get in line for a Model 3, only then current Tesla holders would be able to get the maximum tax break. This system provides another bonus to those who can afford the $80-$100k. For the US mass market, those who want the cheaper Tesla, you may be out of luck as a result. According to electrek, this is what happens once Tesla reaches the limit:
The US Law states that after 200,000 is reached, customers will receive $3,750 for the following six months with no apparent limit on units. The following six months after that, only $1,875 will be awarded to car buyers. That means that for most of 2019 Tesla buyers won't likely have much federal incentive to buy cars. By 2020, the Federal Subsidy will have run out.
In the end, Tesla may have just limited the mass market appeal of the upcoming Model 3 a bit. For those looking to take advantage of US federal tax breaks, you could be limited or completely out of luck. Tesla has decided to reward its current vehicle holders at the expense of some potential future customers. This will ultimately make the Model 3 more expensive in the US for some, which should limit how many units the company will be able to sell in this country. With Tesla shares up nearly $100 from their recent lows, any more bad news on the Model 3 could put an abrupt end to this rally.
Disclosure: I/we have no positions in any stocks mentioned, and no plans to initiate any positions within the next 72 hours.
I wrote this article myself, and it expresses my own opinions. I am not receiving compensation for it (other than from Seeking Alpha). I have no business relationship with any company whose stock is mentioned in this article.
Additional disclosure: Investors are always reminded that before making any investment, you should do your own proper due diligence on any name directly or indirectly mentioned in this article. Investors should also consider seeking advice from a broker or financial adviser before making any investment decisions. Any material in this article should be considered general information, and not relied on as a formal investment recommendation.