In my travels through life, I've met three billionaires and a number of centimillionaires. I am quite sure that none of them remember me, but I certainly remember them. In my first career, I was a geologist, and I met all three billionaires while I was in the oil and gas business. What is interesting to me is that two of them were not yet billionaires when I met them. The first encounter was with Australian businessman Robert Holmes a' Court, whose company Bell Resources had bought the East Coast (Westport, Connecticut) international E&P company called Weeks Petroleum back in 1983. But since Weeks Petroleum was in the middle of buying the public company I worked for, Energy Minerals Corporation (Denver, Colorado), I had the opportunity to meet Mr. Holmes a' Court. In fact, since I was the Chief Geologist at Energy Minerals, and a triple board meeting was scheduled, I was asked to lead a field trip along the edges of the Denver Basin to give the Aussies and the Weeks Petroleum people an introduction to some of the oil and gas plays Energy Minerals was involved with at the time. This turned into quite an affair, with all of us packed on a bus and driving up and down the Front Range, stopping to look at outcrops that told the story of oil in the Denver Basin. I briefly spoke with the big guy on that trip, but later I saw how things worked in his world.
The late Robert Holmes a' Court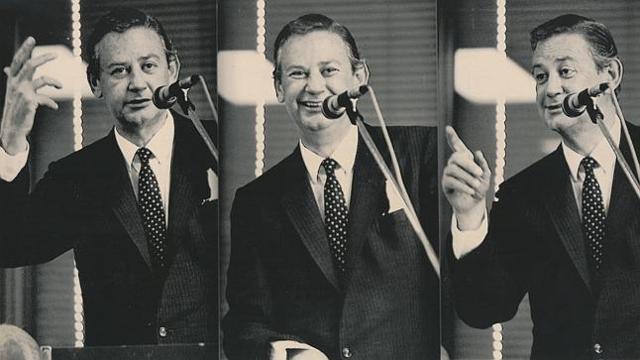 Click to enlarge
Source: greatthoughtstreasury.com
My first inkling of how things might change under the new ownership was when I sat at lunch a couple of days later, in Denver's Brown Palace, with the officers and directors of all three companies. Seated at my table was the Chief Geologist of Weeks, whose name I don't remember, and Al Newman, Mr. Holmes a' Court's right-hand man in the Bell Resources group. The Weeks guy was wearing a yellow "power" tie, as were all of the leading men from Weeks and Energy Minerals in emulation of their fearless leader (whose name I do remember but won't mention here), except for two or three non-conformists: myself, my boss, and my friend the Chief Field Engineer. Anyway, the Weeks Chief Geologist at one point leaned over and said, "Al, I'd like to show you my drilling prospects for next year in offshore Australia and elsewhere." Al Newman looked at him, put down his fork, and said evenly, "If you're still here." You could have heard a pin drop after that.
Two weeks later, every single person from Weeks Petroleum that had been wearing a yellow tie was gone, including the CEO. One or two from Energy Minerals were also soon gone. It appears that Mr. Holmes a' Court and his team had strong opinions about hiring a bunch of yes-men, and it didn't take long to see them clear the decks. As I remember it, part of the logic used in terminating so many Weeks Petroleum employees was also the fact that the company received huge royalty payments annually from the Bass Straits oilfields (offshore SE Australia), and since this revenue was risk-free, any risky drilling projects would henceforth have a high bar to get over for acceptance. Many of Weeks Petroleum's projects were then canceled because they were deemed too high a risk for the expected reward.
After the triple merger was completed, we suddenly began to get weekly calls about the bottom line from the people at Bell Resources. This continued for many months, and it was obvious that when an LBO was involved, debt service and efficiency became even more important than they usually were. Risk evaluation and efficiency were constant components of all my interactions with the Bell Resources team, and with my own newly restructured company's leaders. Attempts by my remaining superiors at Energy Minerals and Weeks Petroleum to get their pet projects funded were met with stony silence or outright rejection from the beginning. Only high risk/reward projects survived.
Lessons I took away from this experience included the tremendous attention to detail brought to bear by Mr. Holmes a' Court and his team, their wisdom in only keeping people on staff who actually added to the bottom line, and their clear vision and decisiveness in determining whether a course of action moved the ball forward or merely kept everyone busy. As an investor, I have tried to evaluate the stocks I invest in on the basis of whether management has a high level of attention to detail, works hard to improve efficiency and cut costs, and acts rationally when evaluating risks. Current examples of such companies would include Berkshire Hathaway (NYSE:BRK.A) (NYSE:BRK.B), Oaktree Capital Group (NYSE:OAK), Cal-Maine Foods (NASDAQ:CALM), Exxon Mobil Corp. (NYSE:XOM), and EOG Resources (NYSE:EOG).
The second very wealthy man I met (now a billionaire) was George Kaiser, owner of Kaiser-Francis Oil Company and other firms in Tulsa, Oklahoma. I briefly met him in 1992 when my boss and I went to show him an oil deal. He had a geologist there with him to look at the deal, and I'm not sure but I think they might have taken a small piece of it, but what I remember most is the kind of conversation he and I had. He was very interested in education and philanthropy, even then, and wanted to know how I had fared as a college professor, i.e., what I had learned from my students, and what they might have learned from me. We had a really enjoyable conversation about things like knowledge, science, learning, and university life, as I remember it now. This was a surprising direction for the conversation to go since we were just there to talk about a small oil deal.
What I saw and remember was a man of great intelligence and curiosity who did not let opportunities to learn or grow pass him by. He seemed really engaged and when he spoke with me, it was a real exchange of ideas, not just a mere business conversation or sales transaction. I am not at all surprised that a man of such parts later became one of the richest men in the world.
George Kaiser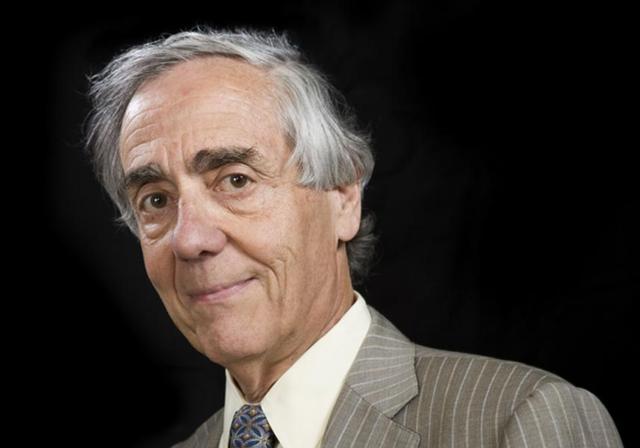 Click to enlarge
Source: background-pictures.picphotos.net
Lessons I took away from this encounter that I use as an investor include looking for company leaders who are strong contributors to the life of their communities, who have a curiosity about how things work, who are innovative, and who are open to the concept of life-long learning for leaders within the firm. Companies that I think meet these criteria now include Facebook (NASDAQ:FB), salesforce.com (NYSE:CRM), and General Electric (NYSE:GE).
I met two future very wealthy men named Aubrey McClendon and Tom Ward in Oklahoma City in 1991 when they had just started their epic journey into tight oil and gas plays. They came to show my boss Bill Cleary and myself a deal in the Austin Chalk play. I was actually quite an expert at tight plays and had already put together a large acreage spread (in 1990) in the very similar Niobrara Chalk play of Colorado and Wyoming, so I found their deal interesting, and their enthusiasm contagious. We ended up participating in some wells, and this is where I learned about the incredible ambition and tough-mindedness of these two entrepreneurs. We had insisted on operating some of the wells because we had more experience and a bigger operation (at the time; remember they were just starting out).
So it came time to bill Chesapeake Energy (NYSE:CHK) for their portion of the costs, and we waited, and waited, and time just went by without them making payment. Because their reputation was very good, we didn't say anything until we got to 90 days over, but then we called, and the answer we got was that they had short-term cash flow problems but would definitely be paying us in full. More time went by, and then we finally called them in late summer demanding an audit of their books. They said, "Fine, we can fit you in at the end of February next year!" When we spluttered our objections, we were quickly informed that this was the first opening, since audits were scheduled every business day until then!
Everybody they did business with was being paid late, because they had been so aggressive they had gotten ahead of themselves, but they absolutely paid every cent, eventually. Not only that but they also kept those service companies who had been patient with them very busy in the years to follow. This early aggressiveness allowed them to grow their business extremely rapidly, and the rest is history. I can only smile now when I think of the bold methods they used to keep cash moving and wells drilling on a thin budget. It is clear to me why they made it big - they were immensely aggressive and resourceful.
The late Aubrey McClendon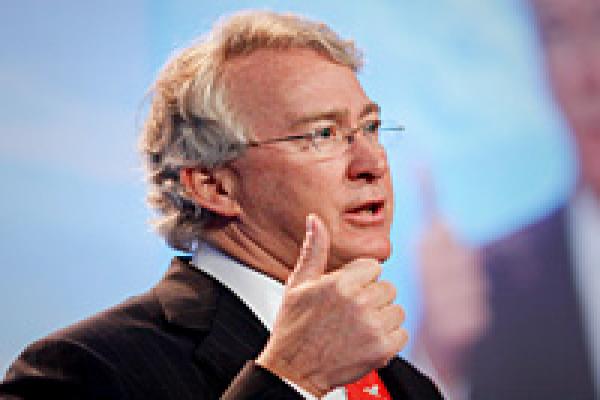 Source: bing.com
Lessons I learned from this encounter that I use in evaluating stocks include tolerating big thinkers who are aggressive but remembering that aggressive risk takers can get into trouble once in a while. This tends to make me see companies that are big risk-takers as trades, not investments; or at least as investments that need to be watched carefully. Examples would obviously include Chesapeake Energy Corp., but also SunEdison Inc. (NYSE:SUNE), Clean Energy Fuels Corp. (NASDAQ:CLNE), and Deutsche Bank (NYSE:DB).
Each of these people in my personal story appeared to be unique at the time, and I can't say that I see much that they had in common, at least on the surface. But then when I really think about it, they were all leaders, even all of those years ago, and they knew where they were going. They also had the courage to go for the win, even if that meant taking on the risk of failure. Yet they did not generally accept risk without great reward being on offer; in other words, they tried to get the risk right. Not bad clues to have for those doing business with them, or buying shares in one of their companies.
From an investment point of view, the lessons I learned from these encounters with ultimately very rich entrepreneurs have made me seek to buy companies run by rational thinkers who evaluate risks carefully, but then when satisfied, go for it with courage and enthusiasm. Creating an environment where innovation can happen is also very important. Many corporate leaders have great business skills but not so great leadership skills, and in order to want to buy a stock for the long run, I like to see some of the characteristics I've just discussed in that company's management team.
Disclosure: I am/we are long CALM, OAK, XOM, EOG.
I wrote this article myself, and it expresses my own opinions. I am not receiving compensation for it (other than from Seeking Alpha). I have no business relationship with any company whose stock is mentioned in this article.
Additional disclosure: This article is intended to provide information to interested parties. As I have no knowledge of individual investor circumstances, goals, and/or portfolio concentration or diversification, readers are expected to complete their own due diligence before purchasing any stocks or other securities mentioned or recommended.