In the past two weeks we have seen both the ECB and the Fed give investors the green light to put risk back on the table. First, on March 10th, the ECB lowered overnight rates to negative 40 basis points, increased their bond purchases from 60 billion euros to 80 billion euros, and also announced investment grade euro-denominated corporate bonds will be eligible for purchase.
Then, on Wednesday, the Fed decided to take no action on rates and lowered their "dot plot" to indicate just 2 rate hikes this year. This is despite improvement in their dual mandate of unemployment and their preferred measure of inflation core PCE. The market is not expecting the next rate hike until the Fed's June meeting.
The one thing loose monetary policy and stimulus has accomplished is inflated asset prices. For that reason, participating in financial markets today seems a bit like playing Russian roulette with the central banks loading the gun for you. All risky assets should benefit from the continued stimulus but I believe high yield corporate bonds will outperform, especially on a risk-adjusted basis, due to the lower volatility of bonds compared to stocks and a few other catalysts.
ECB purchases of corporate bonds will lead to spread compression
The ECB has stated they will make investment grade euro-denominated non-bank corporate bonds available for purchase in their QE program. This will lower interest rates for corporations in the Euro area and encourage them to issue debt in euros. The problem is it's still not exactly clear which corporate bonds they will be buying since their description is very broad. The FT discusses some of this speculation leading up to the next governing council meeting but the bottom line is the ECB will be taking some of the supply out of the market. Since some corporate bonds are already trading at negative rates in the Euro area, it would make sense that European fixed asset managers searching for positive yield who are able to invest internationally buy corporate bonds in the U.S. Increased demand for corporate paper will compress spreads which in turn will cause price appreciation.
High yield corporate bonds stand to benefit the most from spread compression since spreads are still considerably higher than they have been for most of the past three years as seen in the chart below.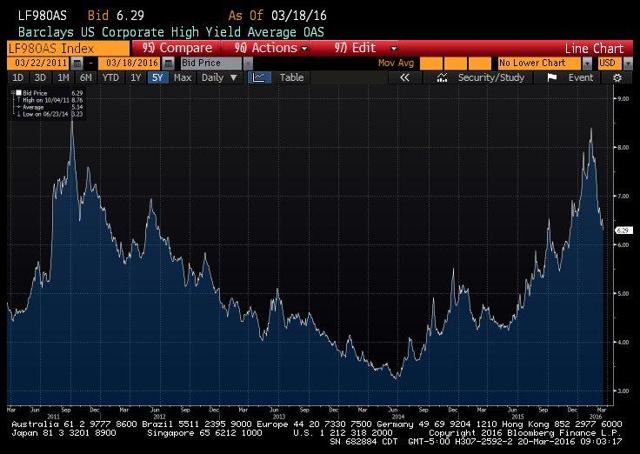 Click to enlarge
High Yield Corporate bonds have outperformed stocks YTD
The S&P 500 has provided a total return of .8% YTD versus the 3.3% return of the high yield corporate bond market as measured by the iShares iBoxx $ High Yield Corporate Bond ETF (HYG).
Both hit their lows for the year around the middle of February and have rallied hard since. I like to see improvement in technical indicators before making a purchase. For HYG, the 20 day moving average is getting close to crossing the 100 day which should be a sign that sentiment has changed and it could be time to buy.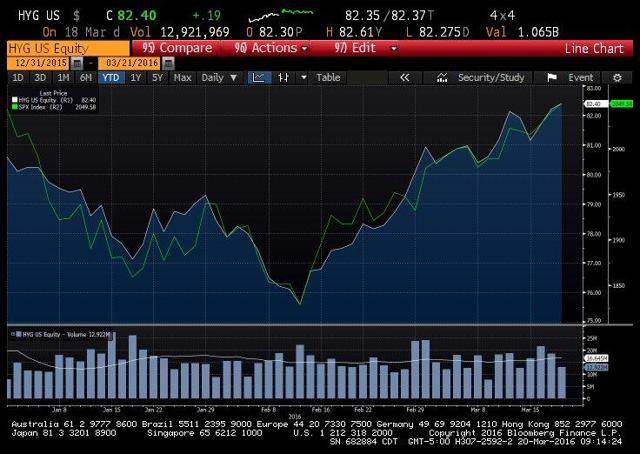 Click to enlarge
In addition to improving technical indicators, the average price of HYG has been close to $90 since the fund inception in 2007. The current price is around 1 standard deviation below that average. The only other time the price was that far away from the average was during the 2008 crisis. A return to the historical average would provide a price return of 9.2% from Friday's closing price of $82.40. The fund has also paid a 5.83% dividend yield for the past 12 months that would be in addition to the price appreciation.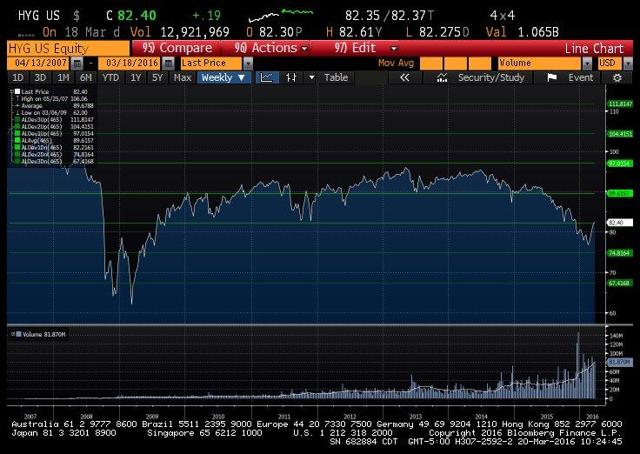 Click to enlarge
High yield corporate bond performance tied to oil
The chart below shows how the correlation between HYG and WTI oil has increased this year. As oil declined in January and February, the correlation began to increase and peaked around .8. This is somewhat expected as a selloff in risky assets across the board generally leads to higher correlations; however, the correlation has remained high as oil and HYG have recovered.
WTI briefly crossed the $40 level last week and although the summer driving season is approaching supply remains high. It seems as though oil will remain range bound between $30-40 for most of the year but I don't think anyone can accurately predict this oil market.
Oil, gas, and pipelines only account for about 10% of the holdings of HYG but the high correlation makes oil worth paying attention to.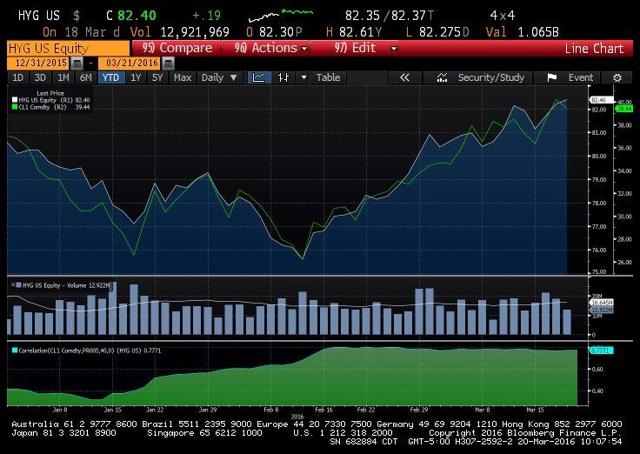 Click to enlarge
How to gain high yield corporate bond exposure
I have used HYG as a proxy for the high yield corporate bond market simply because it is the largest high yield corporate bond ETF. There are other ETFs designed to track high yield U.S. corporate indexes such as the SPDR Barclays Capital High Yield Bond ETF (JNK) and PIMCO 0-5 Year High Yield Corporate Bond Index ETF (HYS). If you want to broaden your exposure, there are international high yield corporate bond ETFs such as the iShares Global ex-USD High Yield Corporate Bond ETF (HYXU) and Market Vectors International High Yield Bond ETF (IHY). There are also mutual funds such as the Vanguard High Yield Corporate Fund (VWEAX) you can consider. I recommend paying attention to the expenses and consider the structure of these funds if you are not familiar with them.
The main take-away is add your high yield corporate bond exposure through some type of fund rather than trying to buy individual bonds. The price you would be able to buy an individual bond is almost always higher than institutional clients pay. You also gain the diversification benefit of the entire high yield index rather than trying to pick individual corporate bonds.
I like the ETF structure because you can exit your position during the trading day through an exchange as opposed to trying to sell individual bonds through a broker over-the-counter or wait until the closing NAV calculation for a mutual fund. In other words, you have a more liquid market. The 50 basis point fee of HYG is higher than many index funds but you are gaining exposure to 994 bonds. You could easily lose 50 basis points in execution costs on an individual bond as a retail client. JNK has lower fees but also a smaller number of holdings.
Risks to keep in mind
There are a few risks to remember if you choose to invest in the high yield corporate market.
The structure of bond ETFs could cause forced selling by the fund during stressed markets which can cause dislocation in the fund price and the underlying bond assets. As investors exit their ETF position, the fund has to sell bonds at any price to generate liquidity. BlackRock (NYSE:BLK) released an interesting report on this effect and you can view it here.
A selloff of oil back to below $30 would hurt the high yield market
The market currently expects the Fed to raise rates at their June meeting but Janet Yellen says all meetings are live. If the Fed were to surprise in April by raising rates, this would surprise the market and we would see bonds sell off
All asset prices have been distorted by the effects of global quantitative easing and investors should be mindful that investing in this market is not without risks. I am willing to take that risk because I have a long time horizon and I am using funds that I can afford to lose. Please make sure your risk tolerance, time horizon, and liquidity needs match your investment choices!
Summary
I believe the high yield corporate bond market stands to benefit from the continued expansionary monetary policy of the central banks. Investors have an opportunity to add exposure to this market at a low-cost through an ETF such as HYG. HYG is currently priced one standard deviation below it's historical average and technical indicators are improving. I view this as a short-term trade opportunity and will be cautiously paying attention to central bank action and oil prices.
Disclosure: I am/we are long HYG.
I wrote this article myself, and it expresses my own opinions. I am not receiving compensation for it (other than from Seeking Alpha). I have no business relationship with any company whose stock is mentioned in this article.