InvenSense (NYSE:INVN) continues to lead the way in sensor-based technologies. While InvenSense has experienced downward pressure over the past few quarters, the company is in better shape than many realize. With the applications for sensor-based technologies expanding at an extremely fast rate, InvenSense has a huge opportunity ahead of it. The company's dominance of the sensor industry makes it extremely well positioned to ride the IoT (Internet of Things) wave.
While the mobile business still accounts for the majority of InvenSense's revenue, the company is wisely putting a great deal of effort into diversification. Given the profitable and numerous market opportunities arising outside of mobile, such diversification should push the company to new heights. It would not be surprising to see InvenSense's mobile segment take a backseat to emerging technology segments sooner than most anticipate.
Promising Emerging Markets
There are many promising emerging markets for InvenSense outside of mobile. The company's sensor technologies have enormous potential in markets such as wearables, drones, gaming, imaging and the list goes on. InvenSense's products arguably have the most potential in markets that are still in their early stages of development, which means that the company likely has far more growth ahead. Diverse emerging markets such as virtual reality, consumer robotics and even automotives all have great use for InvenSense's technologies.
Mobile still dominates InvenSense's business. In fact, Apple (NASDAQ:AAPL) and Samsung (OTC:SSNLF) alone accounted for 60% of the company's revenues in Q3 and will likely continue to play a disproportionate role in the company's business for the foreseeable future. However, InvenSense's relationship with these top mobile customers seems to be growing weaker. In fact, InvenSense is not supplying its 6-axis for Samsung's new Galaxy S7. While this weakening relationship may be disheartening for investors, the emerging opportunities outside of mobile more than make up for losses in the mobile market.
To get a perspective on the potential of emerging markets, InvenSense estimates that health/fitness wearables, drones and virtual space reality/gaming already have serviceable addressable markets of >$350 million, >$200 million and >$200 million. What's more, the aforementioned segments are still in relative infancy and are expected to become billion-dollar markets over the next decade or so.
As there are still many more promising emerging markets not listed here, it is clear that InvenSense should be able to thrive without relying so heavily on mobile. In addition, InvenSense's strong ties to mobile giants like Apple and Samsung have come with many of their own problems. Most notably, the unbalanced nature of InvenSense's relationship with these mobile giants has caused InvenSense to experience pressure on the margin front.
Move Away from Mobile Is a Smart Long-Term Move
InvenSense is just another small-time supplier in the eyes of Apple and Samsung, which means that these mobile giants have much more power to dictate terms. As such, InvenSense's transition away from mobile could give the company much more freedom. Given the countless sensor markets outside of mobile, InvenSense has much to look forward to. InvenSense already is devoting a great deal of its time/resources on developing new technologies for non-mobile markets. In fact, 80% of the company's new design wins are unrelated to mobile.
InvenSense's gross margins should also improve as the company makes a shift away from mobile. As InvenSense's margins have been somewhat disappointing over the past few quarters, the company's move toward higher-margin non-mobile markets would be especially beneficial. While InvenSense's current non-mobile business only accounts for approximately 21% of total revenue, this segment should steadily grow in the coming years. InvenSense's decision to expand its scope is a great decision in light of current trends.
While InvenSense has focused much of its business on the mobile market over the past few years, the company is looking to expand its reach to other promising markets.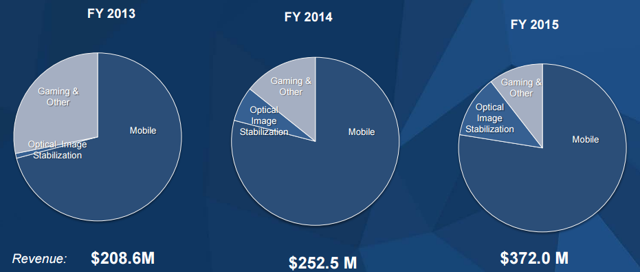 Click to enlarge
Source: InvenSense
Obstacles
While InvenSense is broadening its reach, mobile will remain the company's dominant market for the foreseeable future. Given the current volatility in the smartphone market, InvenSense should continue to experience near-term headwinds. Moreover, InvenSense's disproportionate reliance on a select few customers will likely only add to the company's volatility. InvenSense has already seen its prospects drop dramatically after Apple and Samsung decided to forgo InvenSense's products for some of their newest devices (Apple's watch and Samsung's Galaxy S7).
Conclusion
InvenSense is still cheap at its current valuation of $814 million. The company is growing its revenue ($372 million in 2015) at an extremely fast pace and has experienced a CAGR of 53% over the past six years. While InvenSense has been experiencing some issues with profitability, these issues should lessen over time as the company transitions into higher-margin businesses. Despite InvenSense's current focus on the mobile market, the company offers a great opportunity to capitalize on the IoT trend.
Disclosure: I/we have no positions in any stocks mentioned, and no plans to initiate any positions within the next 72 hours.
I wrote this article myself, and it expresses my own opinions. I am not receiving compensation for it (other than from Seeking Alpha). I have no business relationship with any company whose stock is mentioned in this article.
Editor's Note: This article discusses one or more securities that do not trade on a major U.S. exchange. Please be aware of the risks associated with these stocks.